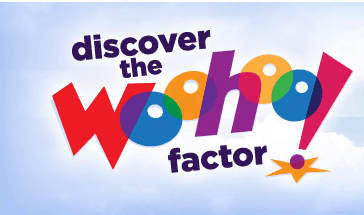 The holidays are rapidly approaching– here we are in November, and its time to start thinking about holiday shopping.  I'm a huge fan of shopping- I love it, to be honest.  Fun, relaxing…and I like to be smart with my money, in more ways than one.  I do like to get the best bang for my buck, but I also like supporting local businesses.  Shopping your neighborhood toy store is always a great way to find some fun, unique gifts for kids of all ages– plus, you'll be supporting a local business.That's a win for everyone, right?
I've always found that the staff in local, neighborhood toy stores to be not only helpful but quite knowledgable.  If they aren't sure about something, they'll reach out to someone who does.  I've certainly had occasions where I wasn't sure what to buy, or if a toy was an appropriate one for the reipient's age group- often times, if I happen to be at a chain or "big box" store, there's no one to help me.
Another thing I've found of the local toy stores is the selection isn't always the same thing that you see over and over in larger stores. You may not find the items advertised on TV, but you're likely to find toys and games that foster creativity and imaginative play- for hours on end.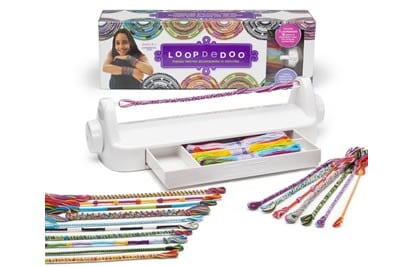 You can find fun creative kits like the Loopdeedoo friendship bracelet kit– which is clearly not limited to bracelets.  We've done keychains, and the kids have made some for their backpacks…my husband actually thought these would be a great thing to attach to our luggage when we fly to Florida to help distinguish our suitcases from others' on the baggage claim!  I loved making friendship bracelets as a kid- for years and years I did it.  These have a new twist- literally- on that concept, but also offer a great way for kids to express creativity and create things!
Design your own friendship bracelets then make them in minutes with the new Loopdedoo™ spinning tool. It's fast, easy and fun. Just wrap your threads around the Loopdedoo device, turn the knob, guide the thread and minutes later you're done! You can even make necklaces, anklets, belts and more. There's no pattern to follow so each accessory is completely different and unique, just like you and your friends. You can use as many threads and color combinations as you like and you can make them thick, thin or anywhere in between. The design possibilities are endless, so let your creativity be your guide.

Make fab and funky twisted bracelets in minutes. Or make them with friends for hours.

The perfect gift for tweens and teens (ages 8+).
Comes with 1 Loopdedoo spinning tool (complete with push-out drawer for storing your gear), 18 different colored skeins of embroidery thread and detailed instructions.
US Patents 8234850B1, 8234851B2 and other US and International Patents Pending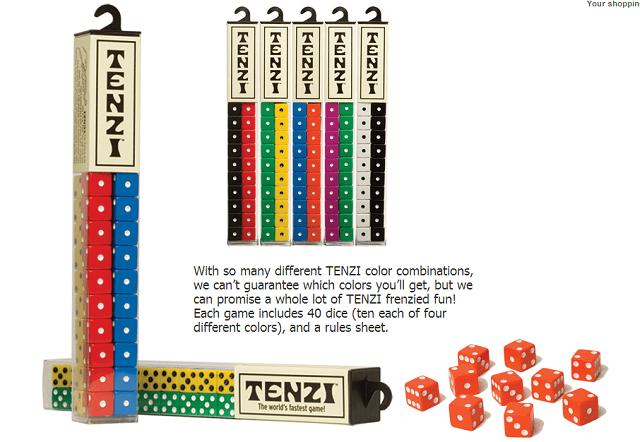 There are also games like  Tenzi– which is a dice gamefor ages 7+ but we've all been having fun playing it together!   If your child knows how to match like objects, they can play this.  It means we can all play together- and I can't wait to have this game out at family gatherings. 2-4 people can play- when my family plays together, my little one sits with me and is my helper.  Works out very well.
OBJECT:

Be the first player to get all ten of your dice to show the same number.

HOW TO PLAY:

(2-4 players.) Each player chooses a set of dice. Players hold all ten dice in their hands. Someone says "Go" and everyone rolls at the same time. Quickly look at your roll and decide which number you are going to go for. (For example, if you have more 3's than any other number, that's what you want to go for.) Put all your dice with that number aside, collect the remaining dice and quickly roll again. (You do not have to wait for others to roll again. Everyone rolls together only on the first roll.) Keep rolling until all ten of your dice show the same number.

WINNING:

The first player to get all ten of their dice to match (ten 3's, for example) shouts out "TENZI" and wins the game!

And there are lots more ways to play!
Neighborhood Toy Store day is November 10th.  Won't you join me in shopping local and supporting a neighbor?
Keep up to date with The WooHoo Factor on Facebook
Follow on Twitter: @TheWoohooFactor   
focus on the 3rd annual Neighborhood Toy Store Day(Saturday, November 10th), the benefits of shopping local and the quality merchandise that can be found at your local toy store.
0