I always used to buy Jiffy muffin mix when I wanted to make cornbread or corn muffins.  But my sister gave me a Corn Muffin recipe that she swore was BETTER tasting and super simple to do (read: Brett-proof) and I finally got brave enough to attempt it recently.  A few simple ingredients and 25 minutes in the oven will bring you some delightfully sweet, delicious corn muffins.  I bet you can't eat just one!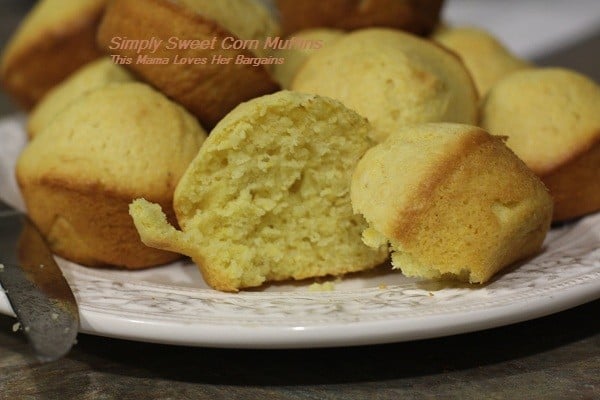 Simply Sweet Corn Muffins
1 1/2 C flour
1/2 C sugar (or a bit less)
3/4 C cornmeal
1 Tablespoon baking powder
1/2 tsp salt
2 eggs
1/4 C shortening (last time I used vegetable oil and they were fantastic!)
1C milk
Mix all dry ingredients – add eggs and shortening/oil and 1/2 C of milk.
Beat 1 minute and add the other 1/2 C milk.
Fill muffin cups 3/4 full. (I spray mine with nonstick spray)
Bake 350  25-30 minutes.  12 large muffins
You can hand  mix.  I do not pull out the mixer for these.  These are also really great for kids to help with!