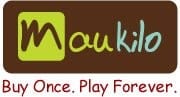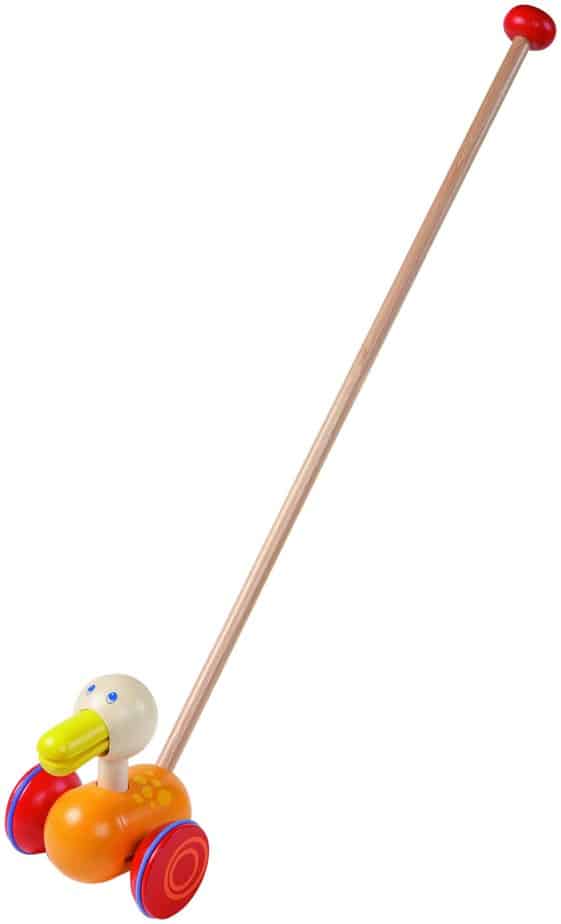 I have drooled over Haba toys for many years now.  They make the highest quality infant, toddler and children's toys out there.  My favorite are their wooden toys for babies.  The couple of Haba items that I own are not only heirloom quality, but they are some of my children's favorite toys.  They are colorful and fun to play with and I know that they will last forever.  There is just something about a wooden toy that is so timeless.
When I learned that Haba has introduced a new wooden push toy I knew that I had to give it a try.  This item is only available at Maukilo, an online toy store that is owned by Haba.  This push toy is available in several designs including:  Cackling Cathy (duck), Chris Croak (frog), Flapping Frank (bee) and Tumble Tum (clown).  They are all adorable, but I definitely wanted to try out of the Cackling Cathy.  The duck is adorable and I lovew the orange and red colors. 
Product Info from company:
"The Pushing Animal Cackling Cathy is designed to enhance balance and motor skills in children from 18 months of age. The colorful duck base can be pushed around using the wooden handle. The spinning wheels and bright colors bring this cheerful little creature to life while your child plays!"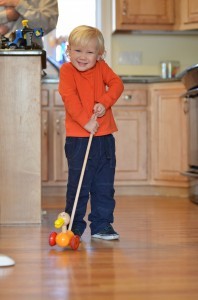 This product is rated for 18 months and up, but when my 2 1/2 year old saw this toy he was immediately enchanted!  This little duck comes along everywhere with him.  The ducks head bob's it's head from side to side as it is pushed, which he thinks is hilarious.  The bright spinning wheels are engaging and this is a toy  that requires no explanation and no batteries!   It is great for gross motor development too.  Simply take it out of the box and you are ready to go.  I love that I will be able to pass this toy down to my 4 month old too.  I found the construction of this toy to be very durable.  The paint is high quality and does not scratch or peel.  The toy is also low profile and does not take up a lot of previous space in my toy room.  Overall, this is a fabulous addition to our toy collection.  In fact, this item will be added to my list of gift ideas for any child between the age of 18 months and  3 years old.
You can find the Haba Pushing Animal Cackling Cathy here.  It retails for $43 and would make a perfect holiday gift for that little person in your life.  Maukilo offers a HUGE selection of infant, toddler and kids toys.  You can find many unique toys here by HABA and many other great companies.  Shipping is free on orders over $65!!!
Follow Maukilo on Facebook for product updates and promotions. 
When it comes to unique, high quality toys and gifts, Maukilo is unmatched in selection. Whimsical and innovative, our
baby toys
and
toddler toys
reflect our values of staying playful and environmentally-friendly.
Owned by HABA, the German-based forerunner of
wooden kids toys
, Maukilo has always offered a variety of
European toys
that serve to educate and inspire children throughout the years. Designed with creativity and incomparable durability, with Maukilo products you can truly Buy Once, Play Forever.
——————————————
"I was provided a sample of this product to facilitate my review.  All opinions expressed are my own."
0