On Sunday, Dec. 4, Nintendo launched new bundles featuring a pink Nintendo 3DS™portable system and either the nintendogs™ + cats: French Bulldog and New Friends or nintendogs + cats: Toy Poodle and New Friends software.
The limited-edition bundles are available at a suggested retail price of $169.99 in the U.S. – the same price as the standard Nintendo 3DS system.  But these come WITH a game.  Plus, they have pink!  Yes, pink!
If you remember, we tried the 3DS over the summer, and thought it was cool.  While the 3d features are great, I love that you can turn them off.  The kids don't mind 3d, I get dizzy after a while (must be my old age).  I still love me some Super Mario World though!  Any DS game will work on the 3DS, although obviously if they aren't a 3D game you cannot play them in 3D mode.
I am so happy that Nintendo offers games like the nintendogs+cats games, because I think they are cute and fun and am always glad when violence is not included in games, particularly for children. I think there is plenty of violence and there's a place for everything- it doesn't have to be in games my kids play!  There's a HUGE range of games and products to fit budgets and preferences with the Nintendo family.
If you have a someone on your list who loves pink and likes the idea of a DS, I'd be on the lookout for this limited edition pink 3DS bundle!!  It's all kinds of awesome.
Not sure you want to go with the 3DS?  Nintendo has a lot of other options for both the DS line and the Wii!
A note about the DSi XL: if you do buy this, and decide to go with a case or cover, be sure that what you are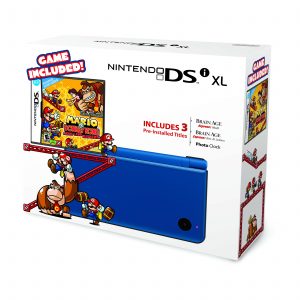 purchasing fits on the DSiXL- it has a larger size than other DS models.  I highly, HIGHLY recommend when purchasing any DS or other portable game system that you do make sure to at least purchase a case for storage and travel, and cases for the games.  There are a ton of options out there, from simple and basic to crazy fun, and everything in between.  One of the first things we do when we have something like this is to get a protective case!!  (Hey, we have kids…)
These new bundles join the already-extensive list of impressive limited-edition bundles that are now available. Each one is sure to find a recipient on everyone's shopping list:

·         A The Legend of Zelda™: Skyward Sword bundle containing the just-launched game for the Wii™ system, a gold-colored Wii Remote™Plus controller and a CD with music from the series at a suggested retail price of $69.99 in the U.S.

·         A Flame Red Nintendo 3DS system bundled with the just-launched Super Mario 3D Land™ game at a suggested retail price of $199.99 in the U.S.

·         A Special Edition Nintendo 3DS system with the Hyrule emblem and gold-colored embellishments bundled with The Legend of Zelda™: Ocarina of Time™ 3D game at a suggested retail price of $199.99 in the U.S.

·         A Metallic Rose or Midnight Blue Nintendo DSi XL™ system bundled with the Mario vs. Donkey Kong™: Mini-Land Mayhem! game at a suggested retail price of $169.99 in the U.S.  (These also come with THREE pre-installed titles.  So it is almost like getting the ds unit itself PLUS 4 games!! Not a bad deal!!)
I received samples of these products in exchange for my post.  Opinions are my own.
0