Chocolate chip cookies are a favorite in our family, and sometimes, no matter how much we love the classics, it's fun to change things up a bit.  Part of my Ambassadorship with Avocados from Mexico was a promise to create an avocado recipe each month over the summer, and today I'm sharing a new one with you- Oatmeal Chocolate Chip Cookies with Avocado and Pretzel Crisps!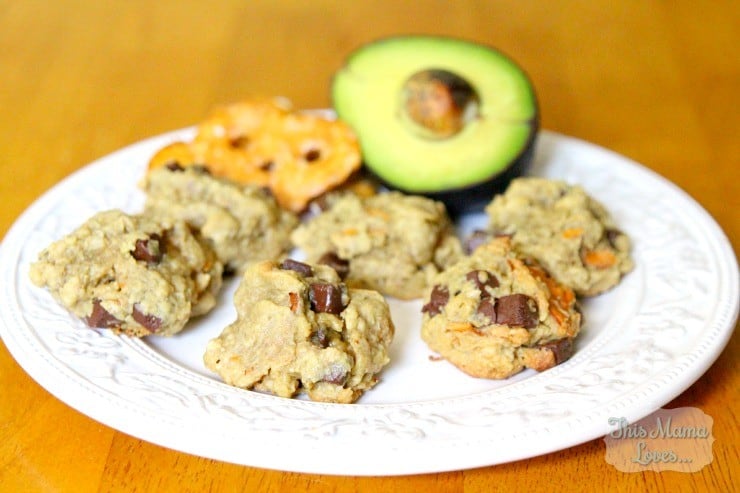 These cookies are fairly easy to make and much healthier for you with avocado in place of butter.  I actually didn't tell my husband I did anything except add some crushed up pretzels to the recipe, and had no idea I'd done avocado instead.  That's a win for me.  My son declared them delicious and asked for more!  Score for mom!  I think you could use any kind of pretzel- Pretzel Crisps recently sent my family a box of flavors to try since we are so stuck on the Buffalo flavor and I decided to use the Original Pretzel Crisps in this recipe.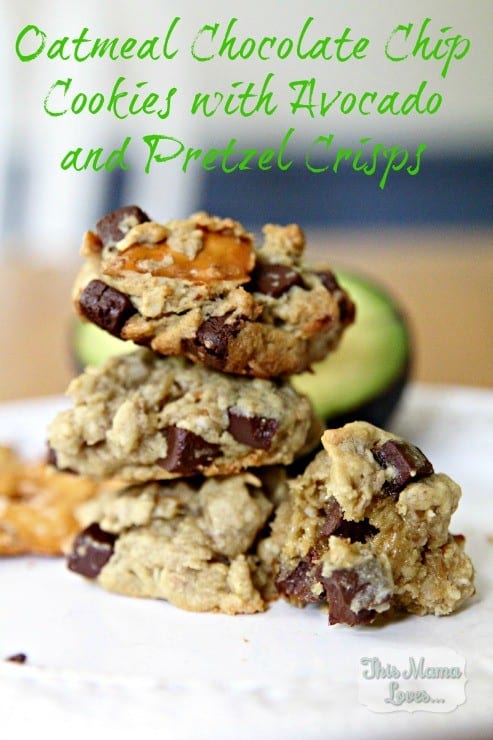 Oatmeal Chocolate Chip Cookies with Avocado and Pretzel Crisps
Author:
Prep time:
Cook time:
Total time:
Oatmeal Chocolate Chip cookies using avocado in place of butter
Ingredients
1 cup avocado, mashed
2 eggs
1 tsp vanilla (If using imitation vanilla extract, go up to 2 tsp)
1 cup sugar
1 cup packed light brown sugar
3 cups quick cook oats
1 1/4 c all purpose flour
1/2 teaspoon baking powder
1 teaspoon salt
1 1/2 c chocolate chips (semi-sweet)
1/2 to 1 c crushed pretzels (I use Pretzel Crisps Original)
Instructions
Preheat oven to 350
In large bowl:
Combine avocado, brown sugar, and sugar
Beat in eggs one at a time
Add vanilla
In separate bowl:combine the flour, baking soda, and salt
Mix avocado mixture into dry ingredients until just blended.
Stir in oats, crushed pretzels and chocolate chips.
Drop by rounded spoonfuls onto ungreased baking sheets.
Let cookies sit 2 full minutes on baking sheet before transferring to a cooling rack.