Today I took some necessary steps to protect myself and my family online a bit more.  We've had online protection since we had the internet installed at home… but lately- with the kids starting to use the internet more, and multiple devices in the house….my oldest has had a few research projects she's needed to use the internet for-it's time to step things up.  While we supervise, we'd just rather protect ourselves as much as we can. We decided to look for a program that can offer us the protection we want so much for our laptops that can also offer us that same protection on our phones and tablets.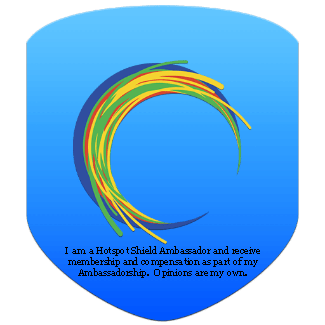 It kind of stinks that we have to even think about securing our phones- but really, they aren't "just" phones anymore and it's kind of reckless in a way to NOT protect them.  Tablets, too.  My kids like to play on the tablet or phone while we're waiting for appointments.  Often, it's with free wi-fi.  That's like asking for trouble- and that kind of trouble isn't always easy to fix.  What's that our grandmas used to say?  An ounce of prevention is better than a pound of cure?!  Well, here's your prevention.  Online protection.
What I want from online protection is simplicity, ease of use, and the option to use the SAME protection on all of our devices- in one place.  I have a hard enough time remembering passwords for various accounts I access daily, I don't need to add multiple others to that ever-growing list.  I found Hotspot Shield recently and have been really happy with it- up to 5 devices (which is what we have here at the house – hubby's phone is through work so protected from their program) and ONE account.  That's right- it's one account, one login, and that makes me happy.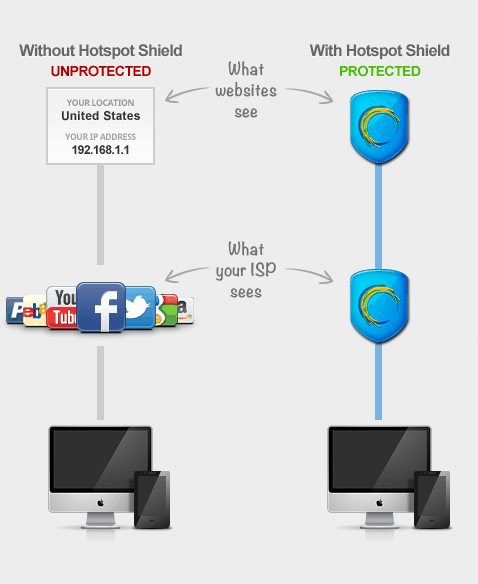 Photo Credit: Hotspot Shield (and no, that's not my IP address)
Hotspot Shield is a VPN service (that's a virtual private network for those of you who are like me and didn't know what that meant immediately). The product secures browsing sessions, detects and blocks malware, hides IP addresses, and allows you to access blocked websites (e.g. Netflix from certain countries).  Basically, it protects your devices so if you are surfing the web at the airport, you're covered and protected just like you are at home on your private network.
Lots of companies offer security and protection online.  It's hard to know what one to choose- some that have gotten rave reviews from others didn't work well at all for our family, and vice versa.  One thing that intrigued me about Hotspot Shield is that while they do offer the protection, they also understand the importance and value of a dollar- and offer ways to earn rewards for sharing about your experience with friends and family.  You'll pay just $29.95 for Hotspot Shield Elite.
Yep.  You will pay for the protection (which I can't recommend you do enough, never be online unprotected) but you can lower your cost by sharing from your Hotspot Shield account and earning free weeks.  They also have frequent giveaways on Facebook so if you are on Facebook, be sure to like them so keep up to date on giveaways! (Right now it's iPad Mini and Kindle Fire).
Encrypted and private communication in public Wi-Fi spots
A secure gateway to access censored and blocked sites and ports
Masked IP address for complete online anonymity
Real-time protection from a wide range of malware
Proprietary data compression technology
Works on PC, Mac, iOS & Android
Virtual Locations in USA, UK & Australia
So here's my question for YOU– what is it that YOU look for when you are wanting online protection?