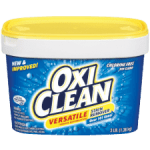 As a mom of three little kids and a husband who frequently has messy projects and chores at work and home, I'm all too familiar with laundry stain trials and tribulations.  Even if these weren't enough to contend with , I cloth diaper, which can often times involve stains themselves. 
How do I contend with stains?  I OxiClean them.  OxiClean is almost always an additive in my wash cycles.  With 3 little kids and my husband's work, I can't always spot stains and I'm confident when I toss a bit of OxiClean into the cycle that any surprise stains will be gone before I ever know they are there.  (Not just because of this post, either!!  My love affair with OxiClean started one day years ago when I was home sick from work and Billy Mays was doing an infomercial on it…yes, yes I did order a set then!) I have a fancy new soaking tub that fits into our utility sink next to my washer SO much better than the 5 gallon bucket I was using, which I'm loving, but the OxiClean is something I don't stray far from- and ALWAYS go back to.  I've tried other methods of stain removal and just haven't been as happy with the results. 
A soak in a pail (or my fancy soaker bucket) overnight almost never fails to get stains out- grease, oil, food, markers, dirt, grass…baby waste…none are a match for this stuff!! If for some reason its not 100% gone, I simply take the wet item and hang it in the sun – that hasn't failed me yet.
One of the toughest, most annoying and frustrating stains we've ever had to deal with (yes, worse than diapers) is when something gets wet from food, say applesauce spills, and I don't know, and a few days later I see mold spots on the fabric- I spent an hour in tears frantically scrubbing and soaking my daughter's favorite dress (and mine) when I saw the mold on it.  I was so upset.  A friend on Facebook suggested making a paste of  OxiClean and Tide- and let it sit overnight.  I'd tried everything and nothing had worked up until then, and I decided to give one last thing a try. 
The next day?
 
It was gone.  The whole area that had shown mold spots was just the rainbow colored fabric!   I wish I had a before photo-  because it was a glorious moment.  This photo, though, would never have happened if it wasn't for OxiClean.  I'd have had to buy entirely new outfits for my girls, because these dresses were sold out in a 6 all over the place.  I had people looking in about 11 states!!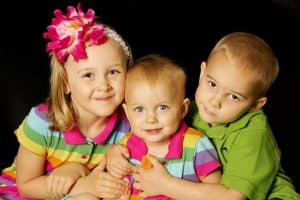 OxiClean works on other household stains beyond laundry – where would it be most effective and helpful in your home?  (Hint: When you have a stain on your toilet or sink, fill the bowl with some Oxi and let it soak overnight.  While not infaillible, Oxi helps remove many stains all around your house!!)
"I wrote this review while participating in a blog tour by Mom Central Consulting on behalf of OxiClean and received OxiClean items to facilitate my review and a promotional item to thank me for taking the time to participate."
0