Last week, my 6 year old came home from school and told me that a child in her class wrote "I hate you (name)" on the whiteboard for everyone to see.  She was very upset for her friend who's name was on that whiteboard, almost in tears as we talked about how that must have made her feel.  It was interesting timing, given that the Children's Message at church the day before was about how you need to be careful what you say or write, because you cannot ever UNsay or UNwrite it.
Mrs. R., the director of Children's Ed at church, was the one who spoke with the children on Sunday.  She used a really great tool to help illustrate to the children what words can do once said or what words can mean once written.  She had one child squeeze out quite a bit of toothpaste onto a paper, and then asked another child to please put the toothpaste back in.  He kind of looked at her funny and said, "I can't."  Mrs. R. talked with the children about how our words, both written and spoken, can't be undone once said, and even if we forgive someone, it's hard to forget when unkind things are said to us.
When my daughter came home to share what had happened last week, we talked about what Mrs. R said in church, and about the toothpaste.  I honestly thought she understood. She really seemed to understand.
Until this morning, when I went to put something in her backpack for school and found this written in a notebook in her bag.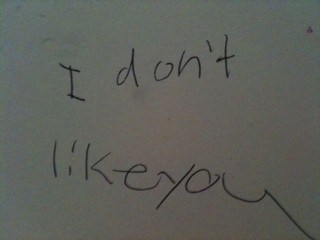 I asked her why she wrote this, and while she did make a few attempts to say that the child she wrote about really "made her mad" she had no answer for why she would write such a thing, especially knowing how it made her other friend feel.  I am not sure, and she couldn't remember, WHEN it was she wrote this.  So perhaps she wrote it a long time ago, but maybe she wrote it this week.  I don't know.  Would it make a difference?
What do you DO in situations like this?  I made her sit down and write I will not write mean things over and over and over again while I thought for a bit and tried to figure out what to say.  I'm still struggling with this, as is my husband.  We're in new parenting territory and not sure what to say.  If you have a suggestion, please feel free to share.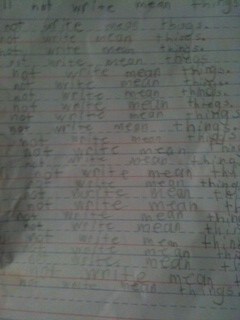 How do you help your child understand what the impact of things like this are/can be?
Jenilee from Six in the Nest had a tough parenting situation this weekend too.  Check her story out!