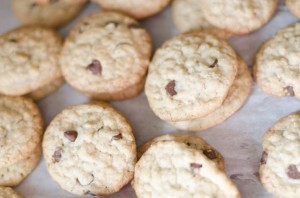 I have idyllic childhood memories of running off the bus after school to be greeted by freshly baked cookies.  My mom's  Oatmeal Chocolate Chip Cookies are the perfect combination of chewy, oaty, chocolately deliciousness with just a hint of salt.  These are my favorite treat and I must really like you a lot because I am going to share her recipe with you.  Here goes!
Oatmeal Chocolate Chip Cookies
2 cups flour
1 teaspoon salt
1 teaspoon baking soda
1 cup sugar
1 cup firmly packed brown sugar
1/2 cup softened butter
1/2 cup crisco
2 eggs (cold)
2 cups quaker quick oats
1 cup (6 oz) semi sweet chocolate chips
Preheat Oven to 360 degrees.  In a large mixer bowl cream the butter, crisco and sugars.  Add the remaining ingredients except for rolled oats and chocolate chips.  Stir well with wooden spoon to combine (do not use an electric mixer, you won't get the right consistency).  Add the oats in two additions.  Mixing well after each addition.  Add chocolate chips and stir to combine.
Shape dough into balls and place on parchment lined baking sheets.  Bake for 10 minutes, until lightly browned on the edges.  Keep extra dough refrigerated while cookies are baking.  Cookies will last 2-3 days in a sealed tuppeware container.