This week's recipe is for yummy Fagioli Soup with Pasta using Amee's recipe from Madame Deals! Perfect for the cooler weather it is sure to warm and fill you up after a busy and hectic day!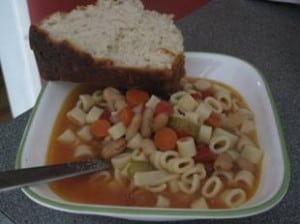 Ingredients:
1 onion-chopped
2-3 ribs celery chopped
4 carrots chopped (I used about 20 baby carrots)
1 tsp minced garlic (I used Tastefully Simple Garlic Garlic -2 TSP)
3-15 oz cans cannellini beans (white kidney beans) drained and rinsed
2- 28 oz can crushed tomatoes
12 cups chicken broth (you can buy it in a can or make your own)
Salt and Pepper (to taste)
2 cups small pasta (Used ditalini but you could use shells or elbow)
Directions:
Combine all ingredients except pasta in crock-pot and stir to combine.
Cook on low for 8-9 hours.
20 minutes before serving stir in pasta. Once pasta is cooked the soup is ready to serve.
Amee topped hers with Parmesan cheese for an extra kick and served with Beer Bread.
Each Tuesday during the Fall and Winter The Centsible Family will showcase a slow cooker (crock-pot) recipe that one of the Mavens of Money have tried and tasted. By sharing we hope you will be able to save a little time during the week as we all know saving time is just as valuable as saving money. And you will be able to enjoy a hot meal at the end of your day.
Want more recipes? Check out 1,001 Best Slow-Cooker Recipes: The Only Slow-Cooker Cookbook You'll Ever Need
for more recipes.
Are you in need of a slow cooker or crock pot for this recipe? Amazon is having a "Crocktober" Fest until November 30th with a $5 cash back rebate offer. Order any of the crock-pot slow cookers and you can get $5 back through their rebate. Prices range from $29.88 Crock-Pot SCCPRP500-LTD 5-Quart Round Programmable Slow Cooker, Limited Edition Pattern
to the $79.99 Crock-Pot SCVT650-PS 6-1/2-Quart Programmable Touchscreen Slow Cooker, Stainless Steel
.
0