Whether your kids love to eat healthy with a variety of  fruits and vegetables or not, they will slurp up this yummy rainbow smoothie. Not only is it fun for the eyes, but every layer is fruity and delicious!  Get the kids in on the fun from the start, take them to the grocery store or farmers market to help pick out fruits.  Encourage them to choose at least one new item for one of the  color layers- mango, cherries, kiwi, honeydew, cantaloupe etc… Don't forget blender safety- remind them to always put the lid on before mixing, and never put their little hands inside blender.
A bright, colorful and still healthy rainbow smoothie that kids can help make- perfect for breakfast or a treat! More fruit varieties= more colors to enjoy!
Rainbow Smoothie Recipe- Fun & Fruity!
Rainbow Smoothie
Ingredients:
16 Tbsp. Frozen Greek Yogurt
1/4 cup Almond Milk, whole milk, coconut,etc.
2 Tbsp. Honey
2 strawberries
1 banana
1 kiwi (and optional 6-8 spinach leaves)
1/4 cup blueberries
1 peach or 1/2 cup cantaloupe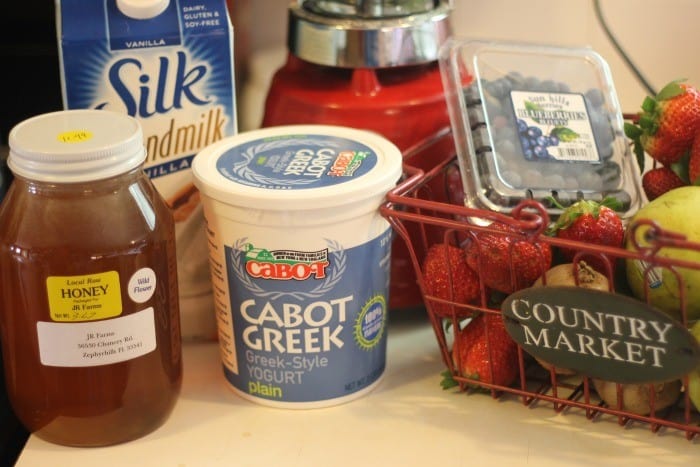 Directions:
Freeze your Greek yogurt the night before in an ice cube tray. Each cube should equal about 2 Tbsp. Remember when we used to use ice cube trays just for ice cube making? I don't think mine have had plain water in them for about 10 years now… maybe longer. I started using them for baby food when the kids were itty bitty and I love freezing herbs from the garden in them even today!
In a 
blender,
combine 8 cubes of frozen yogurt, honey, and almond milk just until smooth, remove from blender. We try to do local honey – honey on it's own is a great for you ingredient, but consuming local to you honey can help with seasonal allergies as well. Plus, it supports your local beekeeping neighbors, and we need bees to stick around…so it's a win win for all of us to buy it local!!)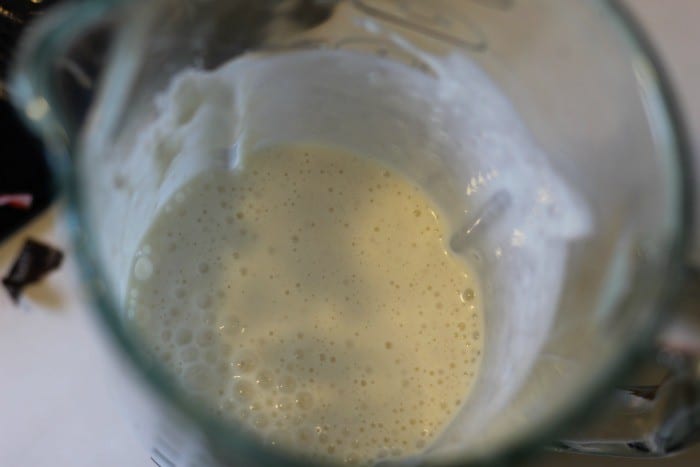 Add a little more than 2 Tbsp. back in with each fruit as follows-
Blueberries
Kiwi and Spinach
Banana
Peach or Cantaloupe
Strawberries
Blend each fruit and 2 Tbsp. yogurt separately until smooth. Rinse blender between each layer.

To layer in your glass, spoon it in carefully. Pouring from the blender will cause them to blend.
Add a straw and a slice of fresh fruit, enjoy!
Serves 2, maybe, if you feel like sharing…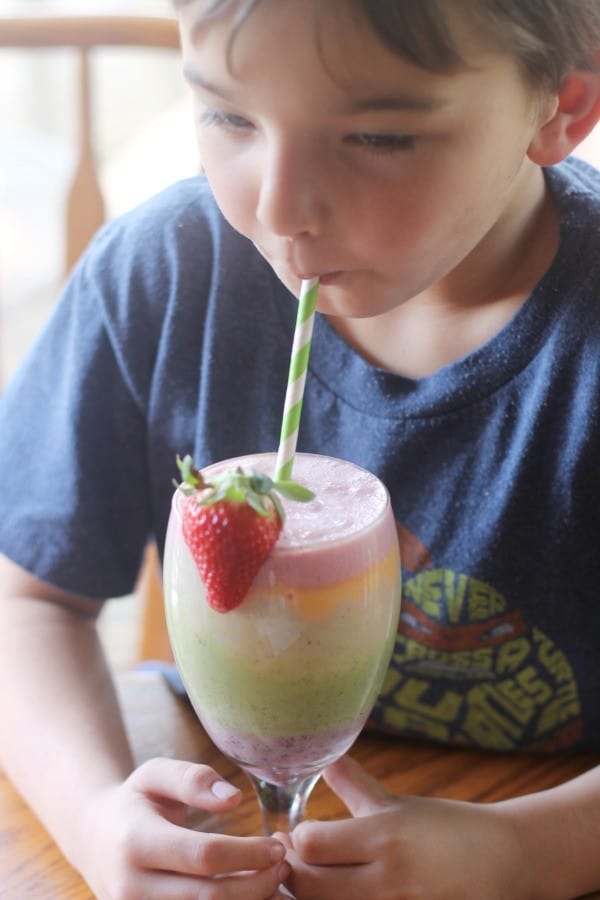 Are you wanting more recipes to make that kids can help with? Get your kids in the kitchen with some of these kid faves!