This project not only covers creativity and patriotism but if you let the kids help out you will be building fine motor skills, hand eye coordination, and including an art lesson. While it seems complicated, if you follow the template you will have a beautiful piece to show your American pride! Have fun making your patriotic string art craft!
Patriotic String Art Craft
Materials:
Wood Board
-mine is an old pallet and measures about 5.5″ x 11″
Embroidery floss in red, white and blue
Tack Hammer
Wire Nails
-I use 3/4″ to 7/8″ nails with a larger head on them. I picked up a 2 ounce package at Walmart for a buck!
Black Acrylic Paint or a Sharpie
-The paint I used was Apple Barrel Noir (black) color
Pattern, printed on 8.5 x 11 paper (or larger if you'd like to make modifications) Click to download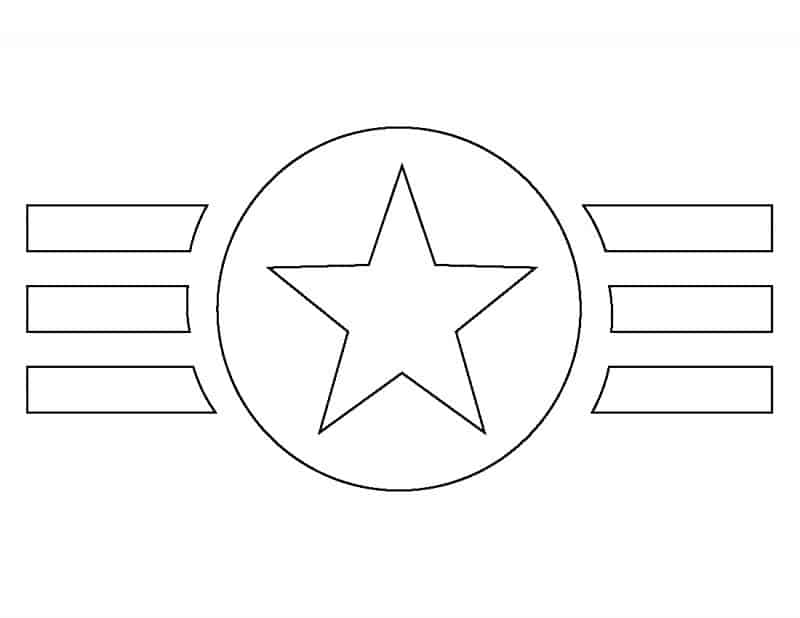 or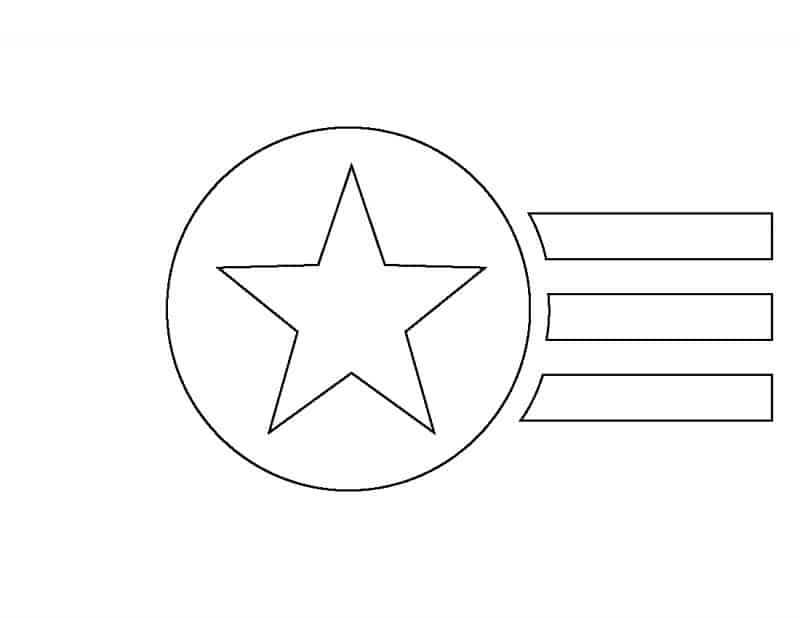 Sanding Block (if necessary to smooth your board)
Please Note:
I started with a different pattern (as shown) and realized it was virtually impossible to create because my lines were too close together. Therefore I modified the pattern as I went and changed the pattern to match the finished piece (actually the lines are farther apart on the pattern because it's way too hard to get your fingers in there to add nails!)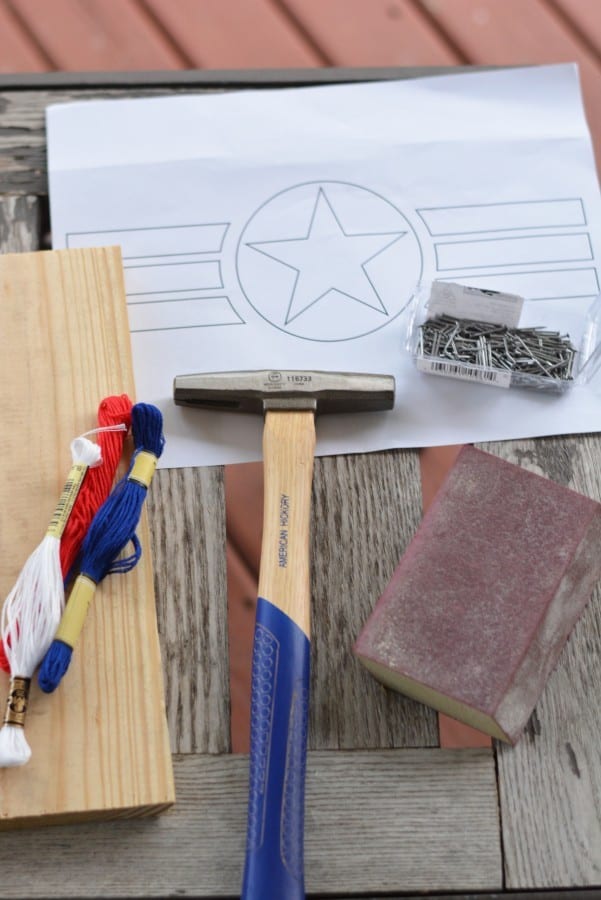 Process:
Begin by pounding your nails into the board following the pattern. I start at the top or left and move right. Place the nails about 1/2″ apart and drive them about 1/3 of the way into the wood. When finished, pound every nail down, checking to see if it's pretty even. Now WASH YOUR HANDS! Depending on the nails you got, they will most likely be filthy.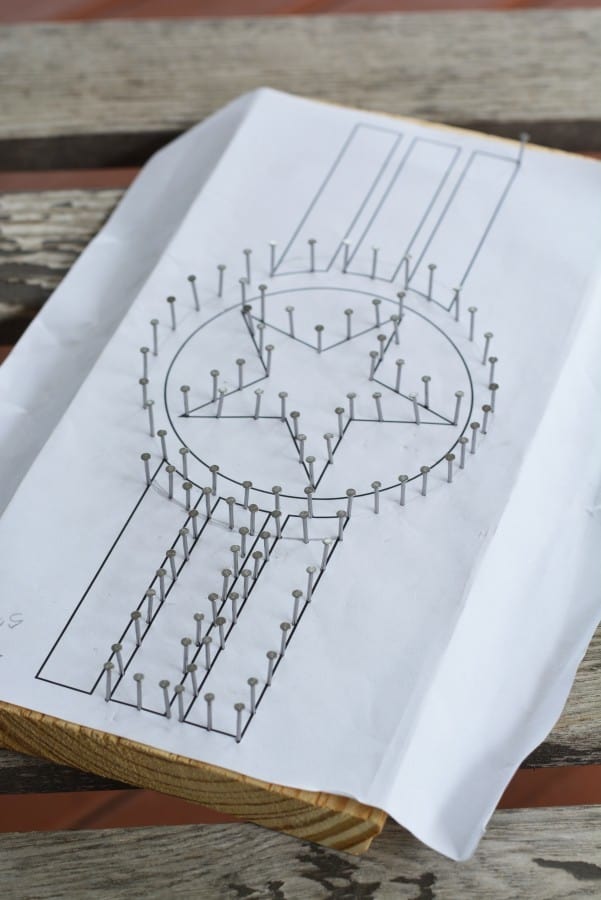 The beauty of these nails is that you probably won't get them all straight, but a few taps on the side with the hammer and they will be straight again.
Remove the pattern by lifting UP and AWAY from the wood and then tear apart/off. Remove any specks of paper with tweezers.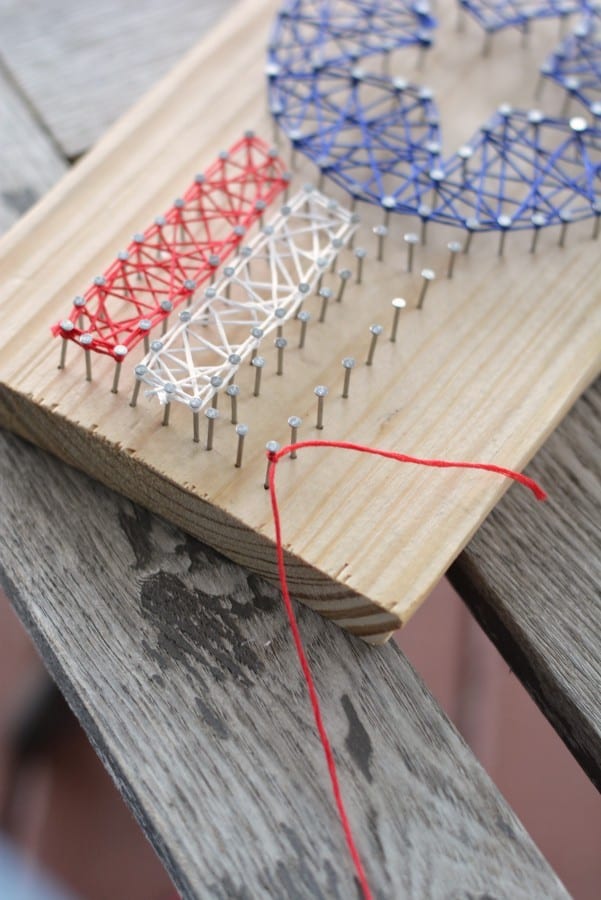 Now you're ready to string your board. Unwrap and unwind a few feet (say three) of embroidery floss. Do not separate the strands. You will use all six strands. Tie the string around a nail with a double knot. I usually start around the top or left side. Begin to zig zag the string across the nails, back and forth, up and down, all around. There's no wrong way. Add as much or as little string as you'd like. Your grip will slip and your string will unravel at some point, so every fifth nail or so, wrap the string all the way around the nail head and pull tight.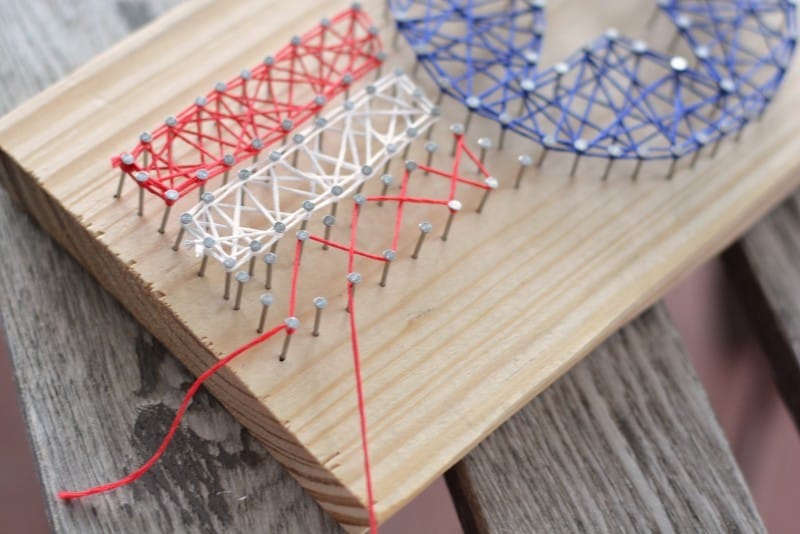 Enjoy!
For more July 4th & Patriotic ideas, check out a few posts from my favorite bloggers: