Peach Mango Grilled Chicken Recipe with Sweet & Fruity Olive Oil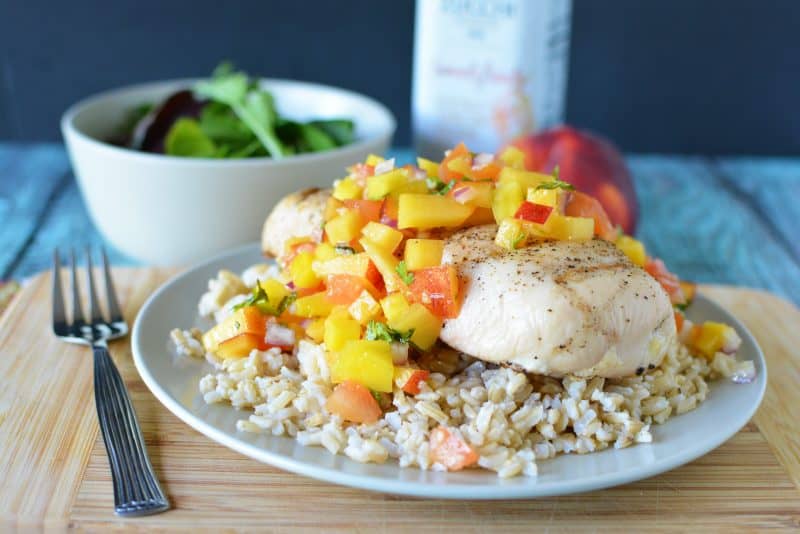 It's summer. Well, not quite, but close enough. Let's fire up the grill and eat some yummy summer foods, already! We pretty much live on our deck already, so grilling is kind of a no brainer in summer. Plus it keeps the heat outside and not in the kitchen making the house hotter than it already is.
"Oleificio Zucchi," a family owned, unique Italian olive oil brand reached out recently and challenged us (Kari) to create a recipe using one of their extra virgin olive oils. They've sponsored today's Peach Mango Grilled Chicken Recipe, and we love them for it. Zucchi doesn't just make delightful flavor blends when they make their oils. They view blending these oils as an art form, and take it really seriously. They even call the team who creates the different varieties Blendmasters. Blendmasters are trained in the art of pairing different kinds of olives to garner desired flavor profiles- sweet, peppery, and more.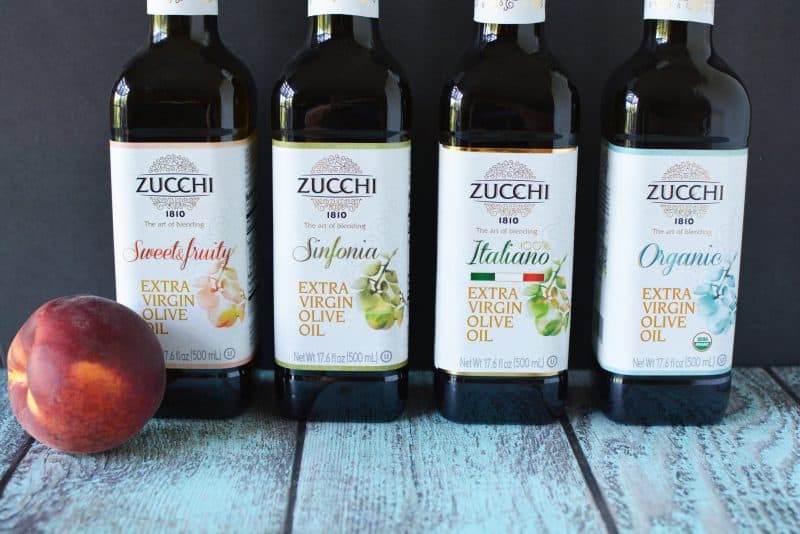 Kari went right to the Sweet & Fruity Extra Virgin Olive Oil and created this amazing Peach & Mango Salsa to top a grilled chicken with.  Light, sweet, fruity and PERFECT for summer meals! You know, it's funny, but there was a time not so long ago when I thought olive oil was just olive oil, and then with cooking shows on TV, I learned about different kinds of it, like extra virgin olive oils, but as time went on, I noticed that all brands are NOT created equal, and quickly learned we had preferences when cooking (and baking) for different oils. One day, I may try to make my own flavors of EVOO, but until then? I'll grab a bottle made by someone who *knows* their EVOO and how to blend the flavors of olives to get the perfect blend…and let the experts handle things for me.
Peach Mango Grilled Chicken Recipe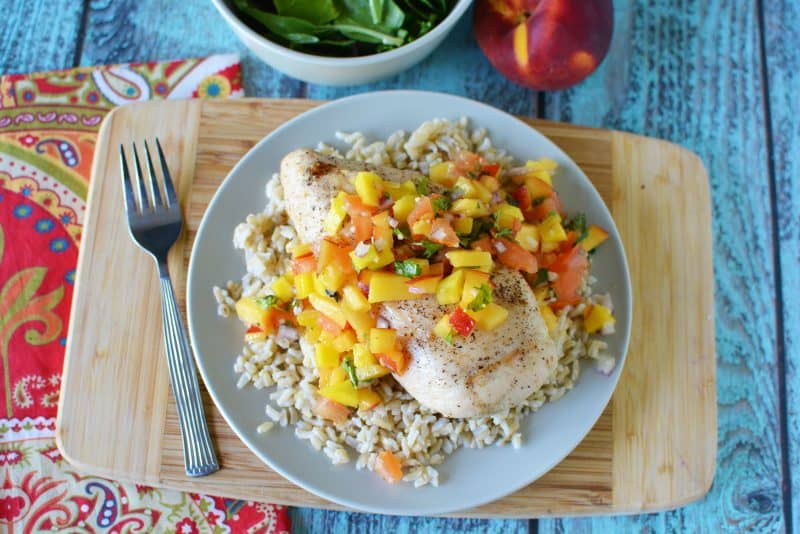 Ingredients:
2 peaches, diced
1 mango, diced
1/2 cup red onion, minced
1 tomato, seeds removed and diced
1/4 cup chopped cilantro
2 teaspoons minced garlic
4 chicken breasts
salt & pepper
cumin
rice (brown or white)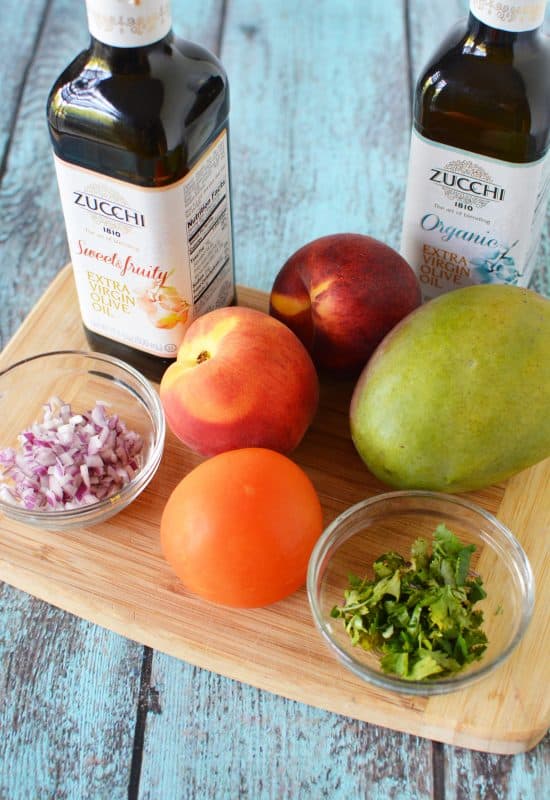 Directions:
In a large bowl, add peaches, mango, onion, tomato, cilantro, garlic and oil. Stir to mix well. Set aside.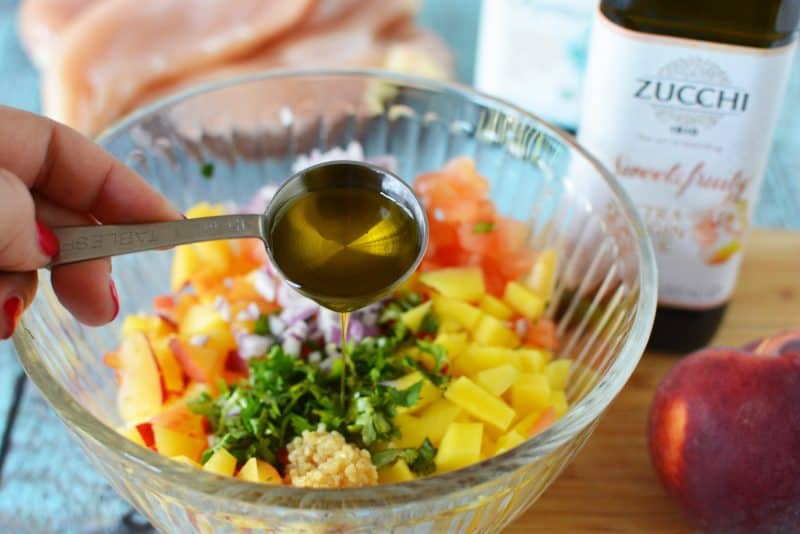 Preheat an outdoor cooking grill. Season chicken breasts with salt, pepper and cumin.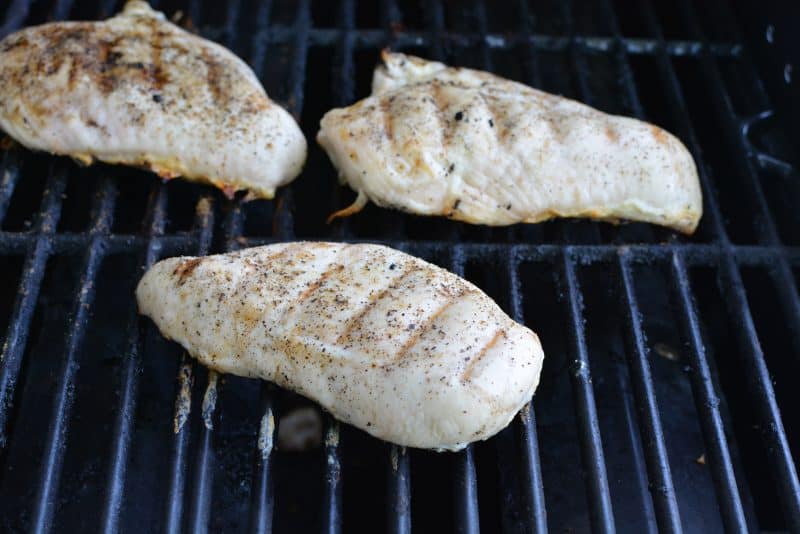 Grill on medium high heat four 10-15 minutes (depending on the thickness of your chicken) turning once.
White chicken is cooking, prepare rice.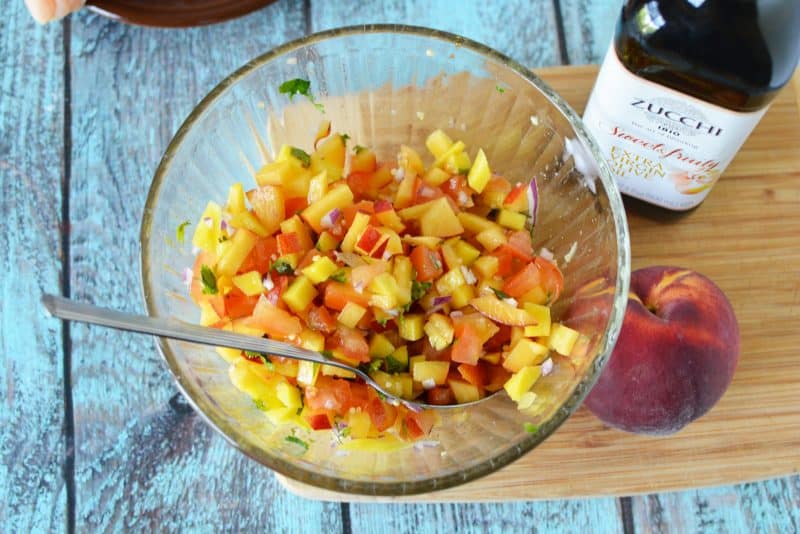 Serve chicken with rice and peach mango salsa.
Serves 4
You can find Zucchi Extra Virgin Olive Oils in the northeast for now, but they're expanding into other areas of the country, so be sure to check where you can find Zucchi Olive Oils in stores. (Locals: Big Y stores carry it already!) You can also follow them on social to get great recipe ideas, product info and find out more about where to buy Zucchi.