One of the best perks of my kids watching Peppa Pig is the Brittish accents they carry forward long after the show is over. Seriously, so cute.
My three year old daughter and four year old son have been long-time fans of Peppa Pig – we watch the humorous [and totally relevant] shows on Nick Jr.
We had yet to purchase any of the Peppa Pig toys but ironically just started seeing them in stores while shopping for Holiday presents.  So when I let them open the box  of Hug 'n Oink Peppa, The Peek n' Surprise™ Playhouse and the Muddy Puddles and other stories DVD before Christmas they were ecstatic.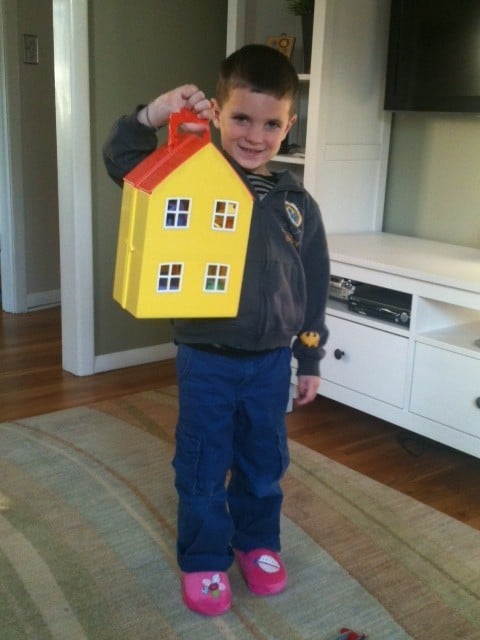 The Peek 'n Surprise™ Playhouse by Fisher-Price is so fun! My kids instantly sat on the floor and played with the figurines (Peppa and her little brother George) and their house for a long, long time!  (and if you have kiddos you can attest, any length of time greater than 2.3 minutes is a success – so 35+ minutes straight without snacks, whining or fighting is…heaven on earth.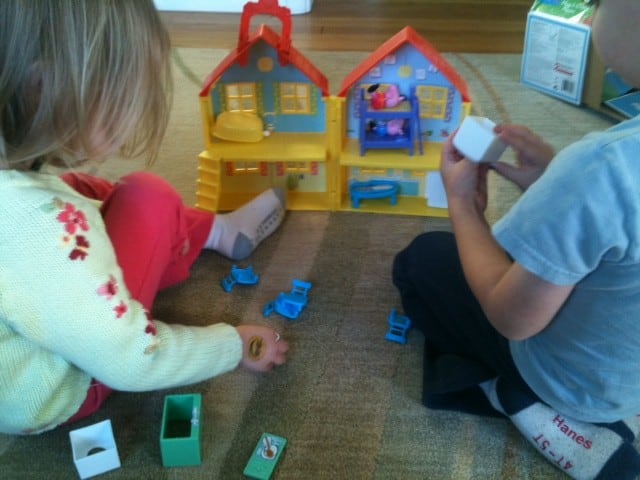 The Peek 'n Surprise™ Playhouse comes with several pieces of removable furniture; many, like the table, oven, bunk bed and tv come with a 'flipable' piece to change the scene.  For example, you can take the bed from messy to tidy or the table from arts and crafts to dinner time with just a flip! Endless scenes and scenarios for lots of imaginative play!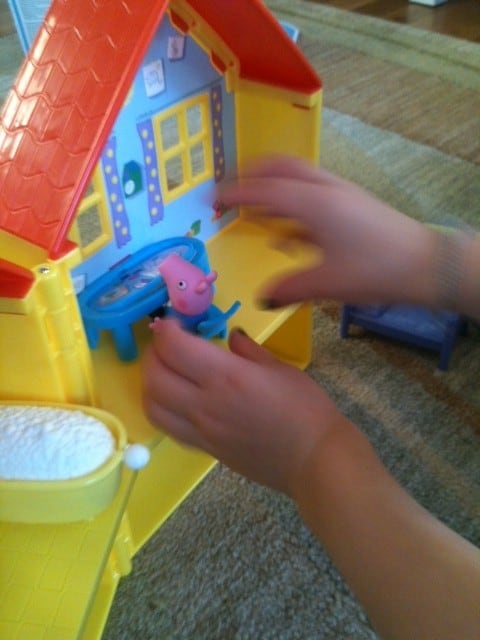 For easy storage and on-the-go fun the Playhouse folds closed and comes with a handle!
Although we loved this feature the one negative is that it's a little cumbersome to get all the pieces inside, staying put while trying to close the doors. But after a few tries we got it down.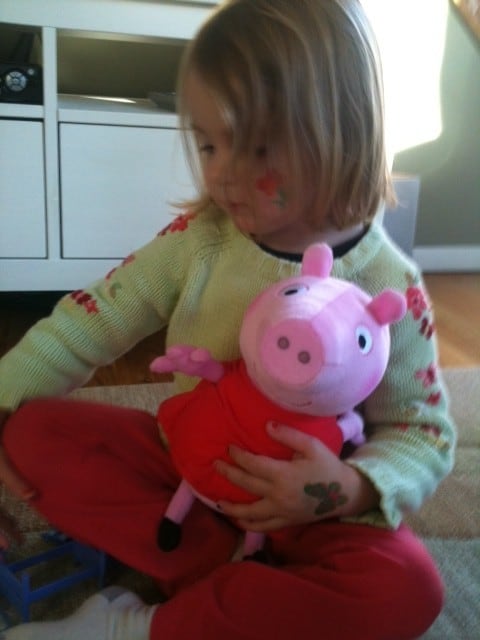 The Hug 'n Oink Peppa by Fisher-Price is a stuffed  toy Peppa pig  with  fun melodies, phrases and even oinks and giggles and sings when she's squeezed.
My daughter grabbed it right away and didn't want to let go and I don't blame her! It's made of super soft materials with a removable red shirt (which hides the Velcro opening to the battery case – which, by the way, is screwed shut for safety – yay!) and quality details like embroidered eyes, nose and mouth.
These Peppa Pig toys are so great and I know a few other Peppa fans who will love to receive one as a Holiday gift! Different, unique and so fun!
This is a guest review from Hannah over at to the moon and back!  Samples were received but her opinions are her own.