Betty Crocker, a classic brand that most American households are familiar with, has a line of delicious and mouthwatering Specialty Potato side dishes  that can make any meal complete.  From Au Gratin to Classic Mashed Potatoes, Betty Crocker has something for every weeknight dinner.
Now, many of you know that I'm not Betty Crocker.  I'm not even Bretty Crocker (see what I did there? Because I think I'm funny?).  I don't have a repertoire of wonderful, gourmet meals that I rotate every 4-6 months so that my family doesn't tire of the same foods over and over again.  We don't do much pasta in our house, so when it comes to side dishes….well, that's frequently a struggle. Meal planning is NOT my forte.  Other people planning my meals and giving me a list?  Totally my forte. 
So…main dishes, I can do.  It's not that hard. But sides? Side dishes?  It's hard for me to find the perfect pairing. I struggle. I stress. Sometimes, I look to old favorites for inspiration or help.  Like Betty Crocker and all of her lovely potatoes. Some nights, our perfect pairing for a meal is a salad.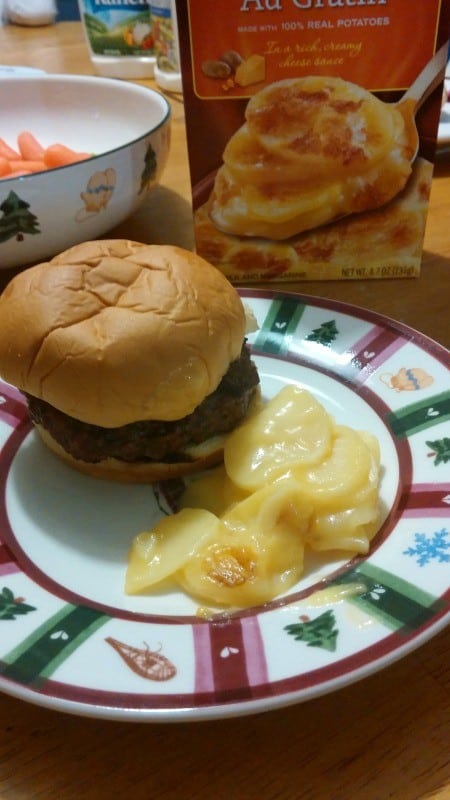 Other nights, like when my daughter has basketball right when we'd normally eat dinner, I don't have time to make involved meals.   I decided to make some Au Gratin Potatoes for a side dish, with our burgers and veggies. I think we were all happy to be eating something besides holiday leftovers!!  I was VERY happy to have an easy to make side dish that was a little different than our everyday plain rice or roasted potatoes. Those are our "favorite" side dishes….or extra veggies.  It gets boring quickly! That's when I look for some more fun or adventurous (or at least DIFFERENT) side dish options, and Betty Crocker has so many that we can choose from! I guess you could say my favorite side dishes are the ones that take very little thought on my part 🙂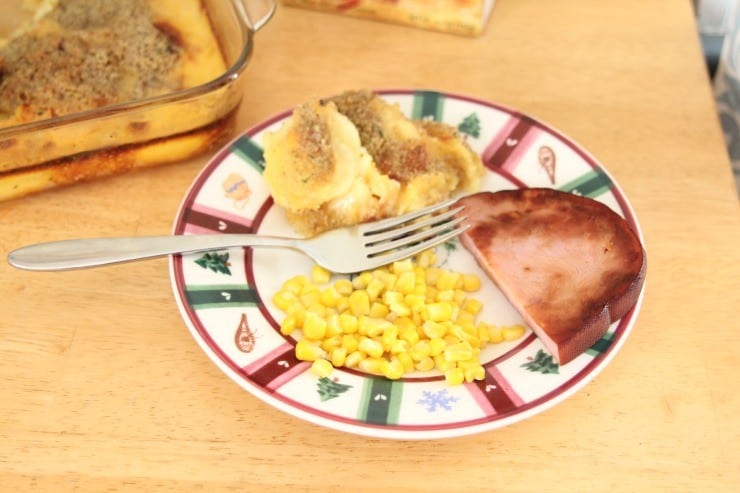 Tonight, we're doing Loaded au Gratin Potatoes with some Ham Steaks and Peas.  I'm making dinner early in the day because we have dance and gymnastics after school and will not be home until 6pm.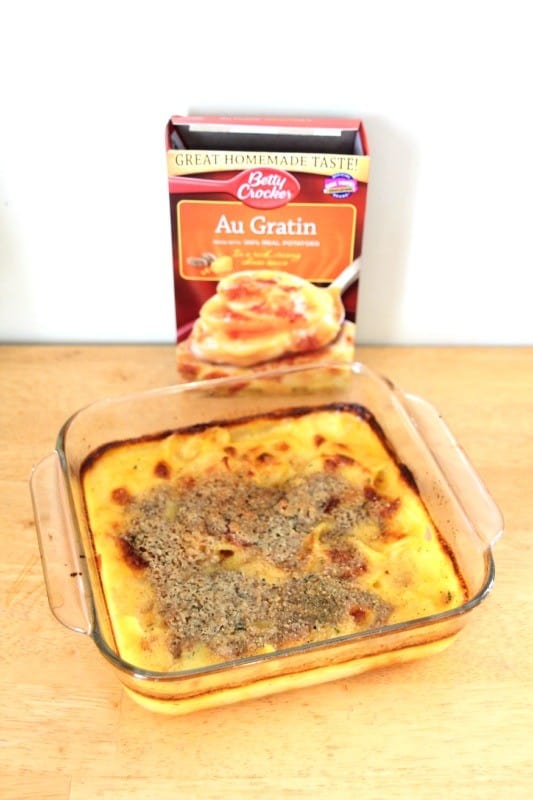 Loaded au Gratin Potatoes
Author:
Prep time:
Cook time:
Total time:
Adding to Betty Crocker Au Gratin Potatoes for a more substantial side dish
Ingredients
1 box (4.7 oz) Betty Crocker® au gratin potatoes
2 cups boiling water
1 cup half-and-half
2 tablespoons margarine or butter
6 slices bacon, cooked, crumbled
1 cup shredded Monterey Jack cheese (4 oz)
1/4 cup sliced green onions (4 medium)
1/4 tsp coarse ground black pepper
Topping
1/2 cup Progresso® plain bread crumbs
2 tablespoons butter, melted
1 tablespoon chopped fresh parsley
Instructions
Heat oven to 400°F.
in 2-quart casserole, mix Potatoes, Sauce Mix, boiling water, half-and-half and butter.
Stir in remaining potato ingredients.
Bake uncovered 35 minutes.
In small bowl, mix bread crumbs and butter; sprinkle over top.
Bake 8 minutes longer or until topping is golden.
Sprinkle with parsley.
Let stand 5 minutes before serving (sauce will thicken as it stands).

Need a quick and easy meal solution for the busy holiday season?  Try Betty Crocker Potatoes today.
            Get recipes at http://www.bettycrocker.com/recipes/product-recipes/potatoes-recipes
What are your favorite side dishes? 
Disclosure: Compensation was provided by Betty Crocker via Glam Media.  The opinions expressed herein are those of the author and are not indicative of the opinions or positions of Betty Crocker.