I love taking photos. I'm happy to have a camera in hand and click, click click away all day long. Editing images is something that both fascinates and scares me all at once, and something I really want to work on regularly (enough that I am going to do some online classes to hone the few skills I have, so that I can edit to suit what my visions are for images!). I recently had the chance to check out Adobe's Photoshop Elements 10 and Premiere Elements 10 and I am loving it!
With Photoshop Elements 10, I can edit my photos automatically (which is what I did most at the beginning) and I can also edit my images to look how I want them.  Sometimes a photo just doesn't work in color…perhaps it was overexposed, perhaps there was another issue.  But with this program, I can turn photos like this: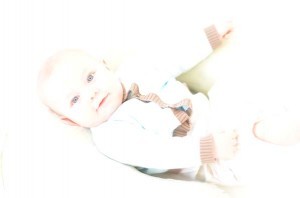 Into really nice black and white photos, and not have a "lost" image simply because of the overexposure, like this: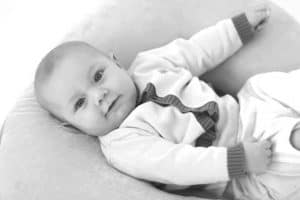 There are so many fun ways to edit your images (and videos too) with Photoshop Elements 10 and Premiere Elements 10!! Look at this little cutie- it's a gorgeous photo before…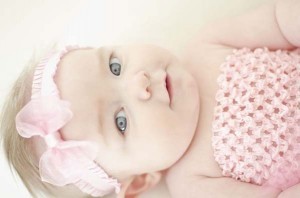 But make it black and white, leaving just the pink for color, and look how sweet you can make this photo!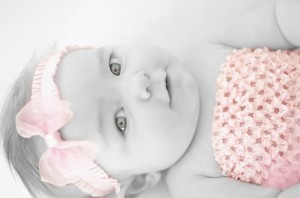 There are so many ways you can edit a photo- changing the lighting, the background, fixing color and lighting, adjusting brightness, the white balance…add artistic effects, text, create photo gifts, photo montages and more.  I have waited a long time to have an editing option for my home that offered me tons of options for editing photos, and I have that in Photoshop Elements 10.  I'm still going to pursue some online courses and tutorials to keep growing my editing knowledge- you can find some great resources to learn more about Elements right on their resource page.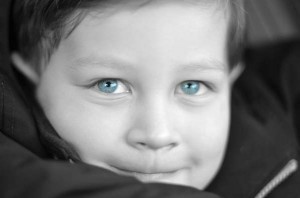 Look how much those gorgeous blue eyes POP when the photo is changed to black and white!
Elements allows you to share your photos easily on social networking sites, tagging friends and family along the way. I know that I've barely scratched the surface of what these programs can do!!
Extraordinary photos
Use quick editing options or easily-combine the best from several photos to get great-looking results.
Instant clutter removal
Perfectly lit shots
Great group shots
Stunning panoramas
Orton Effect
Smart organization
Use automated options to quicklyfind and organize all your media.
Tagging with your Facebook Friends list
†
Object Search
Free 2GB of online storage
Incredible movies
Make movies instantly thanks to smart, automated options.
Color adjustments for specific areas
Motion graphics and Hollywood-style themes, transitions, and effects
Cherished keepsakes
Easily create amazing photo books, calendars, cards, and other mementos that are customized to look just the way you want.

Convenient sharing
Quickly share photos and videos on Facebook, YouTube™, your Photoshop.com galleries, and more.
†
Share finished movies on Facebook.
†
Burn Blu-ray quality HD movies using standard DVD discs and burners.
Share in high-quality AVCHD format.
What are the features you look for in editing software? What do you use?  I find Photoshop Elements 10 and Premiere Elements 10 to be a high quality product and reasonably priced at just $119.00 for both!! 
I received a sample of this product to facilitate my review.  Opinions are my own.