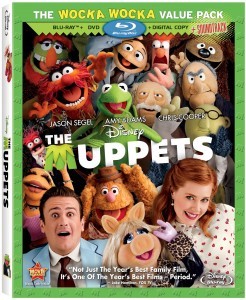 The Muppets movie will be available for purchase on on DVD & BluRay March 20, 2012 . There are  four different versions available for purchase (preorder now!)– DVD, DVD + Soundtrack, Blu-Ray/DVD, and the Wocka Wocka Value Pack (Blu-Ray/DVD/Digital Download/Soundtrack).  The friends from my childhood came back to the big screen and delighted a whole new generation of kids this past fall and now they will delight us at home for our viewing pleasure.  I love that I can share such a fun part of my childhood with my children!!
The Longest Blooper Reel Ever Made (In Muppet History – We Think)
Disney Intermission – Pausing a movie will never be this much fun, as the Muppets take over the screen every time you stop the disc.
Scratching the Surface: A Hasty Examination of the Making of Dsiney's "The Muppets"
Explaing Evil: The Full Tex Richman Song
A little Screen Test on the way to the Read Trhough
Eight Deleted Sceens
Audio Commentary with Jason Segel, James Bobin and Nicolas Stoller
The popular spoof trailers
The complete soundtrack (which is, in This Mama's opinion, the best movie soundtrack ever!!)

Disney's "The Muppets" Blu-ray Combo Pack, with its flawless picture and pitch perfect sound, comes with a fantastic slate of bonus content including the laugh out loud "The Longest Blooper Reel Ever Made (In Muppet History––We Think)." The exciting release also includes the hilarious featurette "A Little Screen Test on the Way to the Read Through," which follows Jason Segel, Kermit, The Great Gonzo, Fozzie Bear, Miss Piggy and others as they get ready for the first day of production, and much more fun.

Want to meet the crazy cast from the mega movie? Here you go…

 KERMIT THE FROG PLAYS KERMIT THE FROG

Kermit explains: "I understand they considered other actors like George Clooney and Tom Hanks for the role of Kermit – but I won it in the end. When it comes to playing a short, green and amphibious guy, I'm still Hollywood's go-to guy."

MISS PIGGY PLAYS MISS PIGGY

Miss Piggy reveals: "This is the role I was born to play. Moi plays a high-powered, confident, charismatic, gorgeous, scene-stealing star who saves the day and wins her frog's heart!"

JASON SEGEL PLAYS GARY

Jason Segel explains: "Gary is very naïve, sweet and innocent – and he's very much in love with his girlfriend Mary. It's been a dream come true to star in The Muppets!"

WALTER PLAYS WALTER

Walter admits: "Walter is the world's biggest Muppet fan, which is a real coincidence since I happen to be the world's biggest Muppet fan and my name is Walter. It's like I was made to play this part!"

AMY ADAMS PLAYS MARY

Amy Adams reveals: "Mary is a small-town girl. She's a shop teacher in Smalltown, USA, and she's also Gary's girlfriend. She's desperately waiting for Gary to propose!"

CHRIS COOPER PLAYS TEX RICHMAN

Chris Cooper explains: "Tex blames the Muppets for a terrible event that happened to him at his 10th birthday party. He is unable to laugh and has vowed to destroy the Muppets!"

RASHIDA JONES PLAYS VERONICA

Rashida Jones reveals: "I play a hard-nosed, stressed-out TV executive. I am the only person who gives the Muppets the chance to air their fundraising telethon – and I yell at Kermit a lot!"

The Muppets is Available March 20th with the Wocka Wocka Value Pack, which contains the movie on Blu-ray high-definition, DVD and Digital Copy (3 discs) plus adownload card for the film's soundtrack from Walt Disney Records!
I received a sample of this product to facilitate my review. Opinions are my own.