OK.  We all know about Pinterest and most of us are addicted.  Or at the very least, have lost some time by perusing the site. It's fun, and its awesome to see all of these wonderful, beautiful ideas….
that others can bring to fruition.
You see,
I've tried a lot of things from Pinterest.  I have.  I've been so excited, and then….
my results are not exactly…um…
well,
let's just say it like it is.
FAIL.
I can't be the only one, can I?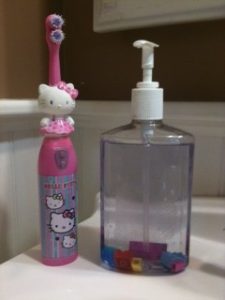 The super cute soap dispensers, filled with neatly suspended legos?  Yea.  Notsomuch.  My legos sank down, the soap was murky, and my kids were all "Moooooooooooooooommmy why did you put my favorite lego blocks in the soap?"
Or the "melt in your mouth chicken" that had been repinned a bajillion times.  I followed that recipe to at "t" and yet… there was no one in my house that wanted to keep that chicken in our mouth.
The super cute wreath that I spent a few hours painstakingly cutting the old nursery curtains into strips for, so it would adorn the front door so adorably?!
Well, it IS hanging on the door.  It does adorn the door.  But adorable?  I don't think so.  More like "at least you tried"
I love Pinterest, and I love what it offers.  But I have to be the one to say this. I have to admit my shortcomings.  Apparently, Pinterest is one.
In all seriousness, I've had GREAT successes with Pinterest, too.  But when I fail, I FAIL.  I guess I just don't like to be half-failing.
But now I want to know- what do YOU fail at?
0