This is a guest post from my friend Kelly.  She's Jamie's mom, Braeden and Dana's mom, and I want to share her latest endeavor with you.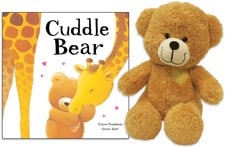 As a way to commemorate what would have been our Jamie's 3rd birthday (
 www.jamiesrun.org
), our family is organizing a drive to donate copies of the precious book 
Cuddle Bear
and matching Cuddle Bear plush toy to children who need a hug at
Connecticut Children's Medical Center
.  What better time to kick it off than around
National Brothers and Sisters Day
(May 2).  The books and bears will bring comfort and smiles to children in the hospital today and help fund childhood cancer research at the same time.  This is another small way we are trying to live out our mission to help find cures for
pediatric cancer
and spread more of Jamie's love.
Cuddle Bear
 is a heart warming and tender book, and
Usborne Books & More
donates a portion of the sales of each book and animal to the
Scott Carter Foundation
.
  The foundation funds many
childhood cancer research projects
all over the country.  Just like pediatric cancer research done at CT Children's, the research is used by pediatric oncologists all over the world, and could just be the research needed to heal a child you know with cancer.
If you are interested in donating a few dollars, a book, or toy, please let us know by May 28.  The total cost for a book or toy is $14.92.  Click this  link for more information on Cuddle Bear.
If you are interested in purchasing a book or toy for your family or to give to someone you know, you can do so from the following link: Cuddles for Children.  Or click on 'Cuddles for Children' on Kelly's main page
You can have them sent wherever you'd like.
Thank you for your consideration.  If interested, please email us.
With much gratitude,
Kelly, Kurt, Braeden, and Dana