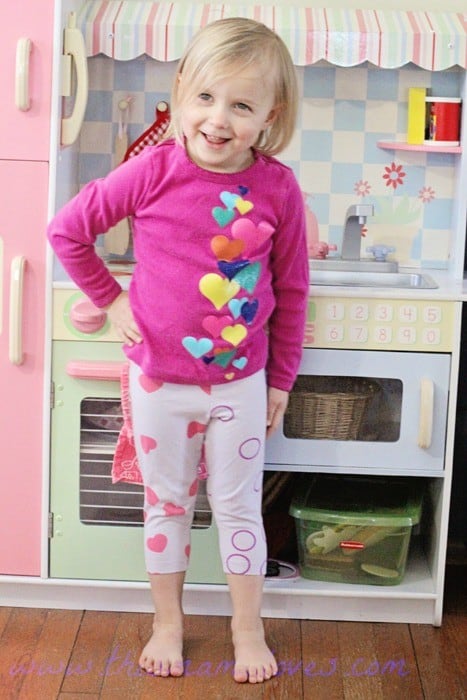 Both my girls have their own very clear sense of what they want to wear and what goes together.  I can buy them outfits and matchy stuff, but unless I specify, they take what I buy and make it something totally their own.  I don't mind- actually, I enjoy it. I never had a fashion "sense" and my girls just LOVE finding things to wear together.  More often than not, each of my girls comes down dressed in all kinds of colors, patterns, styles and fabrics.  My little one is particularly fond of tulle skirts, tshirts and fun leggings….with rain boots.  She likes to look fancy and be comfortable all at once.  All of the outfit sets I got for her get worn, just never together.  It's totally fine with me.  As you can see- she rocks the look!  This outfit below is her own creation.  She took off a purple and white polka dot skirt and bright green socks only moments before.  The funny part is the pinks and purples in her shirt that I so carefully chose with it's own skirt….they look fabulous with the PolkaDot What leggings!  These leggings are so much fun for the girls to wear, and people comment on them everywhere we go.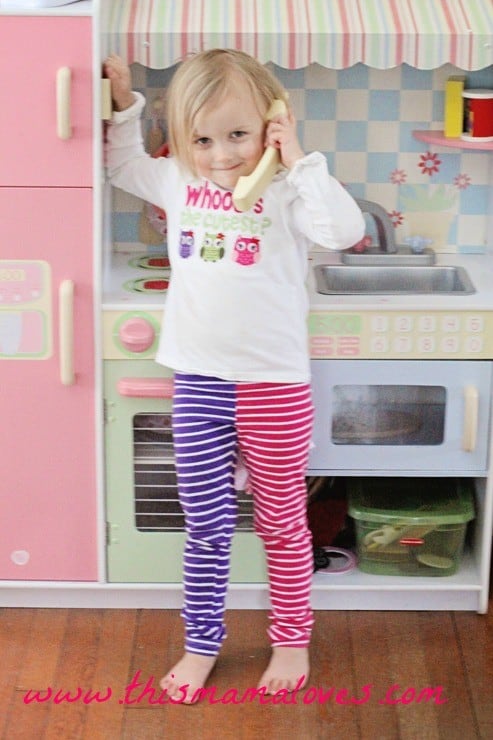 How much fun is it to be able to choose different colors and/or patterns for your leggings?  With the PolkaDot What line, each length of leggings has it's own set of design choices-and there are 3 lengths to choose from.  Different colors and styles reflect different personalities- and sometimes, you just feel like being mismatched.  You pick a length, a choice from the left leg column, and a choice from the right leg column.  Voila.  Funky leggings.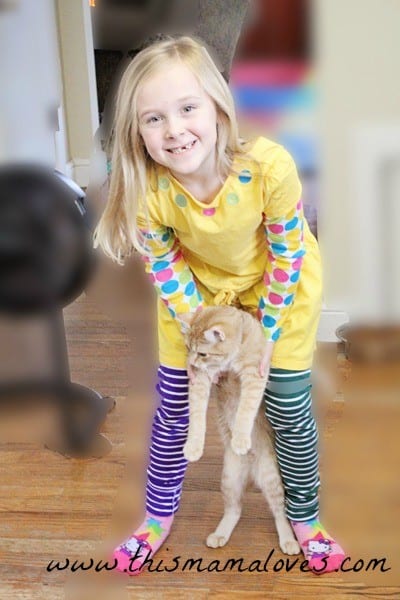 What I like about these leggings, aside from the fun and funky aspect, is that they are a nice quality cotton fabric, blended with spandex for a great fit and feel that kids will want to wear again and again.  The inks are water based and not harmful to kids' skin.  I'm totally in love with these leggings and would like to order more, more and more pairs.

When PolkaDot What first asked if I'd like to check out their leggings I laughed to myself thinking that the creator, Zani, surely has met girls exactly like my own- because these leggings are probably the best wardrobe piece they own now.  Zani started PolkaDot What because she wanted to make a difference in children's lives- and with this brand she's able to bring happiness, creativity and confidence to kids.
Here are some discount codes just for my readers to get some leggings- US residents get free shipping when they buy 2 pairs or more AND a PolkaDot What mini bag!
PDW-MAMALOVES-10
(
Stripes: $28.00)
PDW-MAMALOVES-15
(
Capris: $25.00)
*Codes are valid until April 1, 2013
**Also, for international customers, please note that the 2 pairs or more free shipping offer applies to US customers only. They will still receive our Polkadot What mini bag with two orders or more.