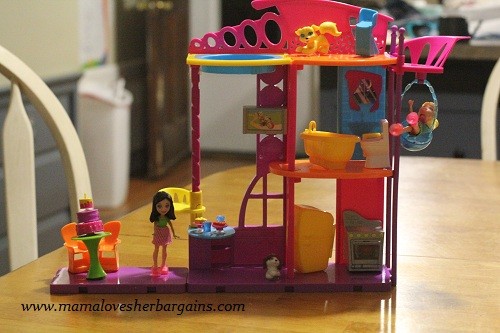 We are BIG Polly Pocket fans around here.  Or little?  We even have my nieces' old Polly Pockets from the 90's, which are teeny tiny, you can't change their clothes, and they actually do fit in any pocket.  We love them, but to be quite honest, they can get very frustrating very quickly, especially for younger kids.  They don't pose, they don't stay where you put them unless they are "just so" and that doesn't always make for a good time.  (I do believe the old school Polly Pocket toys are meant for older kids).  The new Polly Pocket Hangout House Playset and Stick N Play Room offer the same great Polly pocket friends and themes, with the bright colors and funky decor that we've grown to love so much over the past 20+ years since they came into play…but with a fun new twist that makes them stand out.  Or rather, stand UP.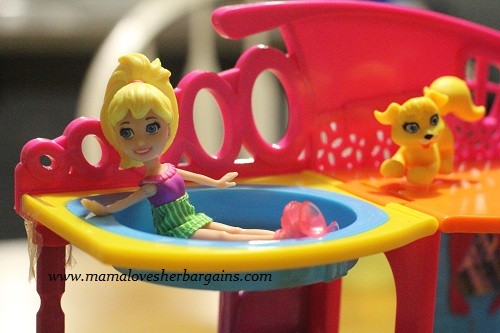 The new sets are all "stick n play" which means all of the pieces have a suction cup on the bottom.  That means the pieces don't go flying.  That means little hands can actually spend time playing with the dolls and the dollhouse instead of spending so much time setting things up to have them "just so." Polly and her friends, along with their accessories, are just a bit larger, so they are easier for little hands to manipulate.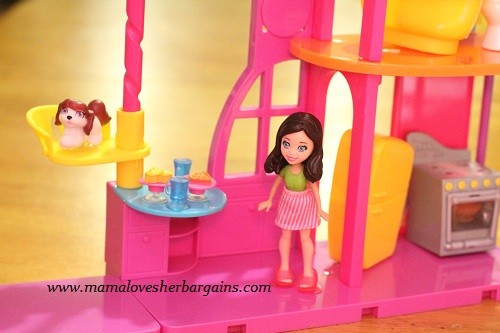 Polly Pocket's new line is still pretty small, but there's lots to do in the Hangout House Playset.  I was a  little surprised that the house only came with one friend- it is, after all, the Hangout House, so you will want to be sure to grab another friend or accessory room in order for it to really be a hangout.  The images you see here also include the Stick N Play Kitchen– which means more "floor" space for the hangout house, and some extra pieces to go along with it, in addition to another Polly friend.  Don't forget, there's even a little suction cup pie in the little suction cup oven (I love details like that!)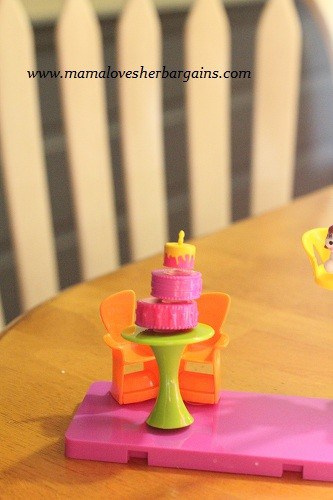 I think this line is going to be huge with the 4-5 year olds for the holidays– its the same "big kid" Polly Pocket stuff that so many want to have, without the frustrations.  I was happy to see (for my kids' sake) that the shoes on the dolls ARE removable, because I haven't met a kid yet who doesn't like to remove shoes from dolls.
Kudos to Mattel for this great idea, and I can't wait to see what comes next!
What the girls thought:
My 7 year old:  "They are super cute, and I like that they use a lot of blue colors, because I'm kind of over pink and stuff.  Can we get a house with an elevator too?"  She really just likes to change her dolls clothing and I think she'd like if there were clothes to go with them.

My 3 year old: "Mommy, I have big girl dolls, like my sister. I'm a big girl.  I can do it myself! I love their beautiful shoes!"
All in all, I think these toys are a hit with the younger kids.  I think older kids will enjoy them, but will want to stick with the "regular" Polly toys (pun intended, of course).  If your kids are like mine, Polly and her friends will be hanging upside down, sideways and any other silly ways the kids can imagine.
Polly Pocket toys are available just about anywhere toys are sold!  The Hangout House sells for just under $20 and the add-on sets are about $10-12 from what I'm seeing online.  Totally affordable, totally cute, and totally fun!
"I participated in a campaign on behalf of Mom Central Consulting for Mattel Polly Pocket. I received a product samples and a promotional item as a thank-you for participating."