Disclosure: I participated in a campaign with  Mom Central Consulting for Polly Pocket toys. I received product samples to facilitate my review and a promotional item as a thank you for participating.  
It's summer, it's hot, my kids want to swim all day long.  We have a pool here at the house and we're doing 6 weeks of lessons this year.  For my littlest one, this all came to a screeching halt on Wednesday night- she slipped in the shower and split her chin open on the tub.  She's healing nicely and will have a thin scar under her chin, but we're ok with that, really just relieved she didn't do permanent damage to her jaw, teeth or cheeks (she cut the insides of her mouth up a lot as well).  What ISN'T going well is the "no swimming for 5 days" thing.  My little one adores the water.  She wants to be in it and she's not really understanding that no swimming for 5 days really means NO swimming for 5 days.
Polly Pocket Zipline Adventure Pool has saved the day, my friends.  My little one  may not be able to swim but a fun new toy with tiny dolls and animal friends that also includes can include water? SCORE.   Polly, a puppy and a monkey can all take turns on the zipline, hanging in the hammock, sliding down the slide into the pool…and more.  Water play with dolls in a pool is a little less upsetting than no swimming at all for my girl, and I'm so thankful for this Zipline Adventure Pool set!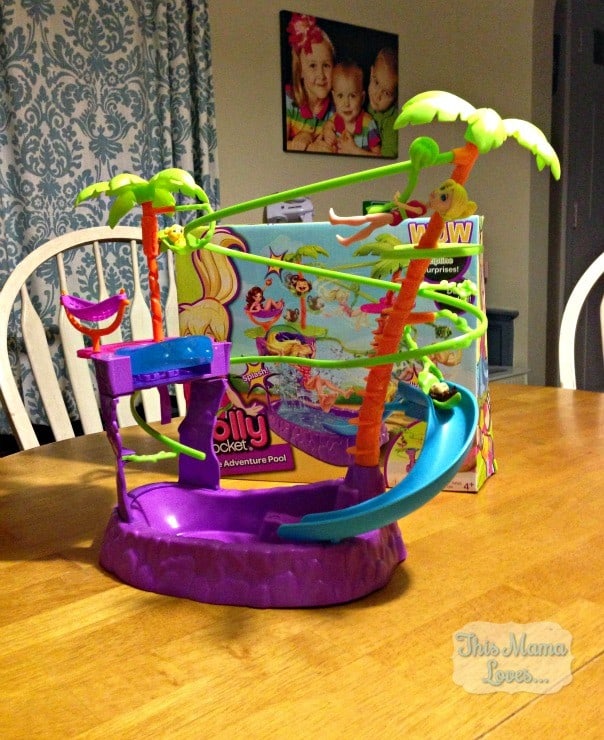 Why do we love Polly Pocket toys? They are tiny, they are fun, and several of the sets have little suction cups on the pieces so that  they stay in place.  They are small enough to easily pack for  a trip but big enough that 2-3 kids can play together and not be on top of one another. My kids love having the toys at their level, especially since they don't seem to be where the cat can get ONTO them and knock them over like she does with everything else in the house.  I like that when we want to move the set or take it down to bring someplace , there won't be damage to the wall or paint.  Parent friendly, house friendly, and kid friendly for sure! My kids love dramatic play and spend hours creating elaborate stories to act out with one another- often times, the Transformers guys come for lunch at Polly Pockets, and vice versa.  We're equal opportunity toy players here. 🙂
Not only are these toys fun and make for great gifts, they are also on SALE right now on Amazon- and you can shop right here, without even leaving this page, to grab them from Amazon! 
Polly Pocket Zip 'N Splash Playset:
Previously: $17.99
Now: $15.95
Polly Pocket Wall Party Tree House Playset:
Previously: $19.99
Now: $11.99
Polly Pocket Wall Party Ultimate All-in-One Playset:
Previously $74.99
Now: $47.99

0