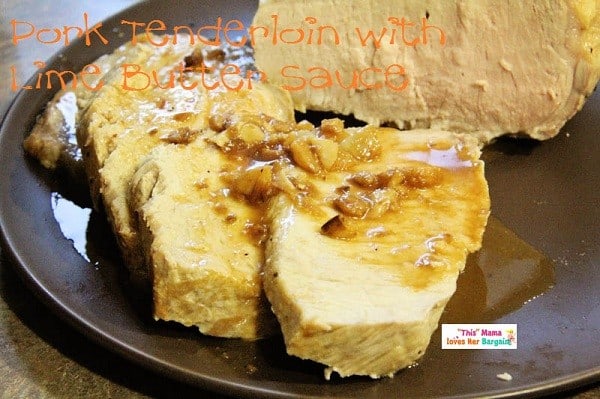 Earlier this week I shared with you about the great way to save on pork tenderloin at Costco.  Today I want to share with you one of MY favorite family recipes using pork tenderloin, and treat one of you to a Costco gift card so that you can try my recipe out (if you want)! Today, in celebration of National Pork Month, I'm sharing a recipe for Pork Tenderloin with Lime Butter Sauce.  Its so delicious and such a nice treat- and the kids even love the sauce.   Plus, we always make more than we need with recipes like this, because they taste amazing the next day as leftovers…Mr. Bargains loves bringing these meals for lunch!
| | | |
| --- | --- | --- |
| Pork Tenderloin with Lime Butter Sauce | | |
Author:
Total time:
1 hour 20 mins
We like to enjoy this with some rice and a simple vegetable, or some roasted baby potatoes.
Ingredients
2 (12 oz) Pork Tenderloins
1 1/2 Teaspoons table salt
3/4 Teaspoon ground black pepper
2 Teaspoons vegetable oil
Sauce
10 cloves of garlic peeled and pressed through a garlic press
2 tablespoons of water
1 tablespoon vegetable oil
1/2 teaspoon red pepper flakes
2 teaspoons brown sugar
3 tablespoons key lime juice
4 tablespoons unsalted butter, cut into 4 pieces
salt and pepper
Instructions
Heat oven to 400 degrees with rack in middle position.
Season the tenderloins with salt and pepper on all sides.
Heat oil in large skillet over medium high heat until smoking.
Place the tenderloins in skillet and cook until well browned on one side ( 3 minutes), then rotate the tenderloins with tongs and cook until well browned (1 minute), continuing until all sides are browned.
Place the tenderloins on a rimmed baking sheet and put into preheated oven for 15 minutes.
Internal temperature should reach 145 degrees.
While tenderloins are roasting, begin making your lime sauce.
Mix the garlic and water in a small bowl.
Add oil to the same hot skillet you cooked the meat it.
Add garlic/water mixture and cook using the residual heat, scraping up browned bits on bottom of pan (2 minutes).
Turn the heat on to low and continue to cook 10 more minutes until garlic is sticky. Remove pan from heat.
When pork is done, take it out of oven and tent it with foil for 10 minutes.
While pork is resting finish your sauce.
Put skillet over medium heat, add red pepper flakes and brown sugar.
Cook until sugar is dissolved (1 minute).
Add the lime juice and simmer 2 more minutes.
Add any pork juices that may have accumulated as the meat was resting and simmer 1 more minute.
Take the pan off the heat and add butter one piece at a time, whisking until it is all incorporated.
Season with salt and pepper.
Cut the tenderloins crosswise on a diagonal to produce 1/2 inch thick medallions.
Seve pork medallions immediately with sauce.
Notes
Cook times can vary on this- it depends on your tenderloins. The thicker they are, the longer they will take to cook, for example, when I prepared for this post and did my tenderloins, they took almost 40 minutes in the oven. You need for the internal temperature to reach 145 degrees with a tenderloin, allowing at least 3 minutes for juices to settle. These are worth every second of the wait!
One thing I love about pork is the versatility.  Its kind of like the "new" chicken.  Don't get me wrong, I love chicken, but when I know there's another option that is JUST AS LEAN as chicken can be, and can be used in so many different kinds of dishes, well, I want to find out more. I get so so bored with our "menu" options at the house- So hey, sometimes I change things up a bit and use pork where I might have used chicken, or vice versa.  Pork tenderloin is one of my favorite meats to buy in bulk because it can offer many meals for my family at a very reasonable price.  With the extra savings Costco offered this week I actually went back and grabbed two more tenderloins and after cutting them up, tucked them into my chest freezer downstairs (thank you, once again, Foodsaver!!).  Soups, casseroles, roasts, crock pot, stirfry, grill…there's not much you can't do with pork!!
I am working with Costco, the National Pork Board and TheMotherhood, and am receiving a stipend in exchange for this post. Opinions are, as always, my own.