It's summertime and vacation season is here! Whether you're just getting ready for a vacation, just returning, or planning one a few months out, you know that feeling of returning home and not wanting to plan dinner. Sometimes it's easy to forget that you need to have an idea for when you get home.
With that being said, there are lots of easy post-vacation dinner ideas on this list that will help if you're stuck in a rut after returning home from vacation. From chicken to pasta to tacos, this list is sure to give you plenty of ideas to whip something up in just a few minutes to satisfy the whole family!
Post Vacation Meal Ideas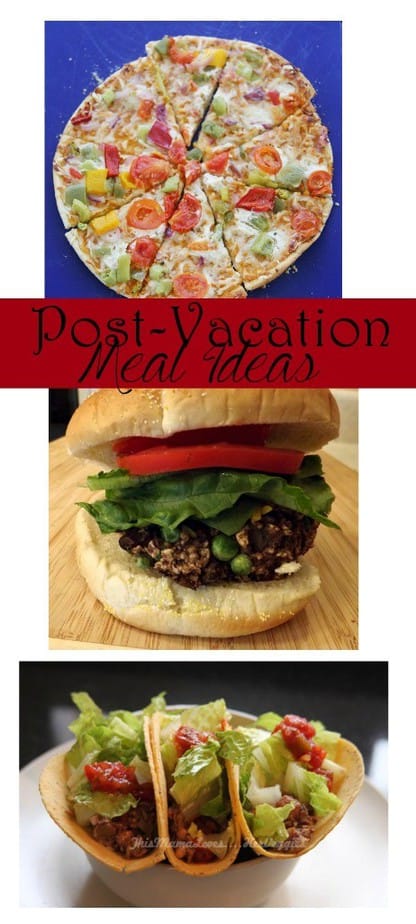 Frozen Pizza and veggies.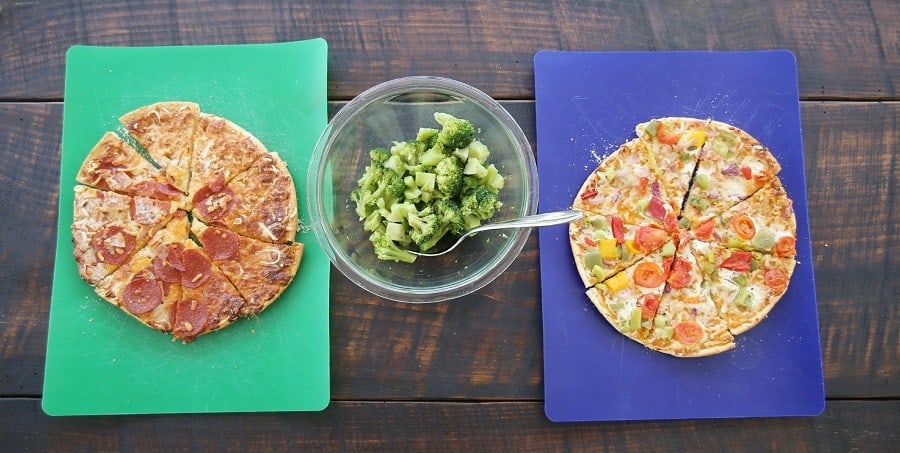 We always choose fresh when possible but when you are coming home from a vacation and don't have much in the fridge- steam some frozen broccoli, green beans, vegetable medley, carrots, peas, etc. and round out your meal that way.  You'll have the entire meal on the table in about 20 minutes start to finish when doing all frozen foods.  If you have any salad fixings, that's our go-to for pizza meals.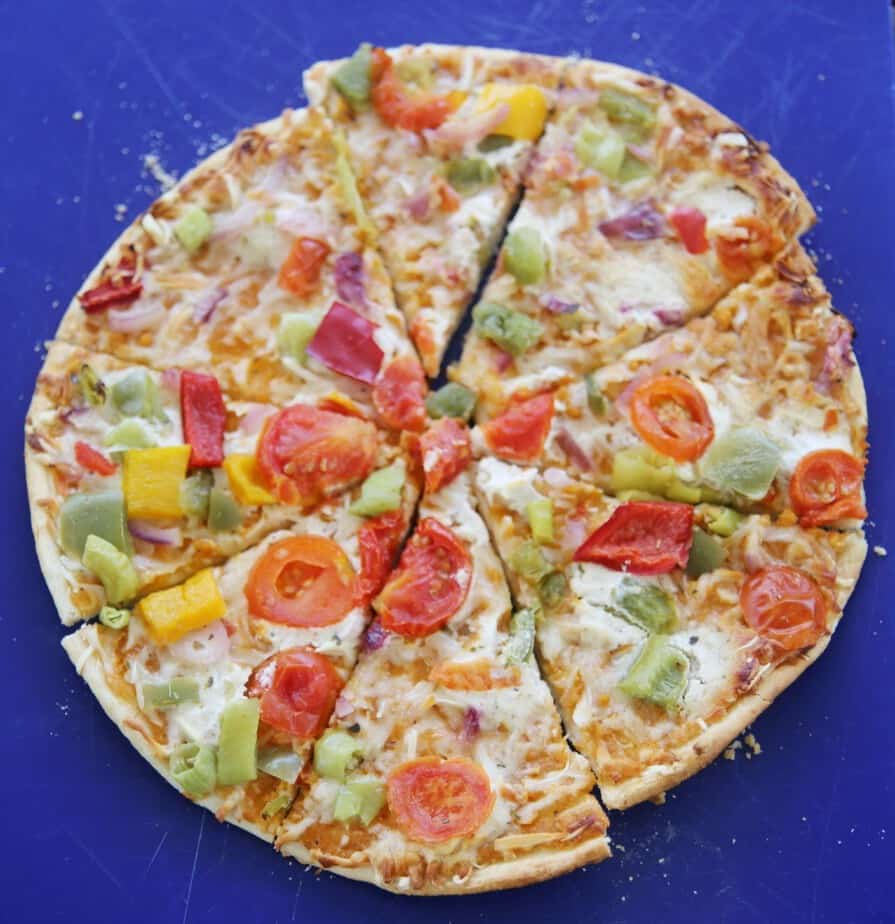 To learn more about Ristorante by Dr. Oetker, be sure to visit their website and like them on Facebook! To see if Ristorante pizzas are available near you, check out the Store Locator. Don't see Ristorante in your supermarket? You can put in a request with the store manager!
Burgers, hot dogs, on the grill.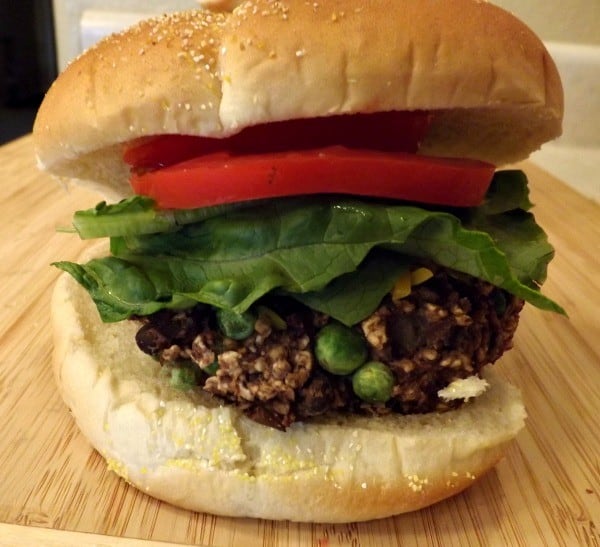 When I buy burger meat, I pre-make my patties and separate them with parchment paper.  That way, I can grab enough for a meal and go, and we always have some on hand for just-in-case.
Just because it's a burger and hot dog night doesn't mean it has to be boring.  If you are making your own burgers, mix in some seasonings and add a topping tray to your table.  I've been all about gorgonzola on my burgers this summer, with iceburg lettuce as my 'buns' and I love it.
If you buy premade burgers- maybe grab some different varieties to have on hand. I've found some great bufffalo blue cheese chicken burgers, and some divine black bean and salsa flavored veggie burgers that are just as easy and fast as "traditional" burgers, but change things up a bit. I've actually grown to love black bean burgers since my daughter stopped eating meat and often make that for myself in lieu of a regular burger, just for a change of pace.
Tacos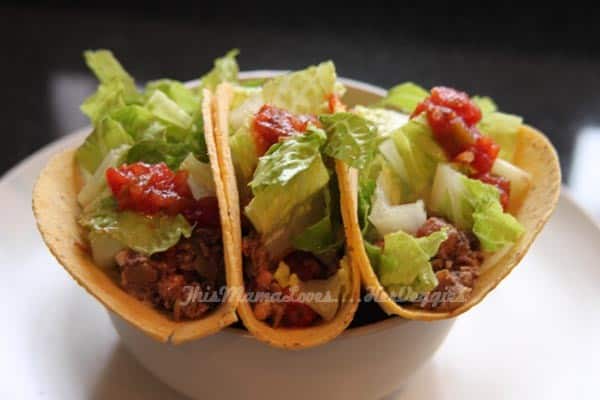 Tacos are quick and easy. If you are at my house, and you mention the word tacos, you'll hear "TACO TUESDAY" for the next hour or so, followed with giggles.  Tacos are a great way to please everyone, and you really can just toss the fillings and toppings into bowls on the table and everyone can make their own. One thing *I* like about tacos is that you can thaw the ground meat while you cook it- super easy to do.  We also use black beans frequently in place of the meat.  It's a pretty safe meal that most of us enjoy- and takes little time to prep.
We like to get the blue corn taco shells when we see them- with tomatoes and or salsa plus cheese, we call them our red, white and blue tacos. Ending vacation can seem like the end of the fun, especially to kids, so why not have a little fun with the first few days home?
Breakfast for dinner!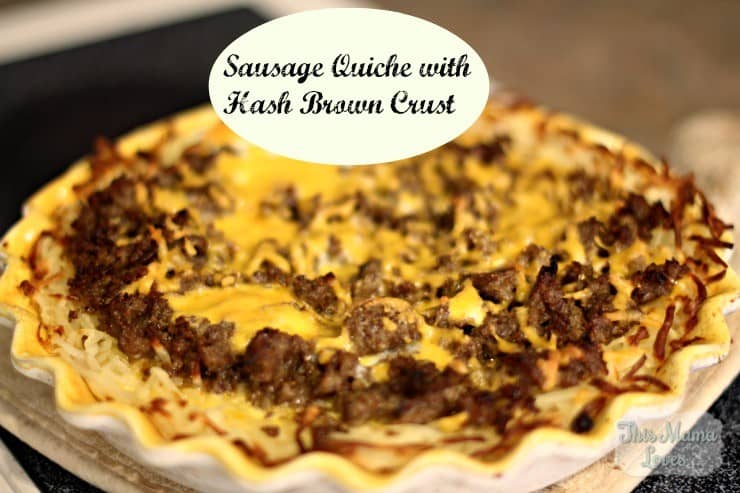 Almost always a favorite (around here at least), you can do eggs, pancakes, waffles- quiche, omelets… it's a quick and easy way to get the family fed.
We've done sausage stuffed pancakes many times- makes for a fun meal that has enough bulk to it.  Add lots of fruits on the side!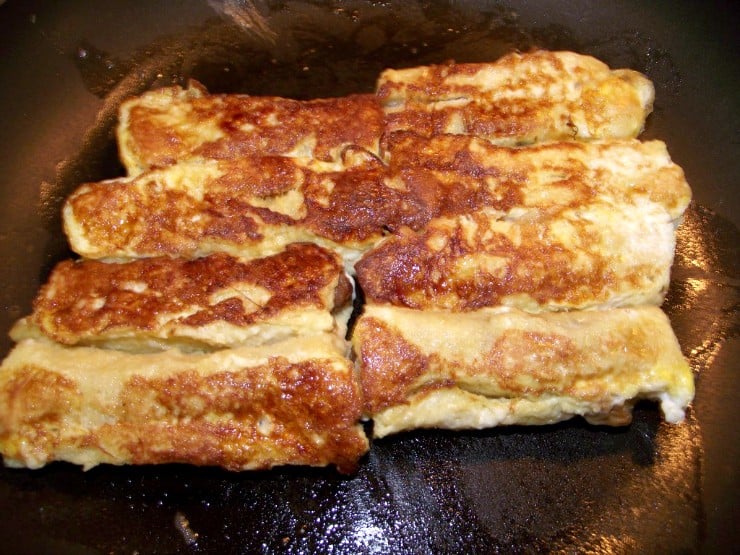 I think my favorite thing to do for breakfast for dinner is plain old eggs and hashbrowns.  I don't like how LONG it takes to make hashbrowns, so we grab our waffle maker and make the hashbrowns while we cook the eggs.  Sometimes I'm a scrambled girl, others? I'm an over-hard and then cook them for another few minutes girl.
Breakfast sandwiches are another idea for a post vacation meal.  Use what you have- bagel, English muffin, bread, even a pancake.
What are your post vacation meal ideas?
This post is part of a sponsored Ambassadorship with Ristorante.  Opinions are my own.