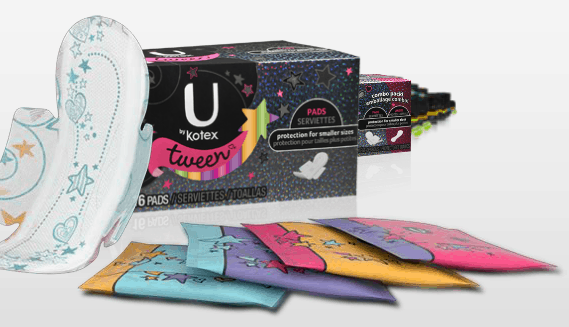 I've been sharing with you my journey relating to first periods, and talking about them, with my 7 year old for several months now (see previous #KotexMom posts).  This is my "final" official post, although I'm sure as the time for her period gets closer down the road, I'll be sharing more once again.
It's been a mixed bag of experiences with this series of posts. I've had a lot of support, and an overwhelming number of you agree with me that yes, we should talk to our girls ahead of time, so that they can be prepared for what's coming.  I've had a few of you who have emailed me with concerns that preparing my daughter is asking for trouble and that I should just wait until she starts having her period.  I've even had a select few folks who had some very unfriendly things to say to me about this.  I'm a firm believer in arming my children with the knowledge they need for things.  To those who don't agree with my viewpoint, please feel free to stop reading- I won't be offended but I do hope you'll try to see my point of view.
I was alone and unprepared when I got my first period, and those feelings didn't go away for many, many years- thinking something was wrong with me, or that I did something wrong.  I don't want my girls to experience that. I want them to know that it's normal and not have to feel embarassed or unprepared.  It's very easy to keep a U by Kotex pad or two in a tiny pocket of your backpack, just in case, and knowing when and how to use that. I know it's just as easy to not talk about it, because it isn't exactly a fun conversation and it's not a comfortable subject for many. It isn't comfortable for me, either. I just believe that having the knowledge ahead of time will give my kids tools they need to cope with changes. In all areas of life.
The Kotex site has great tools such as a calendar with facts about puberty, questions your daughter may ask, ways to start the conversation and more.  My daughter isn't quite ready for this but I'm glad to know it's there as a resource for both of us when the time comes!
Don't forget to visit the U by Kotex website for period questions that could be helpful for tweens and teens. I told my friend about this- her daughter started her period a few months ago, and both have said that it's a great site for her to go with questions. She really loves the U by Kotex products-she said she likes that its a fun color package but mostly it's smaller than her mom's period stuff and fits her a lot better.
It's been an interesting road, with these conversations, but I feel like I've opened up new lines of communication with my daughter, even if we don't revisit them for a few years- and I know it'll be that much easier when it's time for the same with my younger daughter.
I wrote this review while participating in a Brand Ambassador Campaign by Mom Central Consulting on behalf of U by Kotex Tween and received products to facilitate my post and a promotional item to thank me for taking the time to participate.