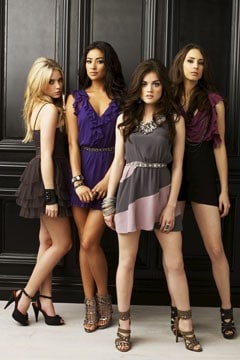 The fashion sense from the girls of Pretty Little Liars never fails to impress. Whether it's during a fashion show, Masquerade Ball or for Halloween the girls are always dressed to impress. I live my fashion live vicariously through the girls.  Or what I suppose would be my fashion sense, if I was  a teenager with a lot of money to spend on my wardrobe!! I love how the ensembles are always so well put together, and ALWAYS fashionable.  I don't know that any girls from Rosewood ever wear yoga pants and t shirts….
It isn't even the individual outfits or style that make the fashion so fun on PLL.  To me, its more how the character's personality and personal quirks/preferences are reflected and magnified by the fashion- maybe that outfit is off the rack…but paired with those boots, that bracelet…that's what makes it work and so fabulous.  I won't lie, I'd probably have a bit more length to my dresses…but these ladies look put together ALL of the time and never look less than fabulous, even when being terrorized by the A team….
speaking of the A team….who do you think is part of that?
Pretty Little Liars airs Tuesdays at 8/7c on ABC Family
Pretty Little Liars: The Complete Second Season is now available on DVD!
"I have been hired by Warner Bros WBWord division to raise awareness for Pretty Little Liars."