Last week, I had the chance to take part in a phone conversation with several women who are part of the USA Swimming organization.  We had a great time on the call!  With the Olympic Trials starting this coming Monday (6/25) and the Olympics themselves later this summer, there's a lot of talk about Olympic sports in general, but as is often the case, swimming is one of the most talked-about sports in the games.  We fans do rank swimming as the #1 Olympic sport!
I LOVE watching Olympic swimming.  I can't wait to share it with my kids – they are starting to be more aware, especially my oldest, so it'll be quite fun to watch WITH her this year.  She's already asking if she can join a swim team so I think she's very much going to enjoy watching along with me.  We're thinking about hosting a Splash Bash just to make it more fun and celebratory!  The Splash Bashes are a great way to bring awareness to the sport and support our Olympic athletes  (GO TEAM USA!)  I think you could probably make an argument for having a celebration to watch ANY Olympic events…just sayin'….
We did have a chance to talk about swimming, and the SwimToday.org website, but we also had a chance to laugh a bit…and I got the question answered that I've always wanted to know:  Do athletes sometimes just wear their Olympic medals around the house, just because?  (I am NOT the only person who wonders this, I am certain of it!  So…I asked for all of us.  You are welcome).
So, who was on the phone with us?
Karen Linhart, USA Swimming Public Relations and Social Media Director
Jamie Fabos Olsen, Marketing and Brand Development Director, USA Swimming
Lindsay Mintenko, National Team Managing Director, USA Swimming, gold medalist in swimming in the 2000 Olympics and gold and silver medalist in swimming in the 2004 Olympics
Emily Silver, Athlete Relations and Family Program Manager, USA Swimming and a silver medalist in swimming in the 2008 Olympics
These ladies were great.  They were so ready to share their personal experiences, stories…they were warm and engaging, and really just all around fun to chat with.  It's quite easy to see that each of them is not only passionate about the sport of swimming, but equally as passionate about the SwimToday.org program and what it means to the rest of us.  SwimToday.org is a place for anyone to go who is interested in swimming, as exercise, a hobby, or as a competitor.  There are guidelines to help you determine what kind of swimmer you are- not just what level, but also by the goals you want to achieve.  The site will help you find a place to swim, or compete, or maybe you already have a place to swim, but are looking to join a club or group of folks who likes to swim as well.  (Click the link or the image below for more information or to find out what kind of swimmer YOU or your child is!)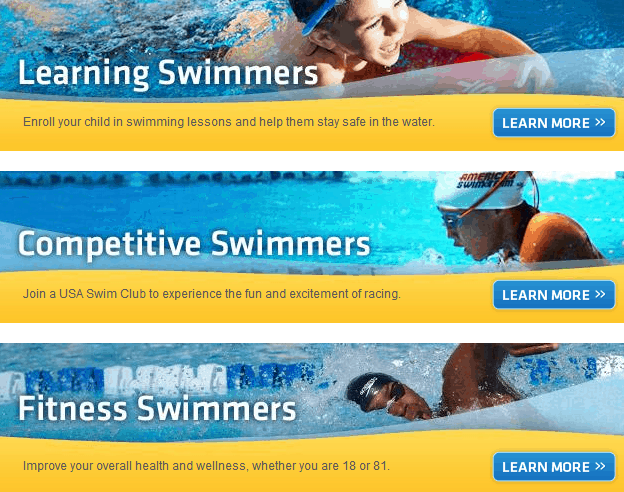 SwimToday.org is an online resource that provides moms with a one-stop shop to get all  the information they need to make entering the sport as easy as possible.  On the site, you can: find a place to swim in your area, self-assess your ability, and learn the benefits of swimming and fitness.

 Benefits of swimming – why should moms get their kids involved? THREE reasons why!

1) SAFETY 2) FITNESS 3) SOCIAL

SAFETY
Drowning is the 2nd-leading cause of accidental death for kids 1-14
Swimming lessons can reduce the risk of drowning by 80%

FITNESS
Swimming is a whole-body exercise
A low-impact sport, it is a life-long fitness option

SOCIAL
As an individual sport, swimming teaches work ethic and goal-setting
As a team sport (swimming is both!) swimming builds social skills and teamwork

My then-4-year-old swimming
Swimming is very much a part of my family's everyday life, especially in the warmer months.  I have fond memories of swimming at summer camp and on seasonal swim teams- it makes me happy that my kids love swimming as much as I do.  It's amazing what the health benefits are for your body with the sport- and I love that anyone can take part in swimming- regardless of age, gender or skill level- there's a spot for everyone in the water!  I'm excited at the thought that my kids may want to follow in my lane lines…
Before I go- I have to share this with you- it's a really cool "video" of the pool being constructed for the Olympic trials.  I found it really amazing to watch and thought you might enjoy it, too.

Instead of trying to reconstruct what was asked and answered during my phone chat with the ladies from USA Swimming, I'm going to share the transcript with you (some links are added in by me)
Q: At what age should I start teaching my child to swim?A: Most places that offer swim lessons begin when the child is six months old, but there are places that do "Mommy and Me" classes as an introduction to water at an even younger age.
Q: What is the right age for kids to start learning swim strokes?  Should young kids focus on strokes or fundamentals? A: It depends on what you are comfortable teaching them.  Focus on the fundamentals first, but if they know the fundamentals, you can move on and teach the strokes whenever they seem ready.  The goal is for kids to have fun and be safe and comfortable around the water.
Q: How can I give my child the confidence to swim without arm floaties?A: USA Swimming advocates against flotation devices, because they can give kids a false sense of security.  Try to avoid any kind of flotation aid, and get your child in swimming lessons.  There is no substitute for professional swimming instruction, and instructors are trained to help kids with their fear of the water and help them acclimate to the water at their own pace.
Q: Should kids be allowed to wear goggles in the water?A: If goggles help kids when they are in the water, wearing them will not be detrimental.

Q: What are the expenses for swimming lessons and team swimming? A: It varies by location and club, but a full session of swim lessons (approximately 8 lessons) generally costs about $50. USA Swimming partners with about 525 participating clubs nationwide on their Make a Splash charitable effort, which provides every child in America with the opportunity to learn to swim.  Swim clubs on SwimToday.org with a water drop next to their name provide a designated number of swimming lessons for free or at a discounted cost.  The distribution of free or discounted lessons is club-dependent, and you can ask your local club about it directly.  If expense is a concern, visit SwimToday.org and enter your ZIP code to find out if a swim club in your area is a Make a Splash partner.
Q: For kids interested in competitive swimming, what type of time commitment should they expect?A: Summer league teams require a minimal time commitment, take place during just the summer months and are a great way to get kids started in swimming.  Summer leagues are often offered through local YMCAs.  The actual club teams usually have two-hour practices each day, which are similar to the time commitment involved in other sports like basketball or soccer.  The club finder tool on SwimToday.org will help you locate clubs with competitive swimming programs that fit your family's needs.
Q: Is there anything kids can do outside the pool to help strengthen their swimming skills in the pool?A: It depends on the age of the kids. Coaches will probably tell your kids if there are exercises that might help them outside of the pool, but if your kids are younger and just getting involved in swimming, the best thing they can do is enjoy the sport and get involved in other sports.  In competitive swimming at an older age, you could add push-ups, pull-ups and sit-ups outside the pool.

Q: What about lessons for adults?A: A lot of the Make a Splash providers are able to provide lessons to adults as well.  It's never too late to start swimming.
Q: What are the health benefits of swimming?A: Swimming is one of the best all-around exercises out there for toning your body.  It is better for your knees than running, and it's very good for your cardiovascular health.  In addition, being active generally sets a good example for kids.
Q: What is your advice to moms of young athletes in general?A: The most important thing is to allow kids to make their own decisions regarding their sport, and to make sure they enjoy it.  Encourage them to try new sports and identify what they love to do, rather than starting them in just one sport from a young age.  If they want to take a break from their competitive sport and the intense training, allow them to do so.  Burnout is very real.
Q: How can we support the swimmers involved in the U.S. Olympic Team Trials June 25 – July 2?A: Tweet using the #SwimToday hashtag, follow @USA_Swimming on Twitter (where you can also find Twitter IDs for U.S. swimmers competing in the Trials), encourage your friends and family to watch the trials and cheer the athletes on, and host Olympic watch parties using Splash Bash resources from USA Swimming!
 What's your favorite Olympic Sport?  Are you going to be glued to your television like I am, for the trials and the games?
 This post is part of my participation in the SwimToday campaign with The Motherhood. All opinions expressed are mine.