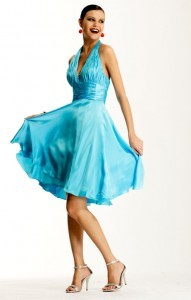 It's February, and it seems like there will be many occasions for teens to wear formalwear in the coming months. I know lots of girls I went to school with who were already shopping for their prom dresses at this point of the year, but there are so many other occasions for girls to dress to the nines!!  I have been poking around and checking out all kinds of gowns, shoes and accessories online for about half an hour two hours, amazed at the difference in what was available when I went to prom (I graduated in 1992) and now.  Obviously fashion has changed (thank goodness) but the options, oh, the options!!  It just seems like there are so many more ways to shop and so many (better) styling options- to better suit your taste, your body type and your style!!
This dress on the left is one of the ones I loved the best.  Fun and flirty but still allowing for some modesty.  I love it.  I think its darling!  
It seems like there are more opportunities for girls to wear formal dresses now- prom, homecoming, winter carnival, Sweet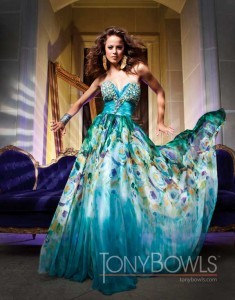 Sixteen parties (there were a few of these in my school but nothing like I've heard of lately), Bar/Bat Mitzvahs, plus weddings, etc.  What I love is that you can find sweet gowns, modest gowns, flirty gowns, sexy gowns (ok, I'm not a huge fan of this for teens but I understand it's popular and at least you can find them in a wide price range), funky gowns, even goth gowns, in a huge range of pricing- and I can see gorgeous dresses on this site for prices starting at $49 and up to almost $500!  This dress on the right is not something I can see myself wearing, but I think it's pretty awesome, although the price kind of shocked me!!
PromGirl.net carries both of these dresses, along with so many more (they even have a category for goth gowns, and one for camoflauge!!) plus you can find shoes and accessories to go along with – all with the free shipping code that's right on their page!!
Part of me almost (ALMOST!) wishes I had a photo of the teal dress I wore to my prom.  It sure would be fun to laugh at that now!!  (I think I do have one someplace, but I'm not about to go looking for it.  Rest assured I had very high bangs and I was rockin' the late 80s/early 90s trends).
If you were going to go to prom again, what would you wear?

This post is brought to you by our friends at PromGirl.net.  Opinions are my own.
0