I'm a blogger. I'm social. I like to be in the know.  I love my smartphone.   I hate to be far from my email.  I can't lie.   I won't lie.  My husband will tell you that I sleep with a device in hand that will let me check email at a moment's notice (it's not for that…I just don't want to miss my turn in Words with Friends…).   For the record, I don't actually sleep with it.  But it is on the bedside table most of the time.  I've gotten so spoiled by my smartphone that I hate to be without my beloved 3G symbol, or without my phone…for any amount of time.
I do, however, think that there's something to be said for actually using a smartphone as, well, a PHONE.  I mean, that's what the intent was originally, correct?  A phone that can let you access email and the internet AND talk to folks?  Sometimes I think that we're becoming so reliant on what the phones can do that we forget to maybe connect with someone on the phone.  That's sad.  I've actually been making a concerted effort to use my phone to make calls, not just check emails, etc., and have been  finding that hey! I still like human interaction.  Never the same as a face to face encounter,  of course.  I think there just needs to be more of a balance than so many people, including myself, have these days.  
I'm going to wager a guess that you have friends in your contact list, like I do, who text all day long.  I can call, leave a voice mail, and I get a text in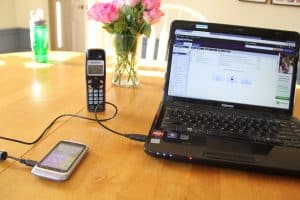 response.  So I call back, leave a voice mail, and get  a text in response.  You get the picture.  I don't like that.  There are circumstances where I can imagine it is acceptable, but hey! I am calling to talk to you, so call me back! Or better yet, answer your phone!!
This is kind of what I mean but finding that balance- yes, it is nice to be connected electronically, but i think the connections we make in person and over the phone are kind of awesome  as well, and should not be pushed aside nor forgotten.  We need to use today's technology to enhance our communications, not replace them.  What do you think?  Are smartphones helping us keep communications smart or no?
If you're looking for an Android-powered smartphone at a great value, be sure to check out U.S. Cellular. They have the highest satisfaction rating of any national carrier and you earn rewards points to use on things like accessories and upgrading your phone sooner. Learn More.
Compensation was provided by US Cellular via Glam Media.  The opinions expressed herein are those of the author and are not indicative of the opinions or positions of US Cellular.