I think sometimes we forget as adults that kids' eyes need protection from the sun just as much as ours do.  For me, I'd quite easily forget, but I have a husband who has eyes that are very photosensitive and it's made me much more aware about his comfort- and that of our children.  I've been trying to encourage the kids to wear their sunglasses more and more- explaining that it's a safety measure, and a precaution.  The cool factor and how adorable they look in them in secondary.
Lots of bad things can potentially happen to our eyes simply from exposure to UV rays.  We have to do what we can to protect our body parts so that they last as long as possible.  There's not exactly a replacement guarantee on body parts, you know?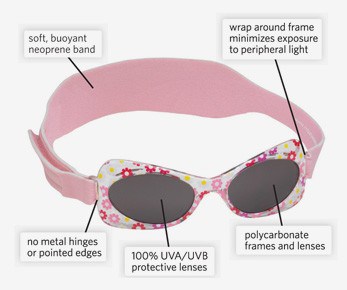 I like Real Kids Shades for many reasons- they offer sunglass protection for kids that's versatile, durable, 100% protection from UVA and UVB rays, removable wrap around straps, styles kids will want to wear, and for the price.  That's a lot…but there you go.   I have found over the years that products like this that truly stand up to what kids can throw at them- at affordable prices- are often designed by parents who saw the need and found a way to meet it.  Real Kids Shades was begun by parents who couldn't find quality sunglasses for their kids to protect their eyes in an affordable price range.  There are 3 size ranges for RKS- 0-3, 3-7 and 7-12.  Each pair of glasses you get comes with a neoprene strap with velcro closure.  These glasses are meant to be worn comfortably under a hat or helmet, so that kids aren't left uncomfortable and wanting to remove one or the other.
I was pleasantly surprised to see how many truly trendy options there were on the Real Kids Shades site.  Like this Fabulous pair that my daughter wears- she adores them because they look just like the ones people wear on tv and in magazines.  I adore them because I know they'll hold up to her 7 1/2 year old shenanigans, they will last, and because I know they'll keep her beautiful baby blues safe.  (As an aside, these are also great sunglasses to wear up on her head to push her hair back- the larger size means they hold her hair back well).  She's not one to wear the strap that came with the glasses but I'll keep that around just in case. It says something that she gets upset if we start to leave the house and she can't find her shades.  Kids who love their sunglasses are far more likely to WEAR their sunglasses!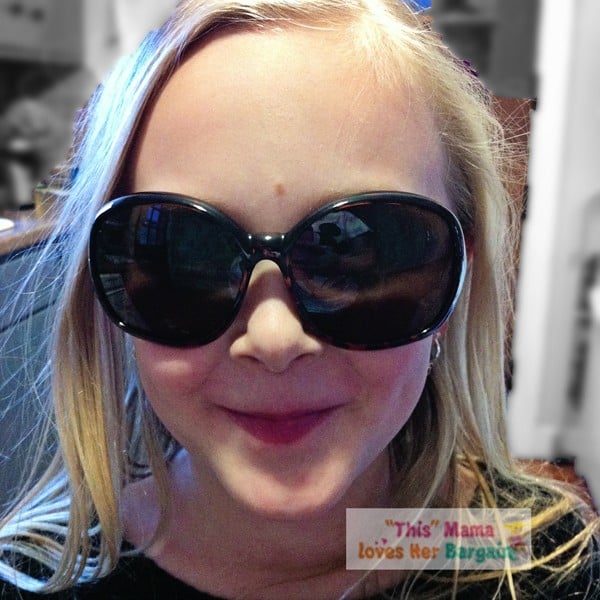 There are many great options for boys including the Glide shades- since my little guy is all about running around and digging, he doesn't ever want to stop to adjust things, put them back on, etc.  Having these glasses will be perfect for him for tball, basketball camp and just running around outside- plus he'll still look "cool" (which is why his hair is spiked, he's decided he wants to look cool all the time now).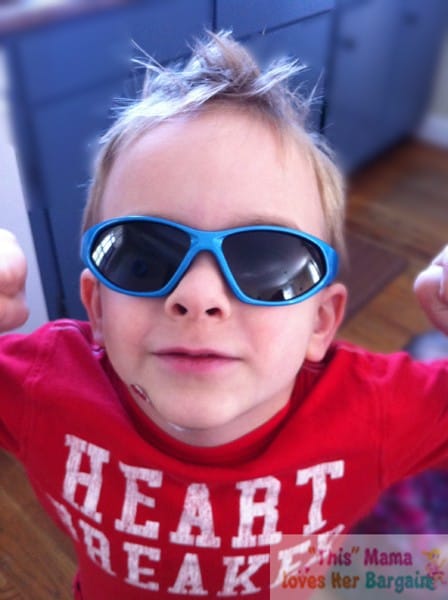 Real Kids Shades and Prevent Blindness America, the nation's leading volunteer eye health and safety organizations, are engaged in an ongoing effort to increase awareness and understanding of the long-term danger of unprotected sun exposure to  to children's eyes.


Thanks to Real Kids Shades for sending us some cool shades to protect the kids' eyes! Opinions are my own. 
0