By no means is this breaking news, but I am one of the Dummies that the entire line of ______ for Dummies books was created for.  If you can screw it up, I can screw it up better.  Or worse.  I need basics. I was asked to review Online Reputation Management for Dummies- something I felt I needed to do, for 2 reasons.  First, I'm a blogger, and that means I have an online reputation. Second, most of YOU are online (how else would you be seeing this?) which means YOU have an online reputation, yourself.  So we have to be sure to keep that reputation intact.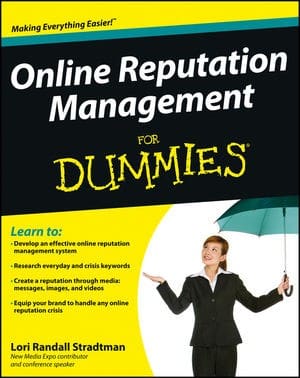 I (wrongly) assumed not all parts of this book would be  totally relevant to me as a blogger because I don't sell physical products.  But most of it was relevant to me because I am out there in the land of social media- in many ways- and I want my name and reputation to be the best it can be.  You can't ever stop learning, so I readily agreed to do a review of this book to see what I could learn that was new to me.
Researching Your SEO Keywords is Chapter 6 of this book.  It's also my favorite.  One of my personal goals this year is to start to figure out the world of SEO and apply it to my blog.  It's probably going to end up being a goal for the next few years, but I'm ok with that.  I appreciate being able to find tips and I like having a physical book next to me as I work that I can refer to and make notes, highlight, bookmark, etc.
The internet is a big place.  A wonderful place. It can also be a scary place.  And a theworldisverysmallplace.  Make a mistake out loud, it can be forgotten, or explained.  Make a mistake online, and it's there, kind of permanently for anyone to see. We have to be careful to keep our online reputation intact- especially as the digital age only becomes more so, those old Facebook status updates from a wild party night 12 years ago suddenly may not seem so funny…nor harmless.  Learning about online reputation management is key for just about anyone who uses the internet.
The suggestions in this book for a management plan are really easy to follow and simple.  You know, good for us Dummies.  If you are a blogger, or have a business, or just really want to educate yourself about your online reputation, I definitely recommend this book.  It's simple and clear and quite helpful.
More important than ever–how to manage your online reputation
In today's social world, managing your online reputation is more critical than ever, whether it's your company brand or yourself as a brand, and one thing is certain: everyone needs a plan. This essential book shows you how to set up a system that works every day, helps forward your brand's online goals, and is able to deal with negative chatter. Covering everyday listening and messaging as well as reputation management for special events or crises, this book walks you through step-by-step instructions and tips that will help you build and maintain a positive online presence.
Shows you how to create a solid, productive online reputation management system
Helps you achieve your brand's goals and be ready to deal with negative chatter or crises
Explains how to set up an online reputation management and response team
Covers how to identify and incorporate both everyday and crisis SEO keywords
Explores reputation creation through listening, messages, images, video, and other media
Helps you handle crises with social media, bloggers, and other influencers, and respond immediately
Online Reputation Management For Dummies gives you the tools you need to maintain the online reputation you want.