I grew up on the lake and we spent nearly every day outside from dawn until dark.  Most days we were in bathing suits and in or around the water almost all day.  I rarely remember wearing sunscreen or having my skin protected from the sun.  I remember having terrible sunburns and all of us blistering more than a time or two.  I remember as teens doing silly things to bake myself for that "perfect" tan.  It was a different time. I can't count how many times I lathered on the baby oil, laying in the hot sun all day even at the beach. Sunscreen wasn't part of my life. It should have been. If we'd known then what we know now, but we didn't, so all I can do is teach my kids what we do know and set the best example I can.
Those years of exposure to the sun brought my first scare of skin cancer at 27 with a 1 year old.  Those years of exposure to the sun brought heart ache as I watched my father battle a serious battle against skin cancer the last several years.  Today things are different.  I protect my skin from the sun every single day, no matter the season and I protect the skin on my precious children.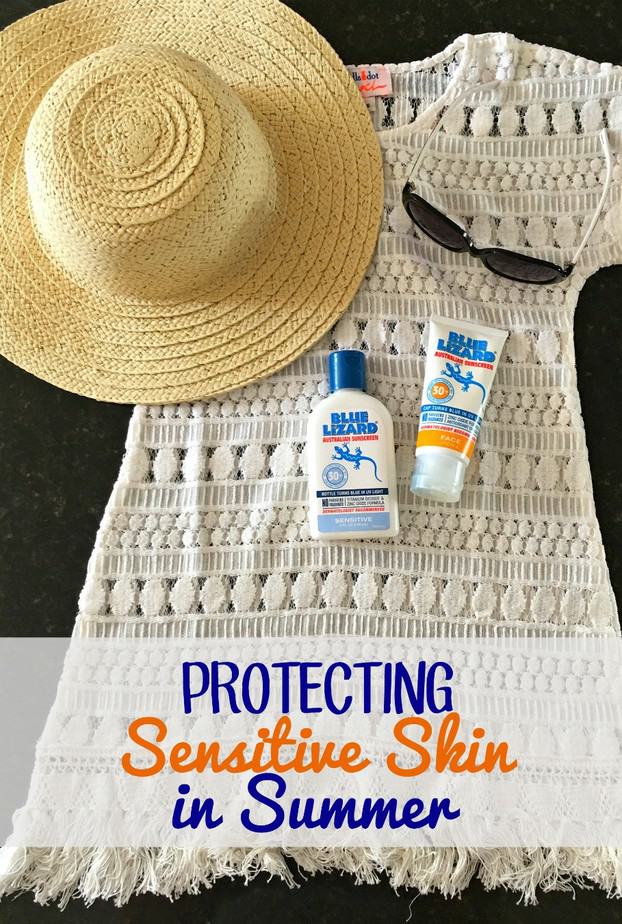 Tips for Protecting Sensitive Skin in Summer
Choose a Quality Sunscreen with Broad UV Coverage
No matter your skin type, a sunburn is NEVER good but sensitive skin will burn much easier.  Even when skin does not get a sunburn it is still exposed to dangerous UV light.  Choose a quality sunscreen that will protect your skin from all UV light (look for one that refers to "broad-spectrum or full-spectrum or broad UV coverage").  Protecting against both UVA and UVB rays is important.  Your sunscreen should also have a 30+ Sun Protection Factor or SPF.  Re-apply sunscreen often if you're out for any length of time or in and out of water.
Check your sunscreen and other moisturizers for chemicals that could irritate, inflame, or cause skin to become dry.
Protect ALL Skin ALL the Time
It's easy to remember obvious places to put sunscreen or to put sunscreen on when your at obvious places like the beach.  Shoulders and cheeks burn easy and we tend to remember them first but other areas burn too and need to be protected.  Some of the worst sunburns I can remember were on my scalp – where my hair was parted and in braids.  Remember that scalps will burn, tops of ears, and backs of necks.  Apply sunscreen to these areas and wear hats and encourage your children to wear hats.  Lips will also burn.  Be sure to apply lip balm with an SPF.  Eyes will also burn and that is why it's important for even small children to wear sunglasses and to have prescription sunglasses.  Hats will also offer protection for eyes.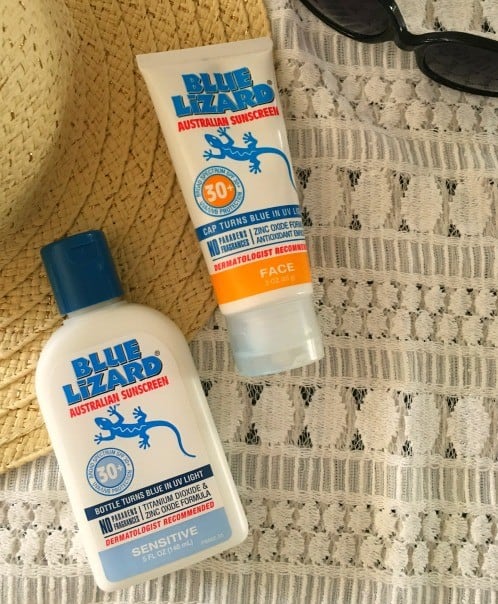 Avoid Peak Sun
The sun's rays are strongest between 10am and 4pm.  Even on cloudy, cool, or overcast days the sun can still cause damage during these hours.  Be sure that if you're going to be out during the peak hours that you apply and re-apply sunscreen or cover up skin to avoid exposure.
Keep Hydrated
Just like hydrating the skin with moisturizer on the outside is important, hydrating from the inside is important too.  It's especially important to drink more water in hot weather.  Your body releases moisture to try to cool you and your skin when the air temperature is hot and water as well as other drinks that do not contain sugar will help with this.
Treat Sun Exposed Skin
If you've been over exposed to the sun or your children have, treat the area right away.  Find a good quality "after sun" cream and keep the skin moisturized.  Take a cool bath to ease discomfort and re-apply the moisturizer often.  Keeping the skin hydrated will keep minimize pain and discomfort.  Wear soft, loose fitting clothing that will not rub or be harsh against the extra sensitive skin.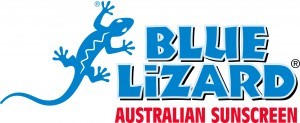 Our go-to brand for protecting ourselves from the sun is Blue Lizard.  I started using it a few years ago on the kids because it's a brand that's doctor, dermatologist and pharmacist recommended as a safe, full spectrum sunscreen that offers broad UV coverage and is also safe for sensitive skin. It also happens to be one of the top ranked sunscreens with the Environmental Working Group, which makes me very happy.
We generally use the Sensitive formula, as it's paraben-free, chemical-free and fragrance free, although my husband prefers the Sport and I do like the Face formula a lot for me. The Sensitive is just easy because we can all use it without worry of skin irritation and am not having to keep track of multiple bottles of sunscreen. I don't know that my kids care too much one way or another what sunscreen they use, but the kids do like how the bottles of Blue Lizard change color in the sun.  Whatever works, and gets them to USE the stuff! Blue Lizard's patented BPA free Smart Bottle™ changes color when exposed to UV light- the 5oz bottles change color and the lids on the 3oz tubes do as well.
We are outdoors for hours each day and spend lots of time swimming, boating, fishing and even just playing in the yard, so we take sun protection seriously. We all have (and wear) rash guards, we apply sunscreen multiple times each day, and we seek shade, not sun, when at outdoor events.  I have sun damage from my youth. I'm sure my husband does (although like many men, he's showing it less than me) too. We're doing what we can to educate our kids so they continue to choose to be proactive in protecting their skin, sensitive or not, from the dangers of sun exposure and skin care prevention.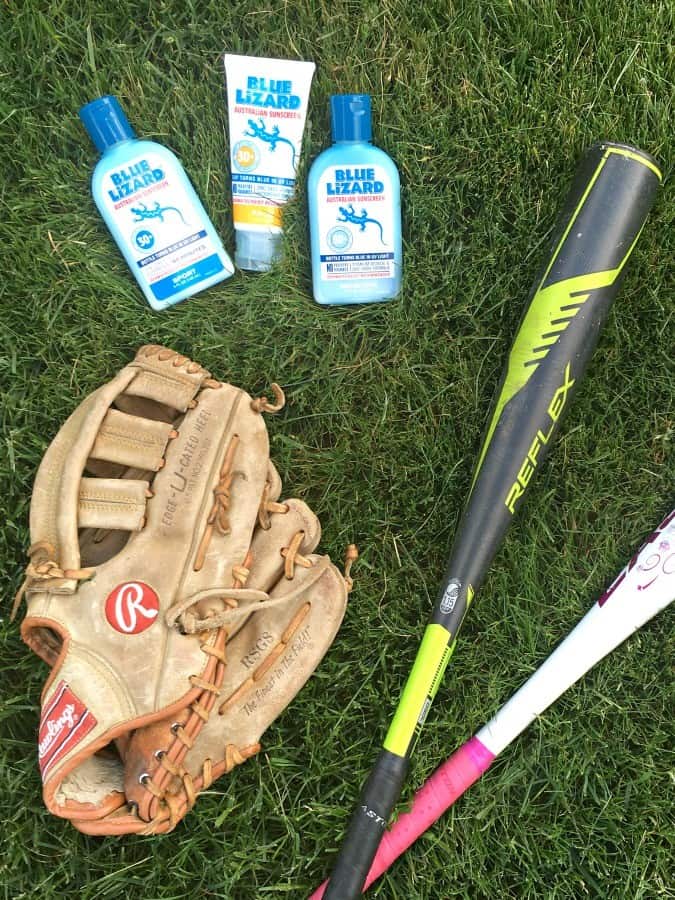 Ready to try Blue Lizard for your family? Use code P20THISMAMA for 20% OFF orders over $35 at www.bluelizard.net. (Expiration 12/31/16)
What are YOUR tips for protecting sensitive skin in summer?
We have a GIVEAWAY for 2 lucky readers!
-1 GRAND PRIZE WINNER will receive: a Blue Lizard Tote Bag, Tumbler, Beach Towel, 5oz Sensitive, 5oz Face, 5oz Sport, 3oz Sensitive, 3oz Face, 3oz Sport, Box of Baby sachets, 5 UV sensitive Bracelets (ARV: $151)
-1 RUNNER-UP: BL Tumbler, 5oz Sensitive, 5oz Face, 5oz Sport, Box of Baby sachets, 3 UV sensitive Bracelets (ARV: $80) *Giveaway is open to US residents only.