For an easy weeknight meal as part of a sponsored post for Collective Bias® I put together this easy and fun picnic chicken dinner using Tyson Fully Cooked Homestyle Chicken Fries. I headed to Sam's Club to shop for ingredients- with three very active (and busy) kids, I need to buy most of our food in bulk.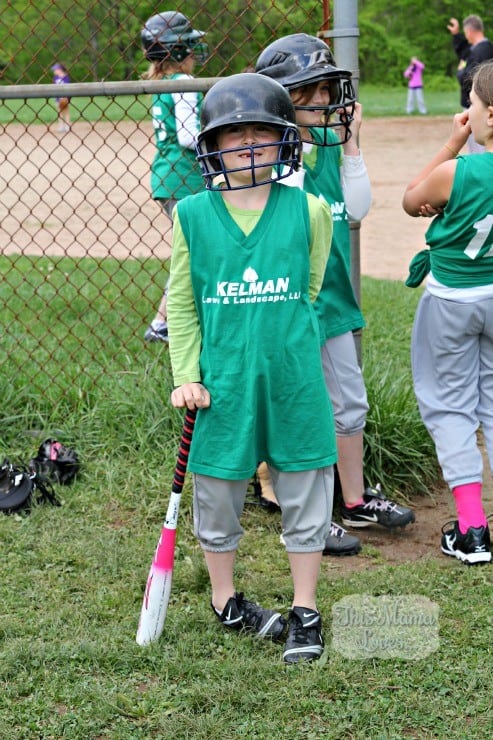 Weeknights have become really, really busy around here. My little one has yoga one day a week and soccer another. Both activities are in the afternoon but they also impact our family schedule and the time I have to prepare balanced meals for my family. My son who is 5 ½ has soccer and yoga with my littlest one, but also has TBall one evening a week and games on Saturday mornings. My oldest has Softball one evening a week and a second evening each week with a game, plus yoga with the little 2…and Brownies one afternoon every other week. (The TBall and Softball are not in the same place nor the same time, of course!!)
To say my cooking time has been impacted by this spring schedule is an understatement. I am trying to keep up with home cooked, balanced meals, but it's hard when we've had a lot of yard projects this spring that need a lot of attention (and watering). I've been really busy. So when I had the chance to do this shop for the Tyson Homestyle Chicken Fries, I had to check them out- I've been seeing a lot of posts around for them and was quite intrigued. I'm always up to find new quick dinner ideas.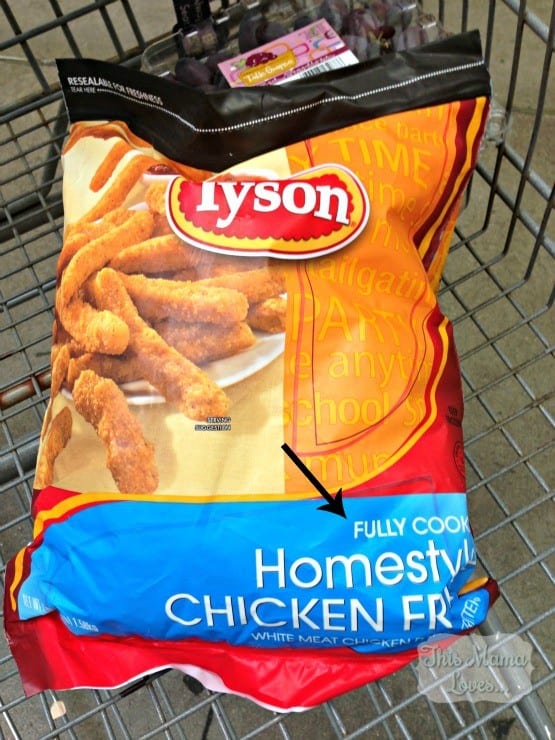 I went shopping last Wednesday. I'd forgotten my membership was expiring so I had to go renew it when I got there (forgot to take photos) and then I set out to find the fries. I was quite proud of myself for having just one little distraction en route to the fries….the party cups. More proud for not buying them (yet).
Of course, when I found the Chicken Fries, I wasn't sure what I was going to make with them. I just knew this was my day to get my shop done and figured inspiration would strike. Strike it did, a few short minutes later (and shortly after I saw all the different flavors of wings that Sam's Club sells….inspiring me to have a wings party later in the summer).
I didn't realize how AFFORDABLE these fries were before I got to Sam's! $9.98 for 3.5 lbs! Not a bad price, in my opinion. After I grabbed the fries and came upon the produce my inspiration struck. And common sense. Veggies were laid out in front of me and we eat a lot of veggies….veggies are a great finger food. Veggies are easy to bring places. Veggies are great for picnics….and…
Why was I so stressed about an easy weeknight meal when so many other families have schedules like ours right now- I thought to myself, why not just stick with simple and basic and pack a balanced picnic chicken dinner? Picnics are fun for the whole family and with or without a hectic schedule, a nice way to spend time together as a family. Awesome. I had a plan. (You can see my whole shopping trip in my Google Plus album here. Enjoy. You can see a glimpse into how my mind works. It's not that scary, I promise).
Since we had yoga from 4-4:45 and a Softball game at 5:30, I knew time would be tight, so the Chicken Fries were a great main component to our picnic. (I realized right about now that those fun party cups would be perfect to hold chicken fries IN for the picnic, but my brain doesn't work like that. There I was all proud of myself for not just grabbing all the impulse things I wanted to buy).
So, we got home at 4:50, I sent my oldest up to get her uniform on, reminded the littles to get their toys ready to bring to their sister's game, and preheated the oven. While that was heating, and while the fries were cooking, I cut up veggies and filled dipping sauces for appetizers in containers with what the kids love. Grabbed some grapes and Crisps, a few drink boxes for the kids, plates and napkins, and we were ready for a quick chicken dinner!! The kids were so excited!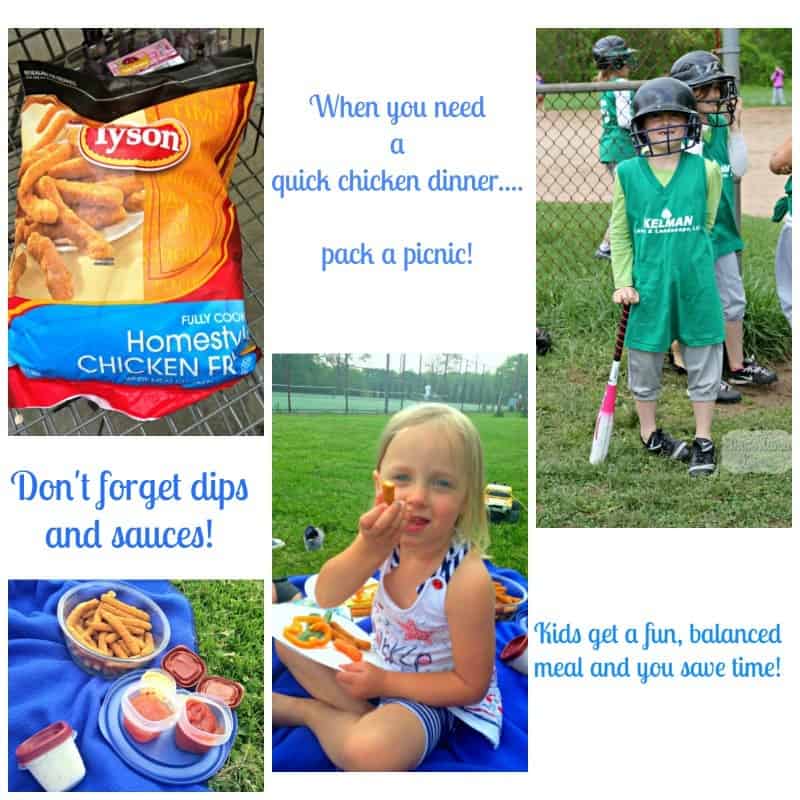 I have to tell you that we got to the game (on time!!), set up the picnic, got plates set out, kids were eating, and a thunderstorm arrived. Our picnic lasted about 4 ½ minutes. Thankfully my husband arrived right as the storm did so he helped me pack food and kids up quickly since they called the game and we got home before the big rains came. (It rained for three days straight!!)
We did finish our picnic inside, at home. The kids devoured the chicken fries. And wanted more. Just so you know, 3.5 lbs seems like a lot in the store. With 3 hungry kids (and a husband) in the house, 3.5 lbs doesn't seem like a lot. Next time, I'll be buying at least 2 bags when I go. The kids LOVED these and I love that they are white meat chicken, and so easy to prepare.
Be sure to "like" Club Tyson on Facebook, because you will soon be able to enter to win free Six Flags tickets for your family vacation!!!
What are your go to easy meal ideas?
0