We are a family that does our projects ourselves…we always DIY.  I think we've hired someone to do things exactly three times since we purchased our first home.  Naturally, our kids want to help and be part of our projects, but sometimes those projects just aren't suitable for little ones to be helping.  We try to include them whenever possible.  As they've gotten older (I say older, when my oldest isn't quite 8 and my youngest is still 3), we've been able to give them different tasks and they've been able to be more a part of things.  Having them learn the tools and skills they will need to be able to help with our family projects and also with their own down the road is important to us as parents to teach and instill in our children from an early age.  That's where The Home Depot Kids Workshops come into play.  I'm not sure why we've not been going to these since – well, since we had kids, but we'll be making them a part of our schedule on the first Saturday of each month. This post is part of a series of posts that The Home Depot has sponsored on this site to talk about all kinds of DIY projects and including kids within those projects.  
The Kids Workshops are free to all and happen on the first Saturday of each month.  This past month we were able to go and my younger two were able to make little herb planters.  My littlest one is 3, and she was not able to complete the project independently, but with some help from Mr. Nick, pictured both above this paragraph and below. He had so much fun with my daughter, she was telling him just what to do and what he needed to "do the job right" like a Phillips screwdriver.  It was very clear to all of the adults at our workshop that Nick really and truly does enjoy his job, especially on Kids Workshop days.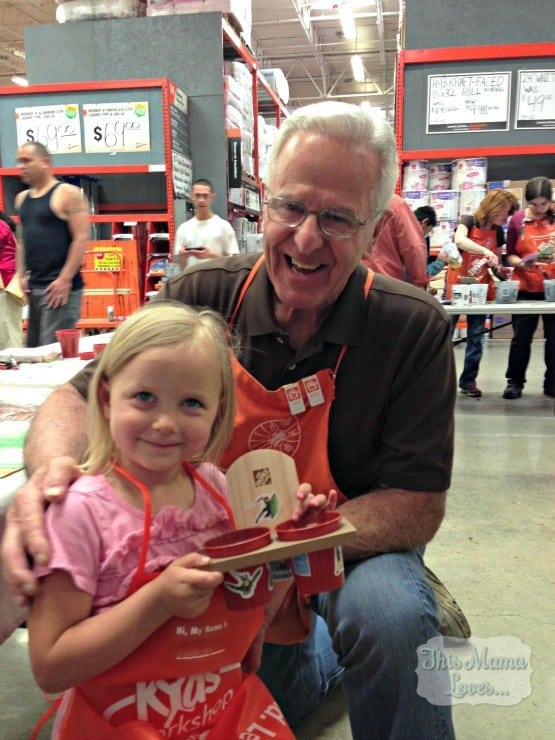 My 5 1/2 year old was VERY very excited because he could do this project 100% by himself.  He beamed all day long with pride.  It was awesome.  He loves to use real tools and this was no exception.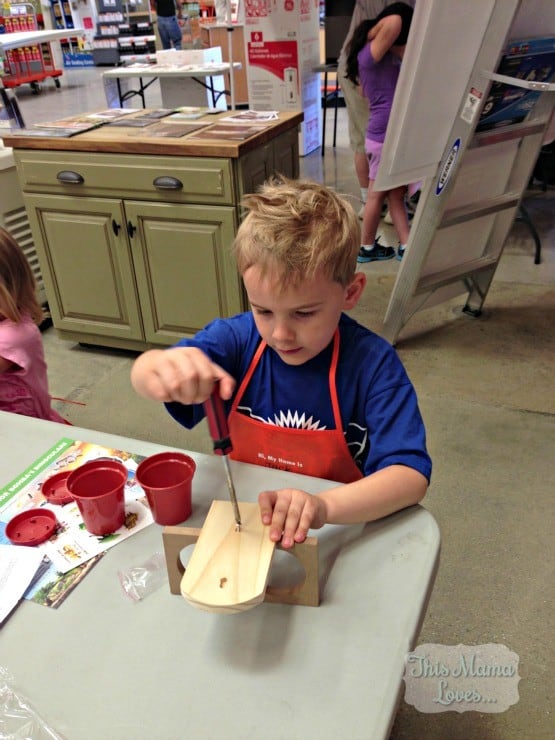 The Kids Workshops are set up so that families can walk up, do their project, with all parts, pieces and tools easily accessible, and when finished, each child gets a pin for their very own Home Depot apron!  Kids learn some DIY skills and have fun doing so, and get to show off their projects.  It's a great program and we can't wait to go back!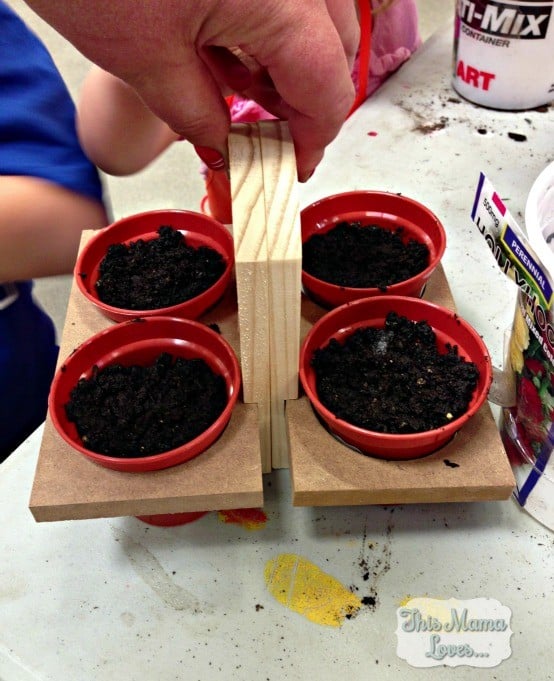 Here are our herb planters.  3 pots had sprouts.  1 kitten got into the pots.  We are replanting the post this weekend.
 The Home Depot offers other kid-friendly DIY experiences. FREE hands-on workshops designed for children ages 5 – 12 are offered the 1st Saturday of every month at all The Home Depot stores between 9:00 a.m. – 12:00 p.m. Workshops teach children do-it-yourself skills, tool safety and instill a sense of pride and accomplishment. All kids get to keep their craft and receive a FREE Kids Workshop Apron, commemorative pin and certificate of achievement.
It's home improvement time, and The Home Depot has everything you need to #DigIn for Spring. No matter what projects you want to tackle, they have great values on all you need. They're ready to help you with renovation ideas and expert advice, too.
Get over $300 in email exclusive savings each year, sneak peeks on new products, monthly lawn & garden ideas for your region and access to The Home Depot's gardening experts. Click here to join the world's largest garden community today! Or go to homedepot.com/gardenclub to see some of the many benefits of membership.
June's Home Depot Kids Workshops will be lawn mower pencil holders on June 1st.  We can't wait!
This is a sponsored post written by me on behalf of The Home Depot.