This review of the Bissell CleanView Deluxe bagless vacuum with One Pass Technology is brought to you by our friends at Bissell through my affilliation with Mom It Forward.  We have a yellow lab mix and a kitten who both seem to feel like leaving pieces of their fur on every surface in our house is their job in life.  Add in a pretty big backyard that's had inches upon inches of rain in the past month, plus 3 kids and a husband (plus me) who are constantly outside playing and working and gardening- and you have messy floors.  Now, we do have central vacuum, but I have this thing about carpet and rugs with central vac.  I still like my "regular" vacuums for my rugs and carpets. Which is how this review came to be.  The Bissell CleanView Deluxe with One Pass Technology arrived at my house just in time for a huge stretch of cold, rainy weather, and the end of school.  So it sat in the box, waiting patiently to be opened.  When things quieted down and I was able to get it together, I was happily surprised at how little time and effort the assembly took.  Five minutes, and that includes helping a kid get a cup of water during.  Easy, peasy.  I like easy!!  Bagless vacuums seem SO much cleaner and friendlier to the earth to me so that's something I was anxious to check out with this vacuum.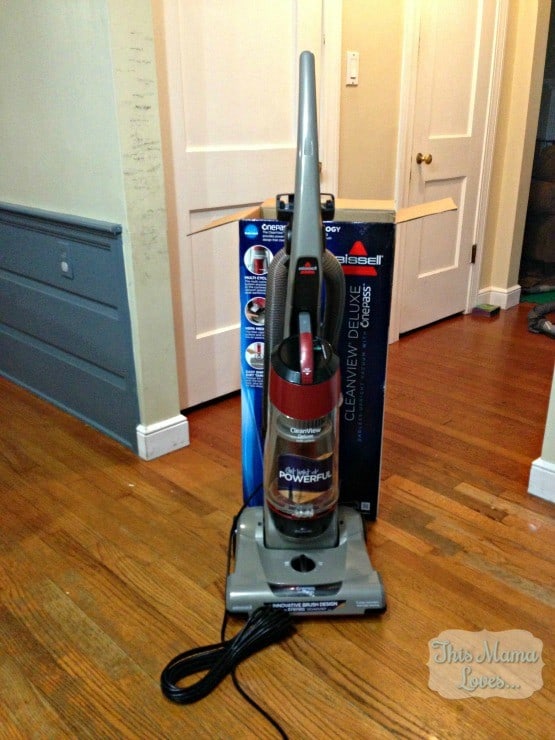 This vacuum is, without a doubt, the quietest vacuum I have heard in all my 39 years on this earth (why yes, I did just tell you my age!) and that says something.  We've owned a lot of vacuums between my husband and me- and together, at least 10.  None has ever been what I could call quiet.  This one is.  Or, quiet for a vacuum.  Especially on the carpet or rug, this machine is REALLY quiet.  Like I could have used it while a baby was napping and not woken said baby.  (Where was this vacuum when my kids were little? Where? Maybe I can have another baby to test my theory!)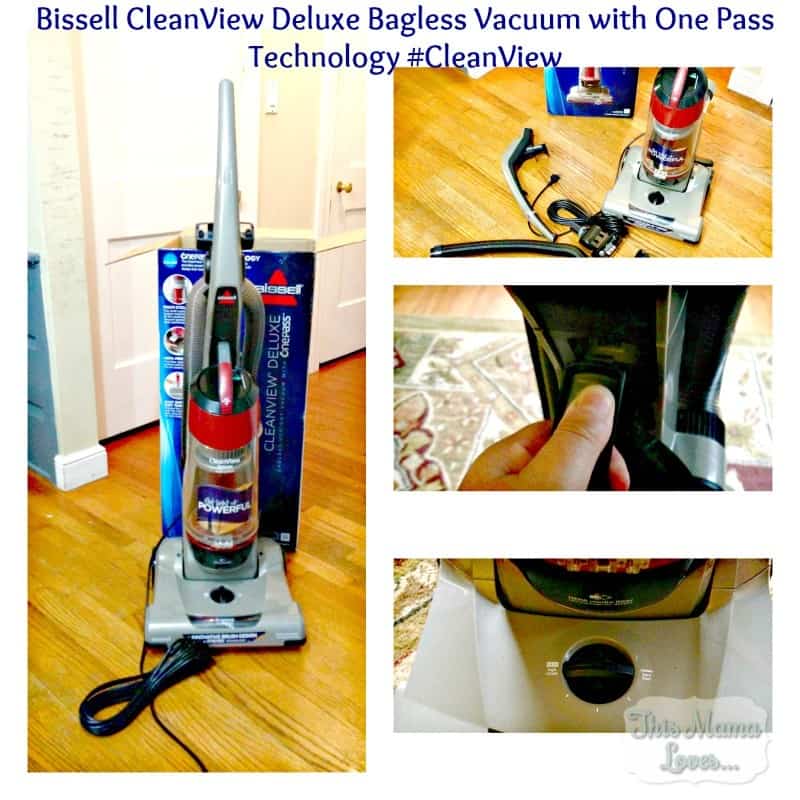 There's a dial to change the height settings for this vacuum.  Very simple to do and the dial moves with ease when you try to turn it.  I found for the rugs we have (area rugs) that the mid-dial setting worked best and then proceeded to be 1000% horrified at what this vacuum pulled up from our rugs.  We only have area rugs downstairs and most of our home is hardwood floors.  I vacuum almost daily, sometimes twice daily.  But LOOK at this.
Gross, right?  But also awesome.  That's not in my rugs anymore. It's in the garbage.  NOT in my house.  The kids aren't rolling around on a rug that has that ICK in it anymore.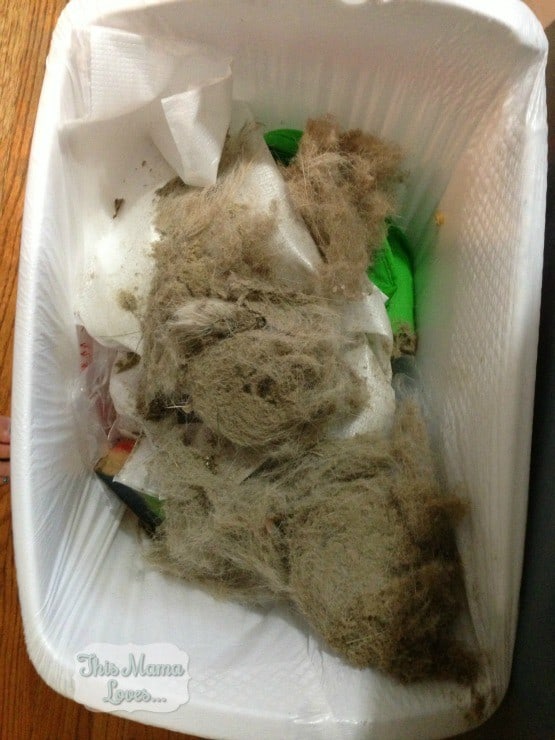 This powerful and lightweight bagless vacuum features new OnePass Technology™ which means you can spend less time cleaning and more time doing what you want to do. Unless you have a weird love of vacuuming. In that case, call me, and you can come here. 🙂 But really- the One Pass Technology saves time but also delivers a powerful suction paired with an innovative brush roll that makes deep vacuuming happen with no more effort than your "other" vacuum and you can rest assured that your floors and especially rugs and carpets are definitely cleaner than before.  It also has a 27 foot long cord so you can probably get a lot more space vacuumed before you run out of cord.  In my house, you can do almost the entire first floor without unplugging.  That's awesome.
Innovative brush design cleans on initial pass* for excellent carpet cleaning.

Includes Bottom Easy Empty™ Dirt Cup for added convenience.

Lightweight design is modern, uncomplicated and easy to maneuver.

On-board attachments include a 4" TurboBrush® tool for cleaning stairs, upholstery and hard-to-reach places, a 10" crevice tool for nooks, crannies and corners and an upholstery tool and 11" extension wand for added convenience.

The CleanView Deluxe offers a Multi Cyclonic cleaning system that helps maintain long-lasting powerful suction.
The BISSELL CleanView Plus vacuum with OnePass Technology is now available at major retailers with an MSRP of $89.99. The CleanView Deluxe is also available at major retailers, with an MSRP of $99.99.
For additional information, visit www.bissell.com.
Are you shopping for a new vacuum? What features do you look for?
0