You know how they say a certain smell can bring you back to a particular time or place in your life? Well, it is totally true! Whenever I smell a steak cooking on the grill, I think of my dad. In the summer, you could find dad outside, manning the grill as he cooked a juicy ribeye or a huge porterhouse steak. My sister and I would share a chair, not too far from him, while we watching him flip his steak as he hummed some song we we not familiar with. If we were to go out to eat, you could bet money that dad would order a well done steak.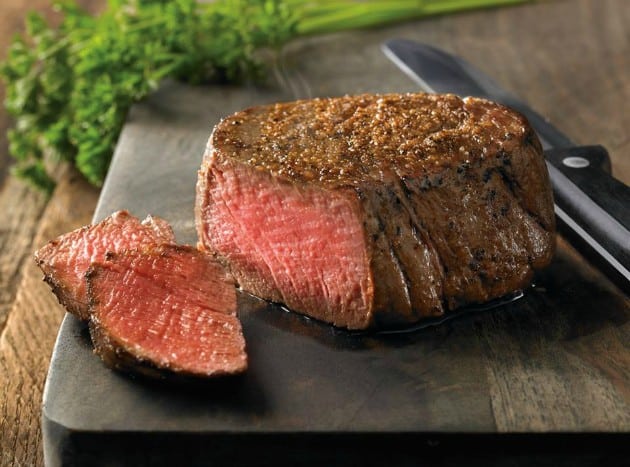 I can assure you dad had an influence on me when it came to cooking a lovely piece of steak. I prefer a ribeye, while my husband prefers a nice medium rare sirloin. I just love to hear the crackle and pop of those steaks cooking on the grill! Did you know there were other benefits of eating steak? Besides their mouth watering flavor, that is! Here are just a few of the many reasons to love steak:
Weight Loss: Studies have shown if you eat a nice steak, which is high in protein and low in carbs, in moderation, you will feel fuller longer, therefore less likely to cheat on your diet! Because you get nice and full after eating a steak, you are probably not going to ask for a second helping.
Nutritious: A nice steak is packed full of nutrients like B-vitamins, Iron, Vitamin A, Vitamin E, Potassium, Zinc, and Phosphorus. There are not too many proteins on the planet that can give you as many nutrients in just one serving!
Heart Healthy: A serving of lean, grass fed steak is full of omega-3 fatty acids, which is good for your heart.
Muscle Growth: The protein from a serving of steak can give you the basic building material you need for muscle growth. The iron gives your muscles oxygen to grow, and the B-vitamins give your muscles energy.
Did you know the USA does not have a national food? Isn't that just crazy? I mean, the French are synonymous with the baguette, Italians have a claim on pasta and Belgium has ownership over chocolate, America has yet to unveil an official national food. In celebration of the new "Bold at Steak" brand campaign, Outback Steakhouse is launching a nationwide petition to make steak the first official food of the U.S. and urging fellow steak loving fans to rally behind the cause. Well, I am a steak lover, so you know I am going to sign the petition for sure!!
This may be one of the boldest moves from Outback, but they are confident consumers around the nation will join the movement. To show their bold love for steak, you can sign the petition to make steak America's first official food. We the people of steak lovers of America can give our government a loud and clear voice that we support the idea of making steak the official food of the US of A. America's history is chock full of iconic symbols that represent the American way of life, from the majestic Bald eagle soaring freely through the sky to baseball serving as the national pastime. Of all the iconic symbols, one of America's greatest passions is noticeably absent: food. Let's change that, ok?