5 Reasons to Switch to Rechargeable Batteries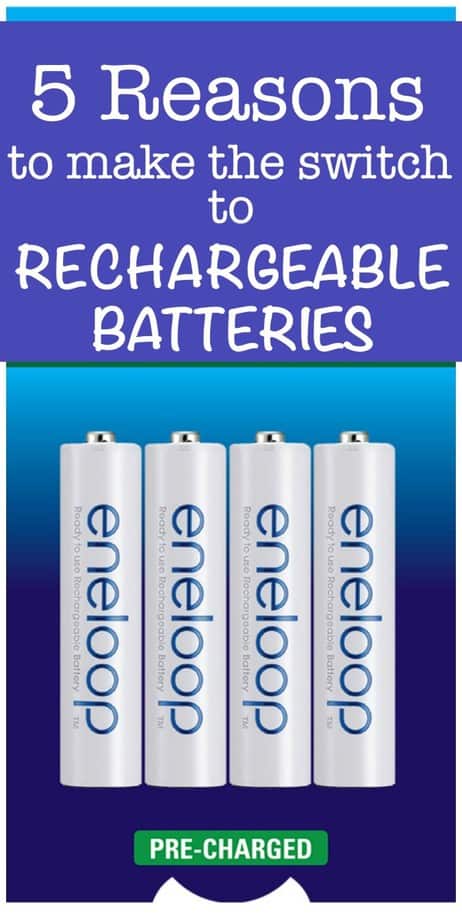 There are so many things in this world that use batteries. It always seems like when you need batteries- you are O-U-T and sometimes need a special trip to the store! We have made an effort to purchase rechargeable batteries whenever possible in recent years because they just make things so much easier for us- and we always have batteries around! I think it's been a good switch, and we're not constantly running for more batteries- between video game controllers and the clickers for the TV and video components, we were going through batteries like crazy before. Now when the batteries seem low or need to be recharged, I just pop them in a charger, plug it into the wall before bed, and wake up to charged batteries (full charges take about 10 hours…so I guess since I don't sleep that much it's a *little* after I get up). I just wish we'd thought to do rechargeable batteries when the kids were younger.  I cringe when I think of the eleventy million D batteries we went through with the baby swing, and the sound machine in the crib alone.This is a sponsored post. Opinions are my own.

We just discovered a Panasonic's eneloop batteries, (re)charging things in homes since 2005. I just made my "wish" list for Christmas for my husband and yes, I did add this Power Pack to it- it's kind of like an all in one for battery needs, and it can be "mine" to keep in my office. Several sizes, a case to store and a charger? Perfect. What's not to love? (If you're wondering, 21 year old me is sobbing in a corner wondering again what's happened to her, wanting practical things like rechargeable batteries and not fun jewelry or new clothes for Christmas…)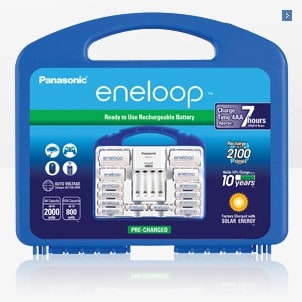 But why switch? Well, with the holidays here think of all of the photos you'll be snapping, toys to power and more. Here are 5 reasons to switch to rechargeable batteries– you won't be sorry!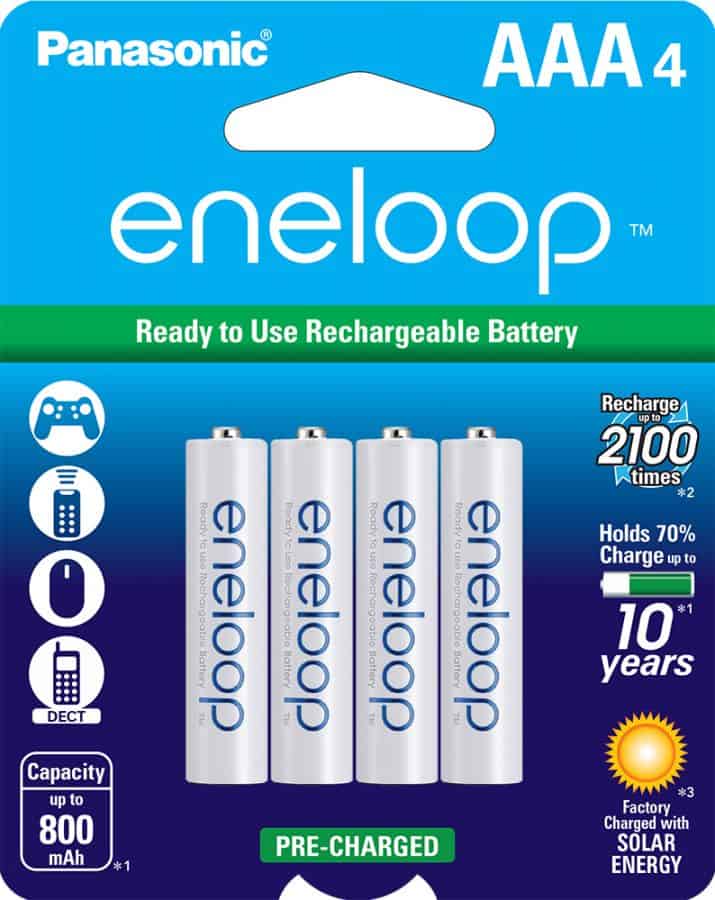 Ready to go–
They come charged already. Just like "regular" batteries, these are ready to go out of the package.
Less waste, use of resources: 
You won't be disposing of batteries when they run out of 'juice' because you'll be recharging them for more use!
Less money–
If you're not purchasing batteries over and over, you're not spending as much! You may spend a little more for the batteries when you buy them, but you can use them over and over again.
Lots of use–
eneloop batteries can be recharged up to 2000+ times. That's a LOT of use! (This also ties in to spending more money- think of how many packs of batteries you'd buy and toss if not recharging batteries you already have!)
Lots of power–
These rechargeable batteries charged with solar power before they arrive at your house. They can retain 70% of that original charge for up to 10 years. (Hint: if you find a good deal, stock up!)
eneloop batteries also still work in cold weather- even in temperatures as low as -4F. I've had batteries not work in cold weather before, and living in New England, we need to be able to count on things working no matter how cold it gets!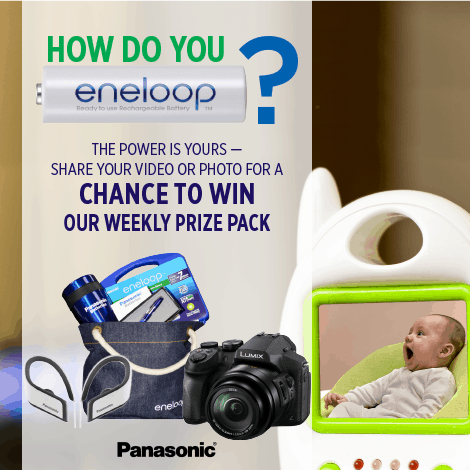 Show Panasonic Your Stuff…  Enter for a Chance to Win
eneloop has a great name.  While it could have just as easily been used for the name of a new video game, a dance move, or social media channel, it's actually the name of the "Best rechargeable AA battery and charger of 2016" (according to Metaefficient.com.) Better still, it's a product with personality.  eneloop is giving you an opportunity to submit your photo showing "How You Eneloop" (the way you use rechargeable batteries) for a chance to win some incredible prizes including a Grand Prize Trip to Punta Cana in the Dominican Republic.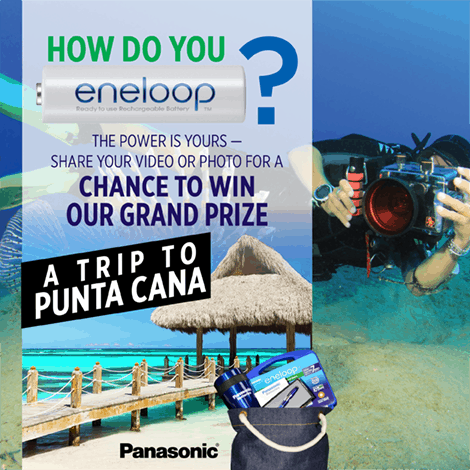 To enter, all you have to do is visit the eneloop Facebook page during one of the entry periods listed below, comment on the eneloopSweepstakes post with a photo or video depicting "How you eneloop", and you're automatically entered to win.
The remaining entry periods for the weekly prizes are:
November 29 – December 5, 2016

December 6 – December 12, 2016

December 13 – December 19, 2016
If you enter between November 1, 2016 and December 26, 2016 you are eligible to win the Grand Prize.  Be sure to read the rules – – there's a link to the rules on the Facebook page.
Here's a list of the Panasonic Prize Packs (there are two different versions):
One Prize Pack consists of:
One Panasonic WINGS™ Premium Wireless Bluetooth® Sport Clips;
One Panasonic Wireless Home Audio Micro System;
One Panasonic LUMIX Active Lifestyle Tough Camera; one (eneloop Power Pack; two packs of Platinum Power batteries;
One eneloop bag; one Panasonic tumbler; one Panasonic metal pen and one (1) notepad
The other Panasonic Prize Pack consists of:
One (Panasonic LUMIX FZ300 4K 24X F2.8 Long Zoom Digital Camera;
One Panasonic WINGS™ Wireless Bluetooth® Sport Clips;
One eneloop Power Pack;
Two packs of Platinum Power batteries;
One eneloop bag;
One Panasonic tumbler;
One Panasonic metal pen and one notepad.
GOOD LUCK IN THE SWEEPS!
How will you eneloop? Have you made the switch to rechargeable batteries?