Rice Krispies® Treat Gingerbread House
This Rice Krispies® treat Gingerbread House recipe is sponsored by Kellogg's® Rice Krispies®.
We love the holidays at our house. I mean, what is not to love? Food, family, gift giving and most importantly, spending time with family. My kids love Kellogg's® Rice Krispies® Treats. I make them often and we are always trying to think of new and fun ways to make them. With Christmas right around the corner I go to thinking, why not try a new spin on a Gingerbread House but Kellogg's® Rice Krispies® style?
I headed out to my local store where you can find Kellogg's® Rice Krispies® cereal, as well as all the other candies and goodies that are perfect for decorating your Rice Krispies® Treat House! I made up a large batch of treats with my kids and they had a blast decorating the house once I put it together. Lots of fun family time and wonderful memories made with a classic treat I've enjoyed since my own childhood. If you're looking for a fun twist on the classic treats, try our Pumpkin Spice Latte Rice Krispies® treats here!
Kellogg's® Rice Krispies® makes the world's easiest recipe even easier with countless "Treat Hacks" providing endless possibility for creating fun and delicious treats.   I love recipes that have a few ingredients.  THREE is a fabulous number.  It also creates a great backdrop for adding a few more ingredients to make something new, fun and exciting! Our "Treat Hack" today? Bringing our beloved Kellogg's® Rice Krispies® Treats into our holiday decor!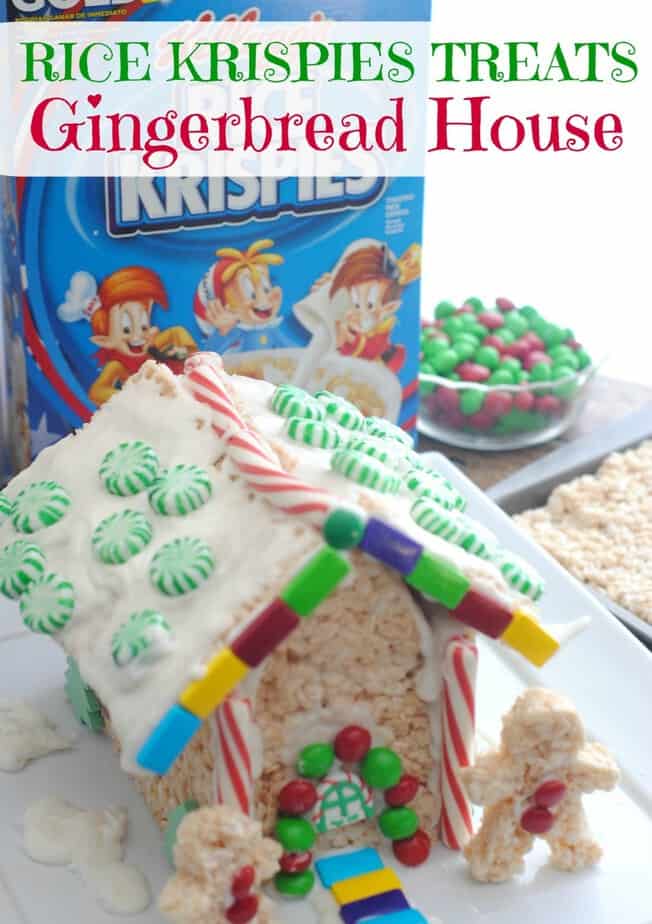 Rice Krispies® Treat Gingerbread House
Ingredients
8 C.  Kellogg's® Rice Krispies® cereal
2 12 oz packages of mini marshmallows
1/2 C. of butter
Variety of fun candies to decorate your house (we used chocolate candies, candy canes and mints)
Small 3-4″ Gingerbread cookie cutters
4 C. powdered sugar
3 egg whites
large gallon freezer bag
kitchen scissors
Directions
Line a large baking sheet with foil and spray with non-stick cooking and set aside.
Pour both packages of mini marshmallows into a large saucepan.
Evenly slice the butter into smaller chunks and add to the saucepan.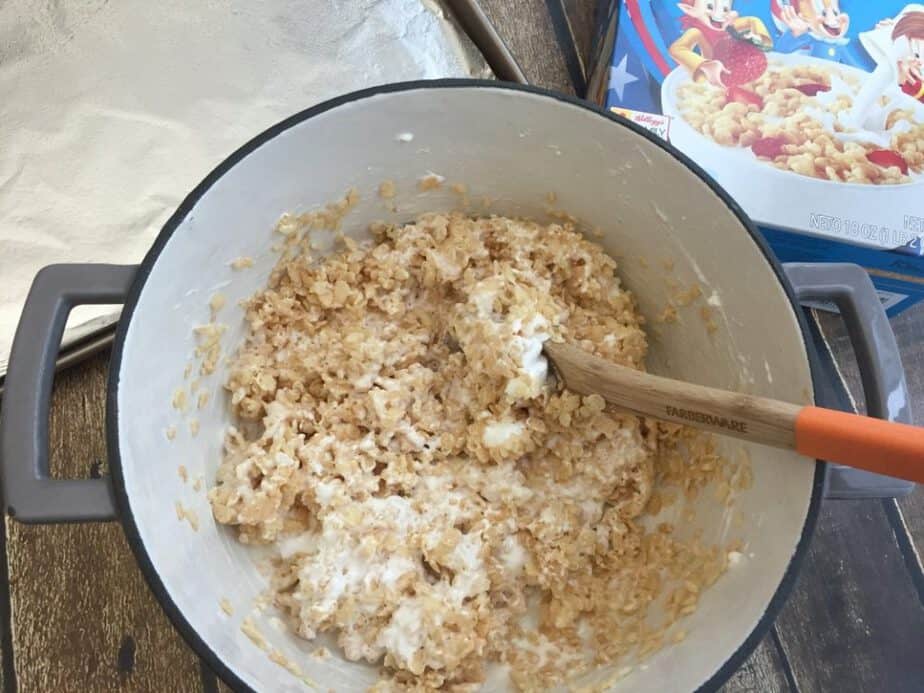 Heat the butter and marshmallows on low/medium heat, stirring occasionally. Once the mixture is melted about 3/4 pour in the 8 cups of Kellogg's® Rice Krispies® cereal and gently fold the marshmallow mixture into the cereal until combined.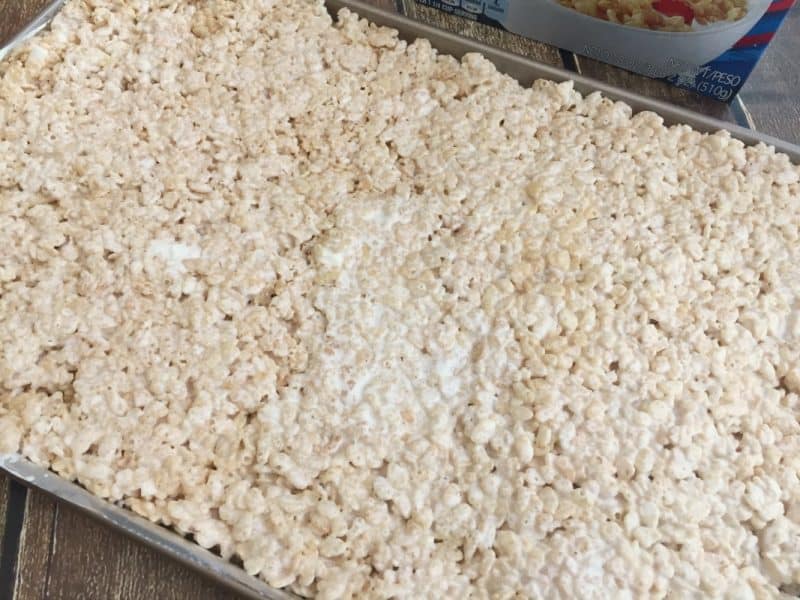 Scoop the Rice Krispies® Treats out on the baking sheet and gently flatten with a spoon OR take a small sandwich baggie and spray with non-stick cooking spray, put your hand inside the baggie and gently flatten the treats down evenly.
Cover with plastic wrap and let set overnight (you want them firm but not rock hard).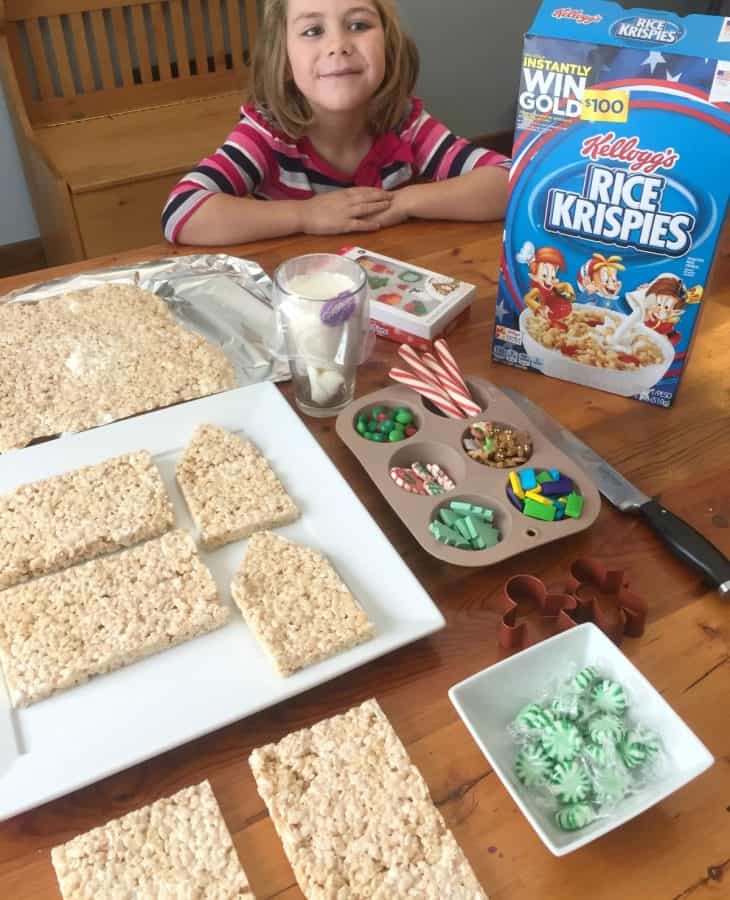 Use a knife to cut out 2 sides and 2 roofs – 4″x6″
Use a knife to cute out a front and a back of the house – 3″ wide and about 5″ tall with a triangle top.
Set aside.
While you are making the icing, let the kids cut out some gingerbread men for decoration on the house- and one to eat as a fun treat! Having the cookie cutters out to make shapes with really helps remind my kids (and me!) what a good portion is, especially when you are adding candies or icing or both!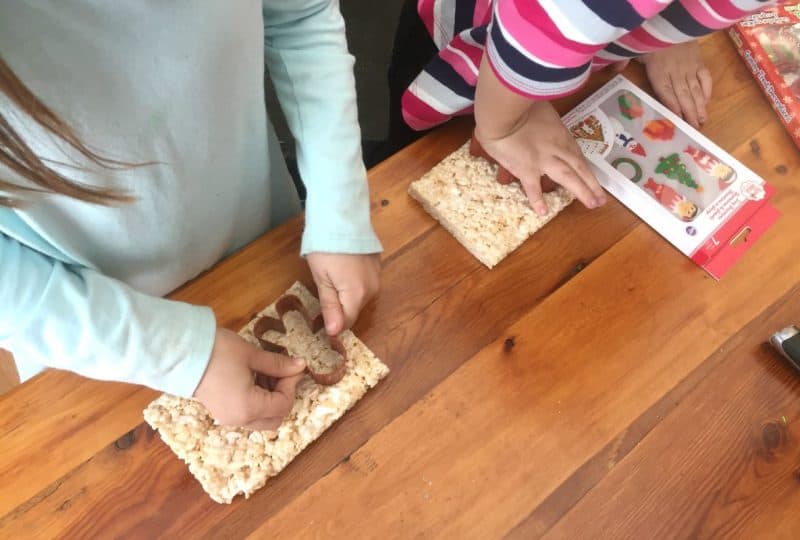 To make the icing (glue) combine the 4 cups of powdered sugar and the egg whites. You want it thick so it holds your candies. Start by adding 2 egg whites and go from there.
Scoop the icing into the large gallon freezer bag. Seal shut and snip one corner with the kitchen scissors.
Gently squeeze the icing from the bag onto the side and front of the house. Gently stand the side of house up and press onto the front until it stays on it's own. Repeat with the other sides. Let set.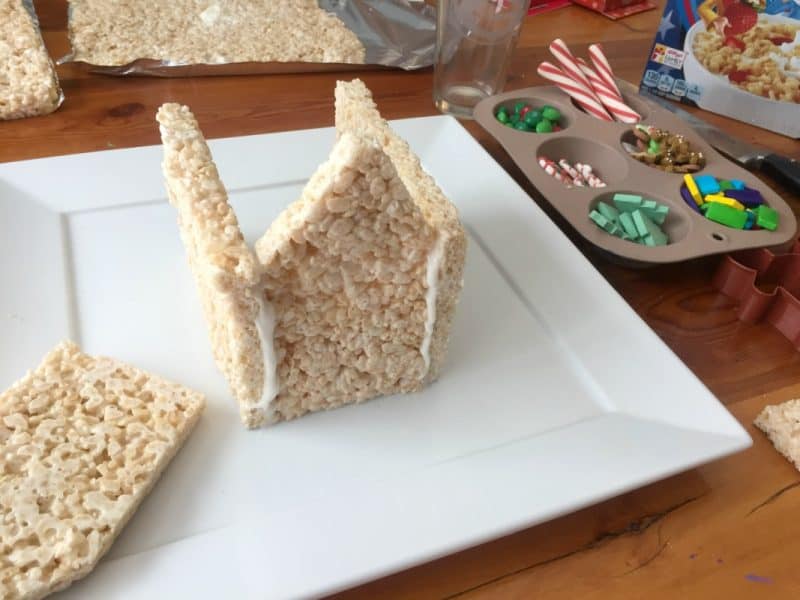 Once the sides are up, place some icing on the roof peaks and place the roof on to of the house. Don't worry if you have some gaps, simply fill in with icing and place some extra candies there.
Have fun with it.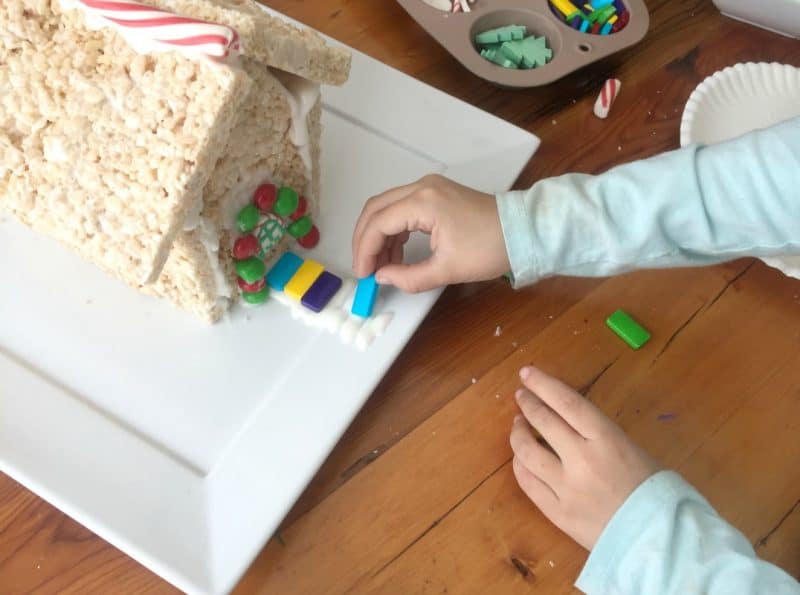 Use the candies to make a door, windows, walkway and more!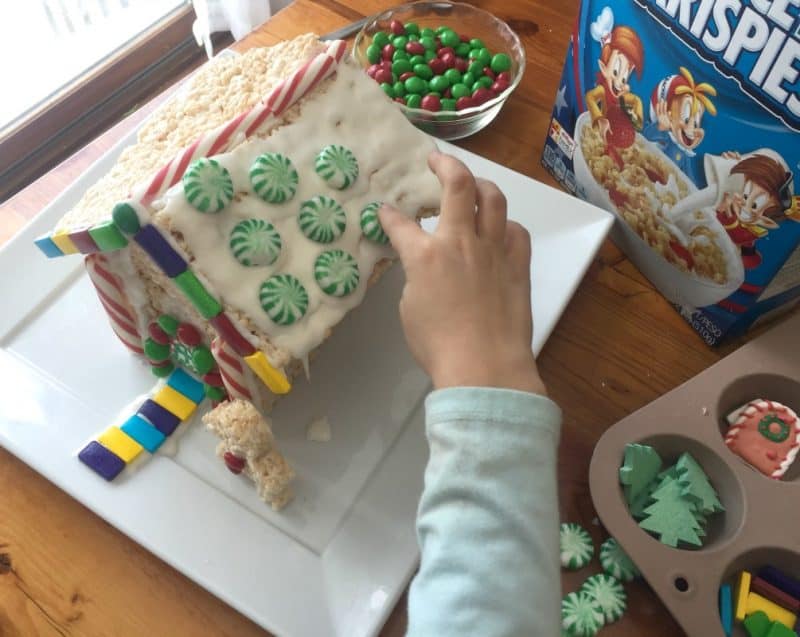 We used our extra icing on the roof for 'snow' and then the girls added mints on top. The kids had a blast adding the candies!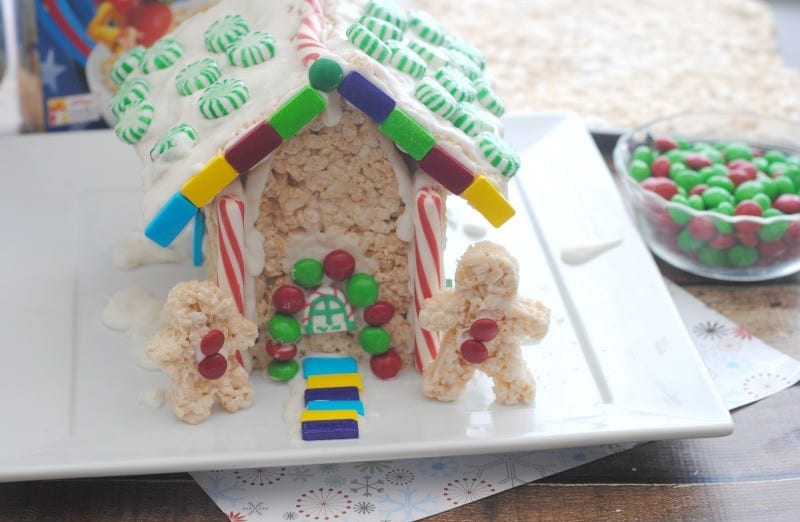 Now, you'll want to leave that Gingerbread House up to enjoy for a while- so make sure you cut a few little gingerbread men for each of you to enjoy while making your house!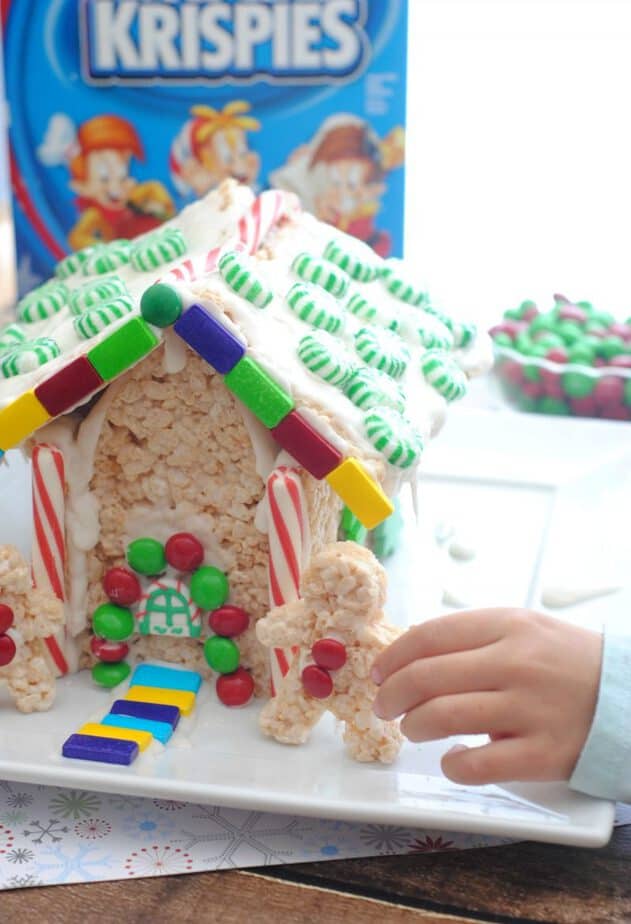 Have you tried making a Kellogg's® Rice Krispies® Treat Gingerbread House? What are your favorite treat hacks with Kellogg's® Rice Krispies® treats?
During the holiday season, for every photo of a Kellogg's® Rice Krispies® Treat shared, using #Treats4Toys, Kellogg's® Rice Krispies® will donate a gift to Toys for Tots to help give a little joy to a child in need – get in the spirit and tag your favorite treat across social using #Treats4Toys
[mpprecipe-recipe:2214]