What's hard for your kids to digest?  Around here, the things that are hard for my kids to digest, in no particular order: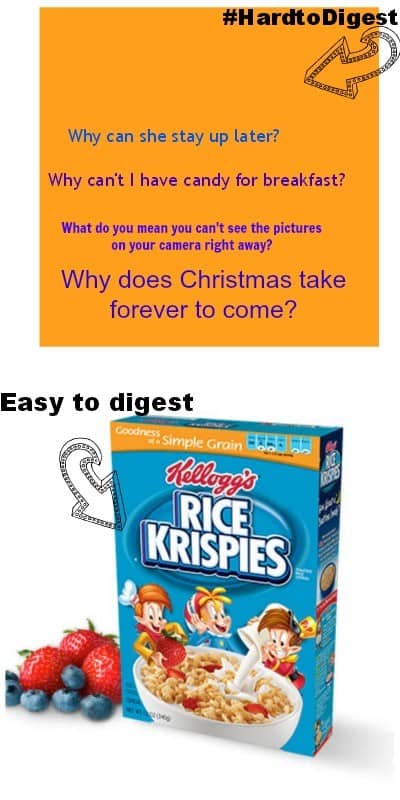 This is a sponsored post, opinions are my own.
1. Film cameras.  Blank stares when we showed them.
2. The concept that no, mommy was not around the week God created the earth.
3. Wearing underpants EVERY time we leave the house
4. Why can't we put things in our nose?
5.  How long it takes for Christmas to come.
6. But WHY do we have to have healthy grow food every time?
7. Why can't I have some of my gum? (At 2 am)
8. Why don't you ever give me my food in a bowl on the floor?
9. When can we get a pet skunk?
10. Why can't we put stickers on our privates?
There's rarely a dull moment around here.  Or, really, any home with small children.  Kids don't always find the adult ways of doing things, or rules about how to do things, easy to digest.  At least with RICE KRISPIES® CEREAL, you can rest assured that it is easy for kids to digest.  That's because it's made of rice, which moms know is gentle on tummies.
Truth be told, when my littlest one was about 2?? One of the big kids mentioned wanting the noisy cereal that talks for breakfast.  After she freaked out and didn't want her cereal to talk, she heard the fun snap, crackle and pop that we've all known for so long and proceeded to only want talking "ice" ripsies for months afterwards.  Kids are so funny!
What are YOUR kids' hard to digest moments? If you share them with Kellogg's using the #hardtodigest hashtag, you may just see it pop up on the RiceKrispies.com website!