RIO's Blu and Jewel Party Poppers for Easter

This RIO Movie Night & RIO's Blu and Jewel Paper Party Poppers for Easter post is in partnership with Fox Home Entertainment. All opinions are my own.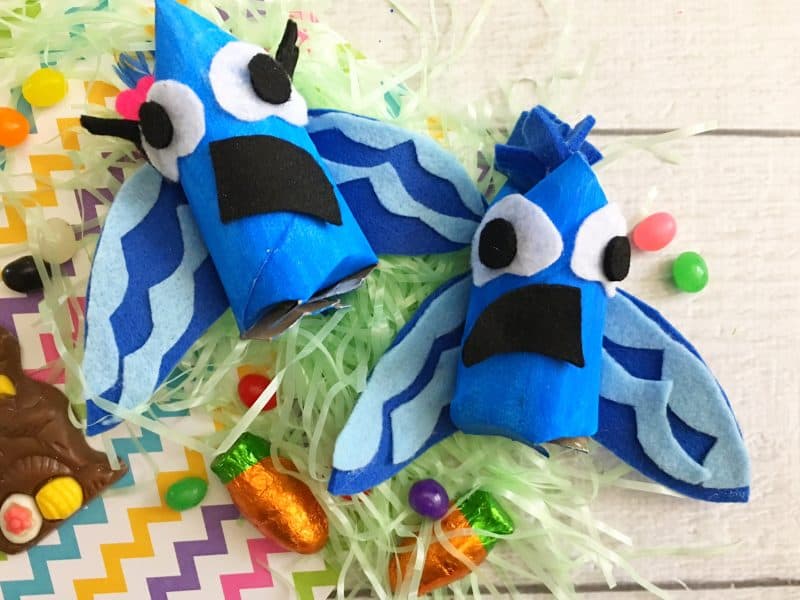 I fell in love with Blu and Jewel back in 2011 when we first saw RIO in the theater. A comedy-adventure about a rare colorful macaw who acts more human than bird thinks he's the last of his kind but discovers there's another. It's based in the rainforest of Rio de Janeiro, Brazil. It's the kind of movie that you can watch over and over again, there's compelling characters, humor, a thrilling story, and wonderful music. In our house, anything bird themed is an instant hit, because the littlest Martin adores all things bird and aspires to study them and care for them one day.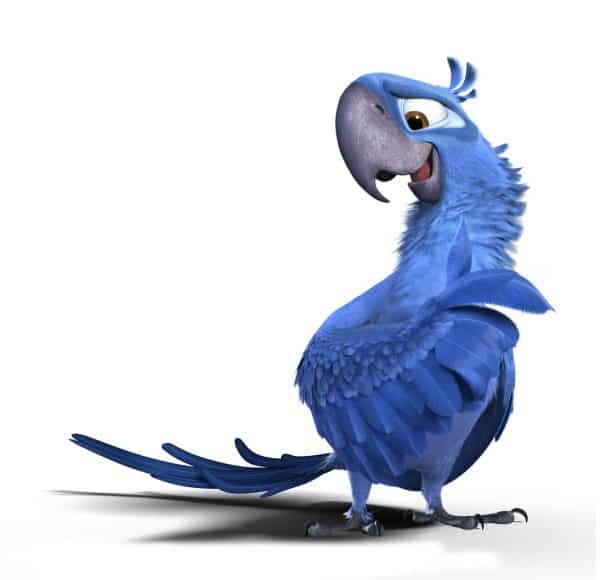 RIO is a family-friendly film and perfect for everyone in the family to watch together. And since Easter is almost here and a lot of families get that weekend or at least day off, that's the perfect time to have a craft/movie night to watch and make our RIO's Blu and Jewel Paper Towel Roll Easter Poppers. It's even available for download on Digital HD which makes life a little easier.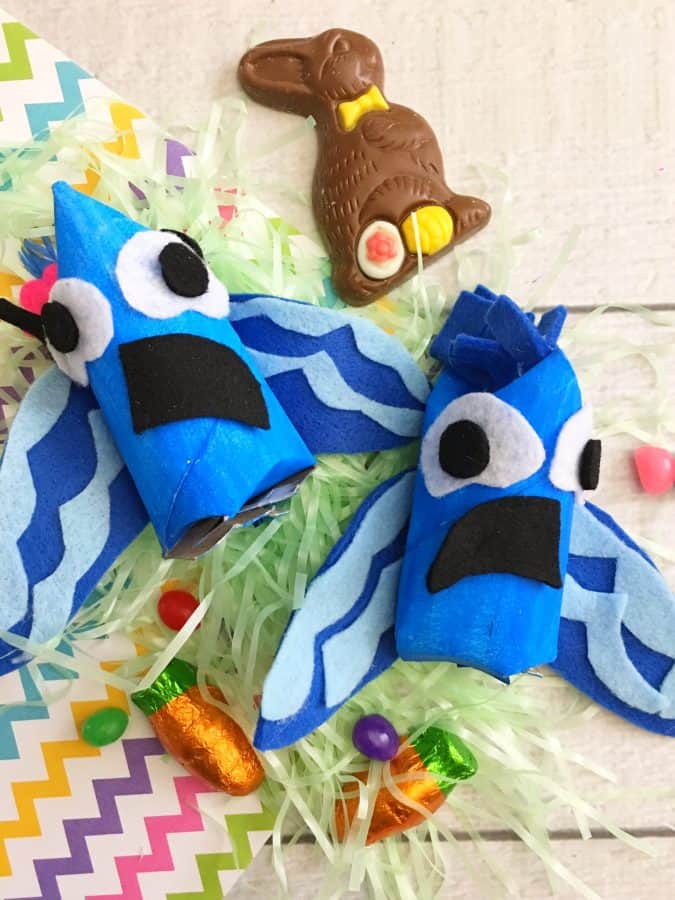 How to make RIO's Blu and Jewel Party Poppers for Easter:
Materials:
empty paper towel rolls (If your house is like mine, you're finding empty toilet paper or towel rolls anywhere but the recycle bin and you, too may find craft inspiration while counting dozens of them that no one has put away)
bright blue and white craft paint
paint brushes
bright blue, light blue, black, white, and pink felt
yellow glitter craft foam sheet
blue craft feathers
hot glue gun/hot glue
scissors
Easter candy for filling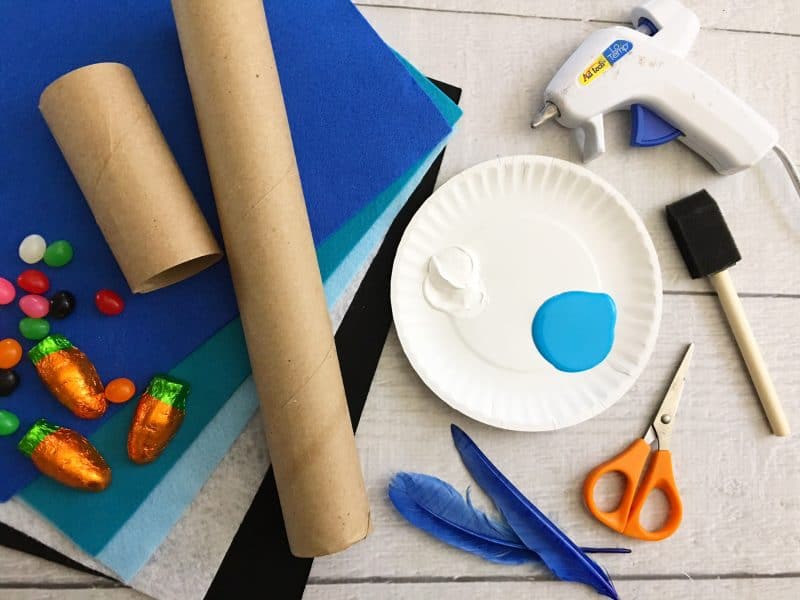 Directions:
Lay out an old newspaper for scrap paper before you get started.
Cut your paper towel rolls into 5″ sections.
Paint your 5″ paper towel rolls white, let dry, then paint them blue, and let dry (This will make for a brighter blue color since you're painting on a brown roll).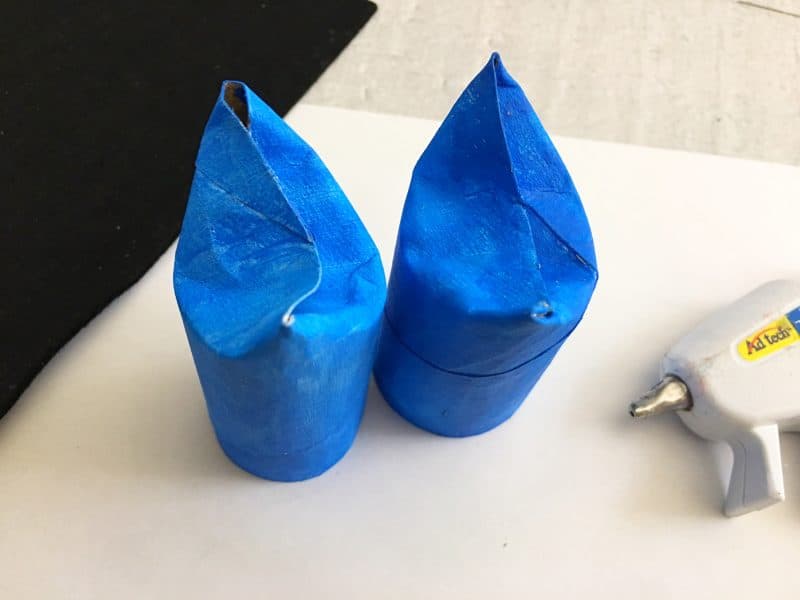 Carefully press the top two sides of each blue paper towel roll in and secure with glue.
Cut out the following from your felt:
-Two jelly bean shaped pieces (per bird) about 1″ wide from your white felt and glue them onto the top sides of the blue paper towel roll.
-2 small circles from your black felt for eyes to and glue them inside the white jelly bean pieces.
-1 beak from your black felt and glue underneath the center of the eyes.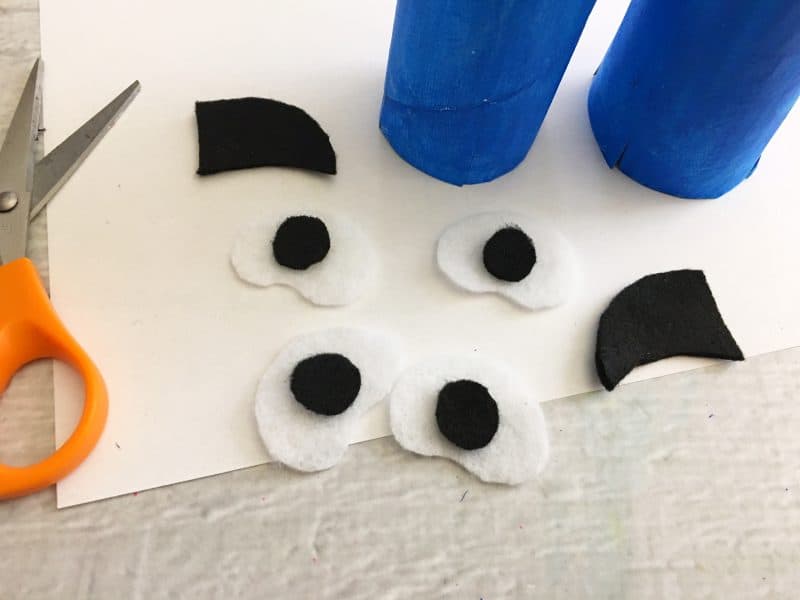 -1 set of wings from your bright blue and light blue felt, cut your light blue wings into scalloped strips, and glue them onto your blue wings like pictured. Glue to the back of your blue paper towel roll.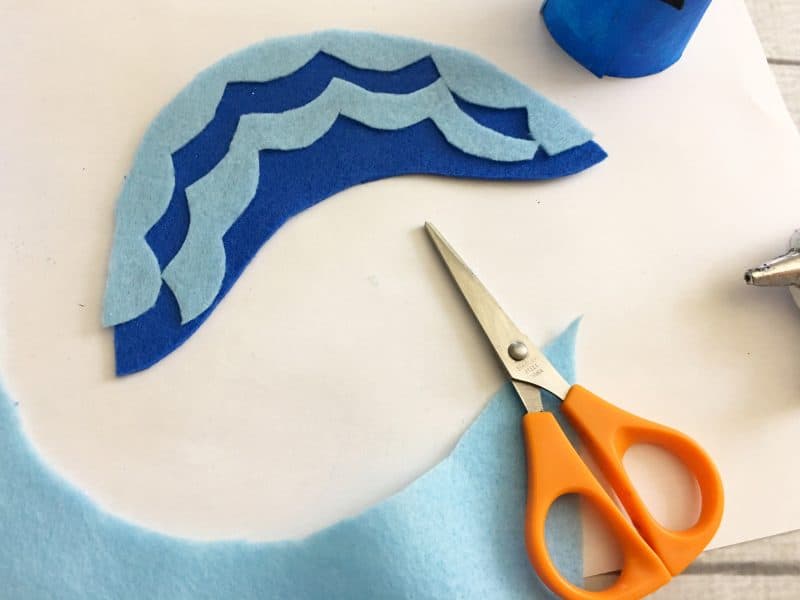 -1 1/2″ x 4″ strip from your bright blue felt, cut each long side into fringe, glue the center together, and onto the top of Blu for his mohawk.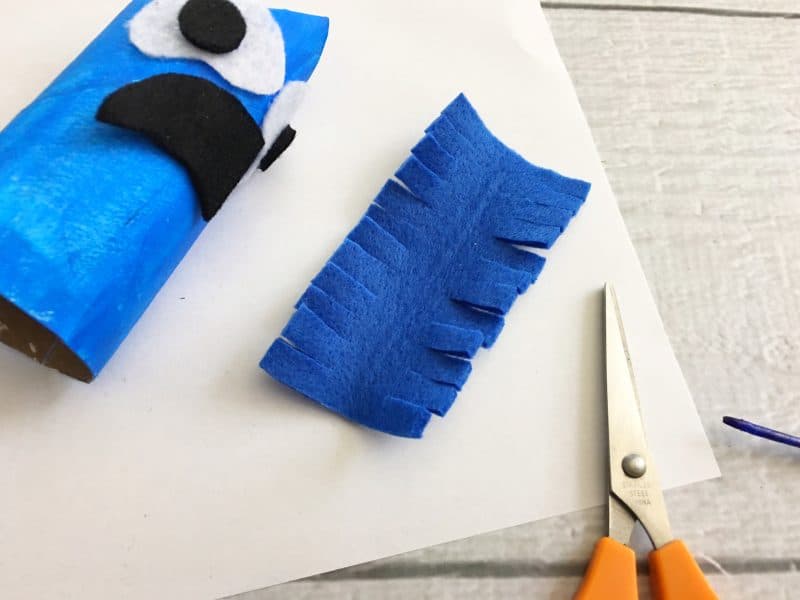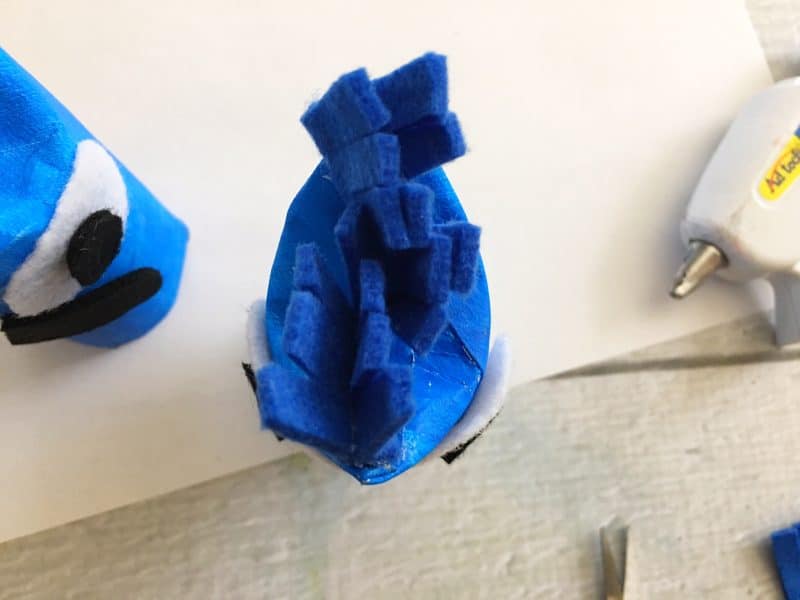 Repeat steps to make Jewel but add a couple skinny black eyelashes, flower from your pink felt and yellow glittered craft foam, and a blue feather glued to the back of the head.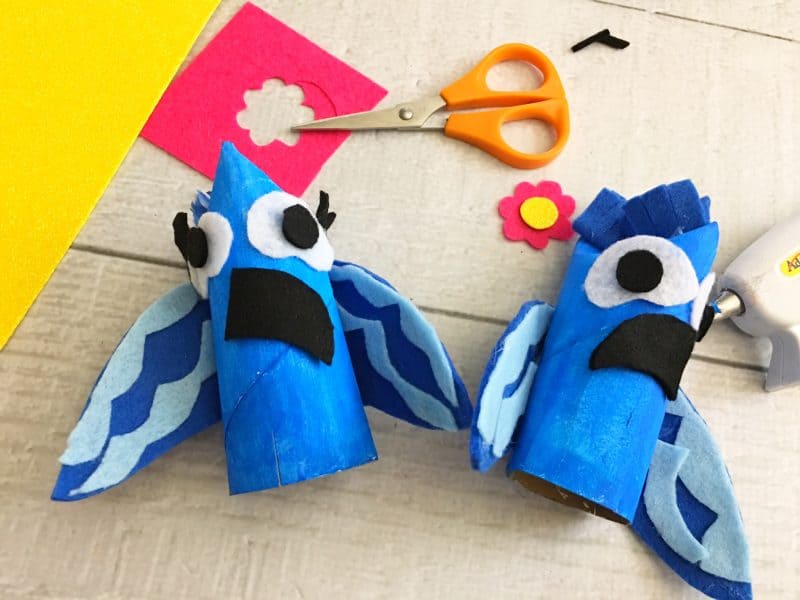 Now cut four slits into the bottom of the roll, fill with Easter candy, and fold the four sides in to close.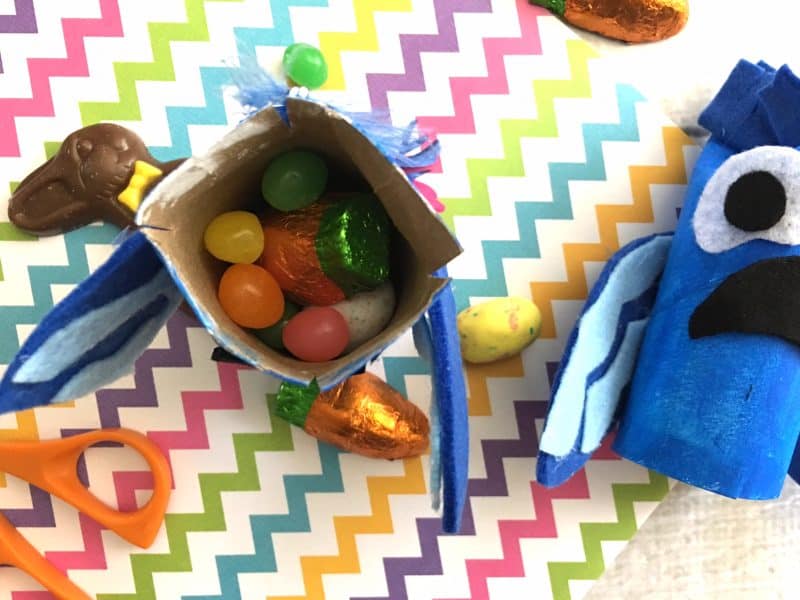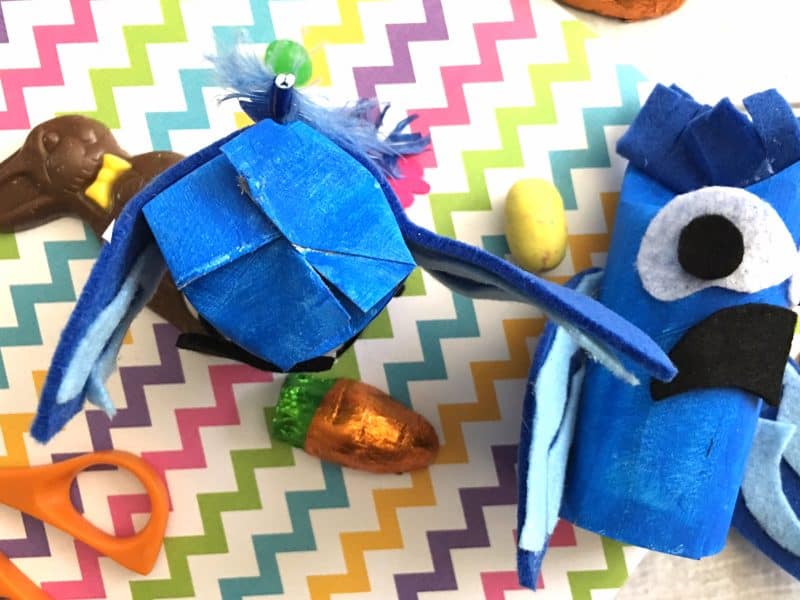 Grab your family, craft supplies, and head on into the living room to download RIO Digital HD. This movie will have your family hooked and laughing in no time.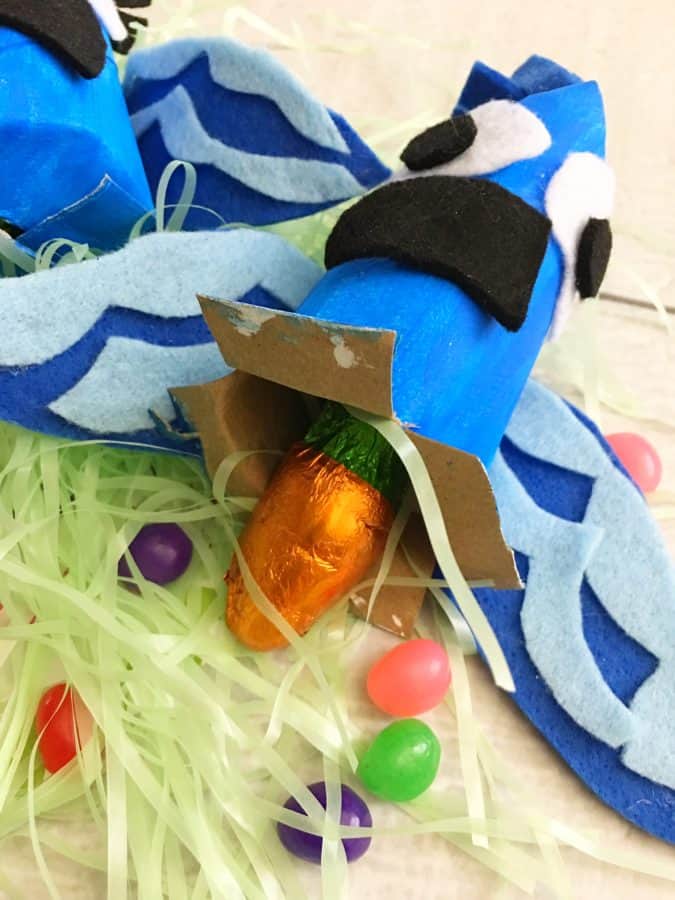 FOLLOW @FoxHomeEnt ON SOCIAL