I am sure many of you are getting ready to take a summer road trip or a visit to the beach. If so, you are going to LOVE this! I recently returned from a 2 week road trip with my family of 5. We spent a large portion of our vacation at a beach house. I am not a huge beach/sand person, so I researched products to make this excursion more convenient and a little less messy. One item that I HAD to try out was the Sand Free Beach Sheet. Check out these great features:
It's better than an ordinary heavy bulky beach blanket or towel!
There's no need to shake out like a beach towel, sand sticks all over a beach towel, not to this beach sheet!
You won't have to put your flip flops or beach bags on the corners to keep it from blowing away.
Sand Free Beach Sheet will not blow away – it stakes down into the sand
It's lightweight, made of soft natural fibers not plastic so it stays cool to lie on, dries quickly, and the sand just blows away!
Comes with matching inflatable pillows that snap to the sheet.
The only thing blowing away in the ocean breeze is the sand!
The pillows make it comfortable to sunbath or nap on the beach.
Folds compactly in re-sealable plastic bag, easy to carry and store away in.
The Sand Free Beach Sheet comes in 4 sizes:
Single Size = 84″ L x 42″ W
Double Size = 84″ L x 56″ W
Family Size = 84″ L x 84″ W
Extra Large = 84″ L x 106″ W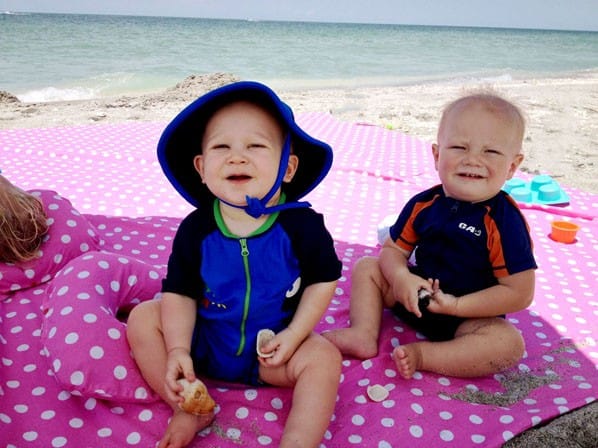 I tried out the family size sheet in Pink Polka Dot. The sheet came packaged in a great compact plastic bag. It was easy to pack away in the car with all of our other gear and took up very little space. We pulled out this sheet on the first day of vacation and never put it away again! It worked like a charm. I don't think I can ever go back to the old beach towel on the sand setup again. This family size sheet worked great for my family of 5. My husband and I, along with our 3 little ones fit comfortably on the Sand Free Sheet with room for our bags and gear. What made this sheet so great was the ability to stake it into the sand at the four corners. This held the sheet firmly in place, even on windy days. The inflatable pillows worked like a charm too. They easily snapped to the sheet and made a great setup for impromptu naps on the beach! At the end of the day we simply un-staked the sheet, shook it out and folded it up. That's it! No sandy mess at all! The sand slid easily from the sheet with a single shake. I highly recommend this product for your next trip to the beach. The sheet is easy to wash and will be
used for years to come! You can check out all of the great patterns at www.SandFreeBeachSheet.com "A sample of this product was provided to facilitate this review. All opinions expressed are my own."