My husband and I got to have our first experience away from the kids at Sandals Ochi Beach Resort, and I am not sure how we are going to ever even come close to matching the trip.  We've done an all inclusive vacation before, but it wasn't the Sandals experience. This was paradise, on every level. I probably took 300 photos of plants, birds and flowers, but there was just so much beauty and so much to see and enjoy. For a vacation as parents sans kids, an adult getaway, Sandals Ochi had everything we could think of…and then some. We've been spoiled!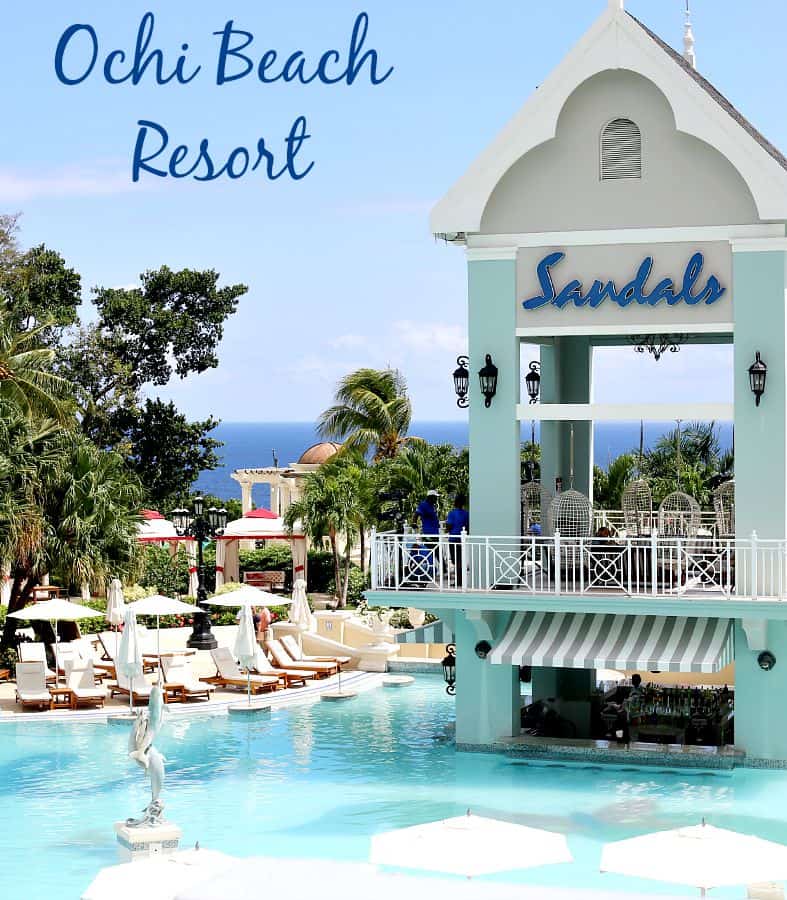 Sandals Ochi Beach Resort
Before I get too far, I want to reassure all of you who, like me, aren't magazine-model height, shape, color or age. I'm a regular woman, overweight, yes… and I won't lie, I wondered if I was going to spend several days in paradise surrounded only by magazine-like people all over the resort.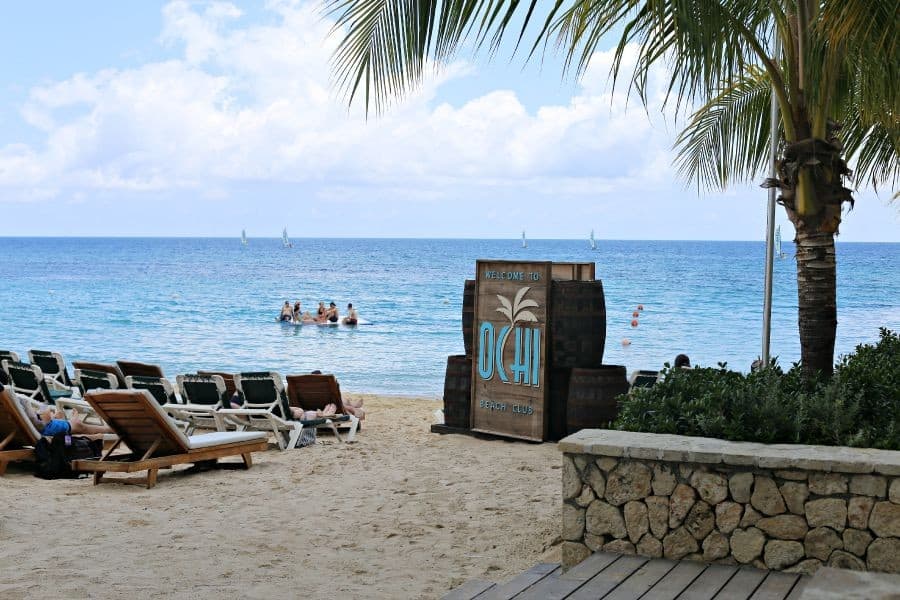 So if you are worried you might not "fit in" or feel comfortable, push those concerns aside. We are normal, just like everyone else, and I can promise you that I saw people of every color, every race, every size, shape, and combination you could think of. I'm fairly sure that every age group was covered at the resort while we were there, from 18-88.  It was wonderful and refreshing to see others just enjoying one another.
Sandals Ochi Beach Resort sits on the Northern Coast of Jamaica on over 100 acres.  The top of the resort offers sweeping views of the Caribbean Sea, with gardesn, flora and fauna to delight your eye all the way down to the beaches along those beautiful turquoise waters. This 5 start resort includes 529 villas, suits and luxury rooms.  The rooms are spacious, with a balcony or patio to let that amazing Caribbean air waft through your room. We opted to enjoy most of our breakfasts on our private balcony, just enjoying quiet togetherness before heading out to explore for the day. There are not one but 2 spas on site- Red Lane Spas, 105 pools (the villas have a semi-private pool for each), 22 hot tubs, 17 restaurants to satisfy your gastronomical tastes.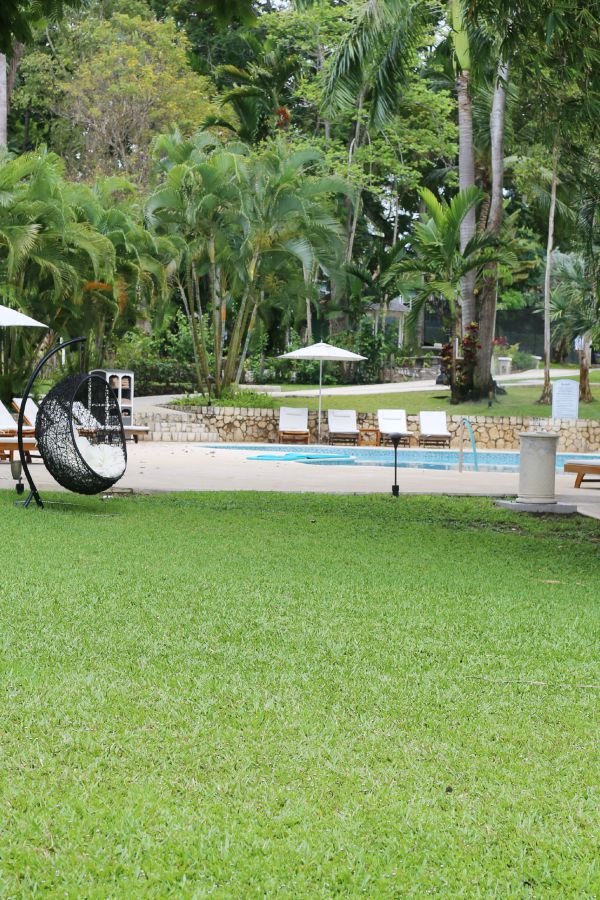 Resort guests can enjoy complimentary green fees at the Sandals Golf & Country Club, climb the Caribbean's tallest  rock climbing wall, or head down to the Ochi Beach Club for a live entertainment, games, music and dining options.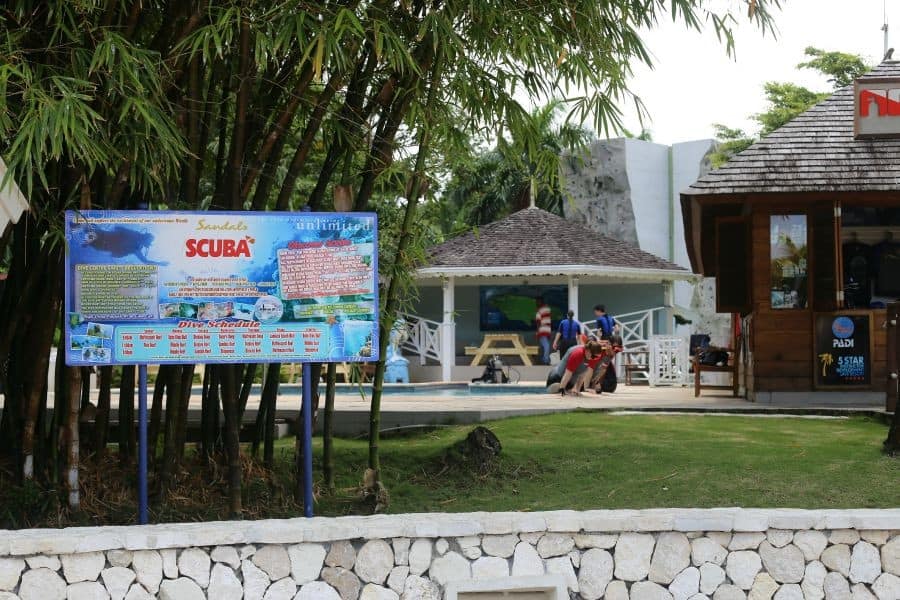 Head just down the beach and find fun watersports to keep you busy, or just grab a chaise lounge and soak up some rays.  Not into "doing" much on your vacation?  You'll find countless spots to spend your time, both in the sun and out, and, surprisingly to me, a lot of places where you really can have some quiet, alone time, even in the middle of this bustling luxury resort.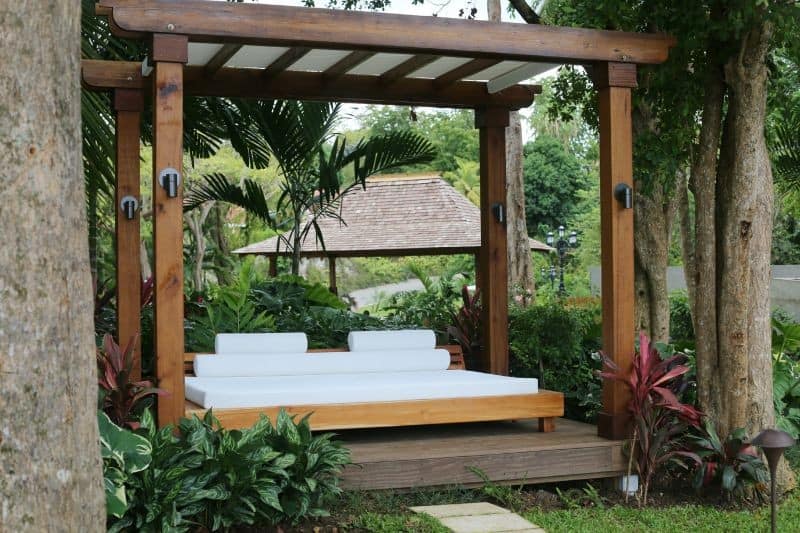 Dining
There are 17 dining options at Sandals Ochi Beach Resort with offerings from across the globe (and if you are fans of Chef Staib, you'll recognize some spots from earlier episodes) and 11 bars. Very few restaurants require reservations, but you'll want to make those early in your stay because they do book up. Every bartender is purported to have a signature drink, so if you are feeling like you want a cocktail, ask them for their specialty!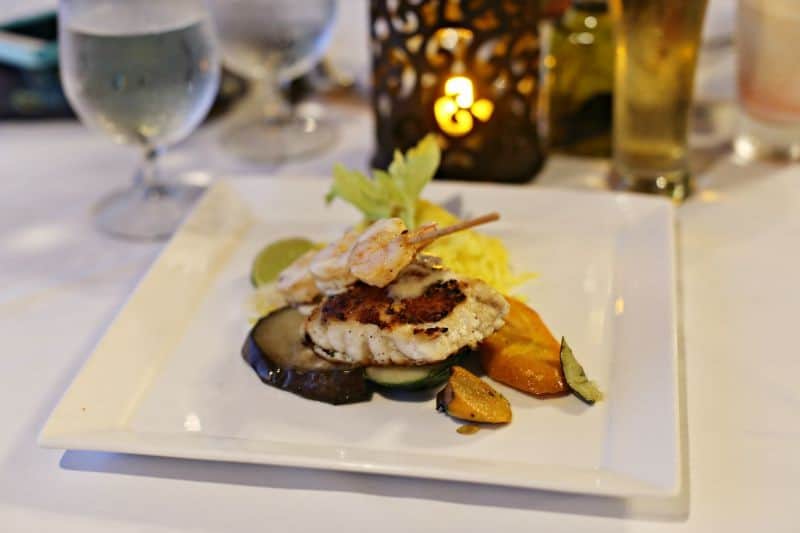 I totally suggest going to Kimono's at least one night, and prepare for chopsticks…and be sure to have one night that you eat at Neptunes.  There's just something so wonderful about sitting with your toes in the sand looking at that beautiful Caribbean water and enjoying a fabulous meal with your loved one.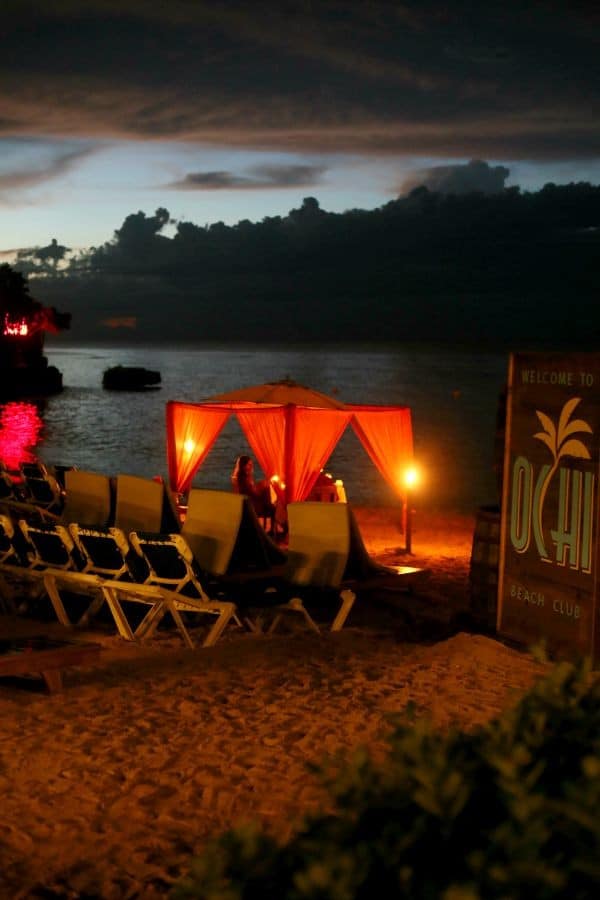 Accommodations
If you're looking for the ultimate in luxury living on your vacation, you'll find it at Ochi. They've completely renovated all of the rooms to suit any style or budget, and they even have an All-Butler Village. You seriously never have to lift a finger for anything. Ever. With this VIP treatment, you'll feel like a celebrity from the start! They've thought of everything down to terry cloth robes, Egyptian cotton duvets, and plasma TVs for those times when you just don't want to do anything.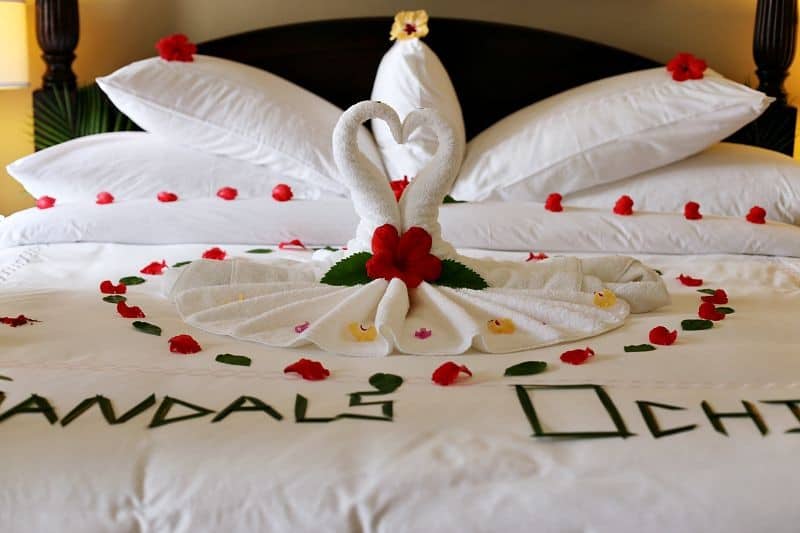 Sandals pays a lot of attention to detail.  We had a nice little corner of the beach that we spent a lot of our time in, a place where I could enjoy some sun and my husband could enjoy some shade. Several times each day we observed staff happily! tending to details like straightening chairs and raking the beach. If there happened to be no towels in the shelves, at least one person would offer to go off and locate some for us, and they always delivered them with a smile.
Nightlife and Entertainment
The Ochi Beach Club has entertainment all the time- from fun dance parties to theme nights, bartenders who love to sing and dance along, volleyball, cornhole… it's all there, and it's all included.  There's also The Rabbit Hole up at the top part of the resort- the Caribbean's only speakeasy.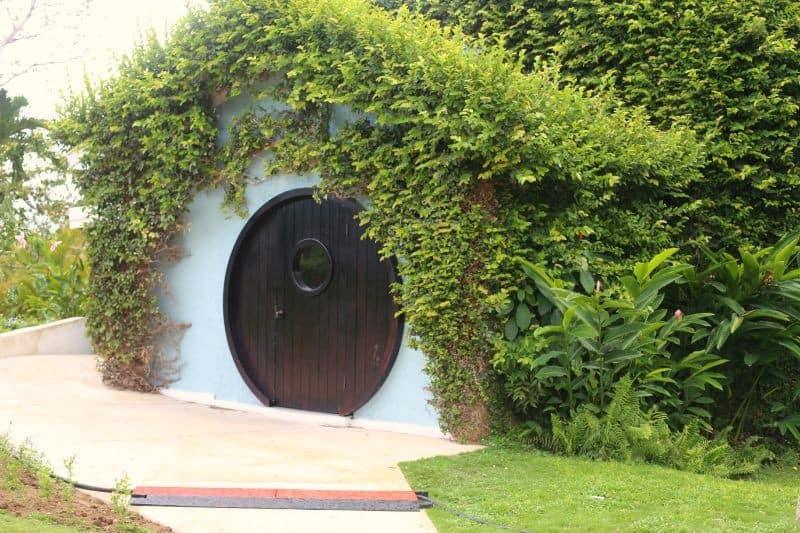 You will absolutely feel like you've stepped back in time, providing you have the password to gain entry… the only thing that gives modern times away is the air conditioning in the speak easy.   There's also live entertainment frequently, and you really want to head over to check it out – the Calypso folks were simply amazing and it was such a treat to enjoy the music and watch them dancing!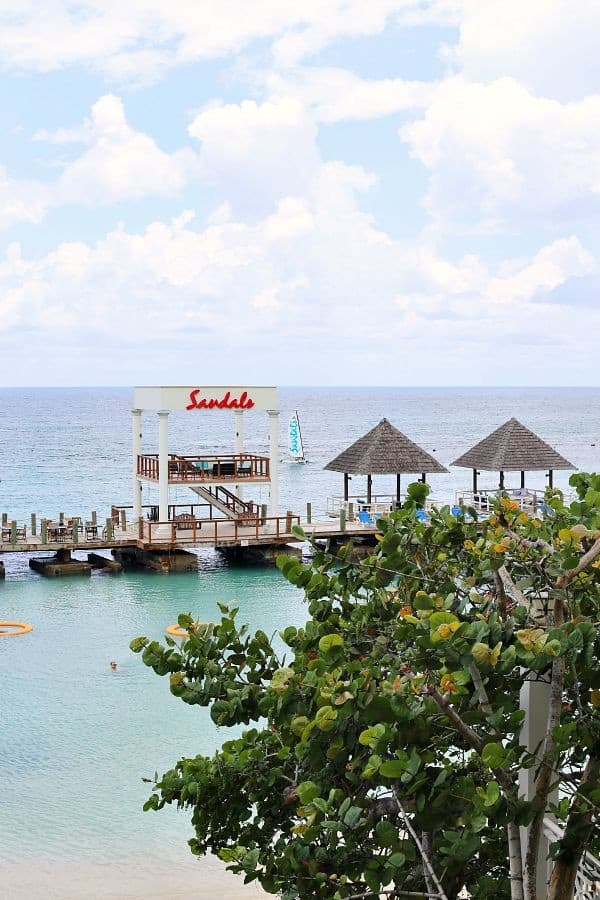 Sandals Ochi truly is a luxury experience.  It's got something for everyone, and then some. I would- and will! go back in a heartbeat. Next time, I'm staying longer. In fact, we loved our trip so much that when I was invited to the Beaches Social Media on the Sand Conference, we decided we needed to do a family trip – stay tuned for that later this fall- we can't wait to experience family travel a  la Sandals.
Thanks so much to our friends at Sandals for inviting us to experience Sandals Ochi Beach.