Today's recipe for my week as Chief Waffle Officer is a twist on Sausage and Biscuits with Gravy.  Like all of my recipes, it's pretty easy and hard to screw up…and using Eggo waffles means you save a ton of time! This recipe is always a favorite in our house for a hearty breakfast (especially on days when we have a big snow) or breakfast-for-dinner nights.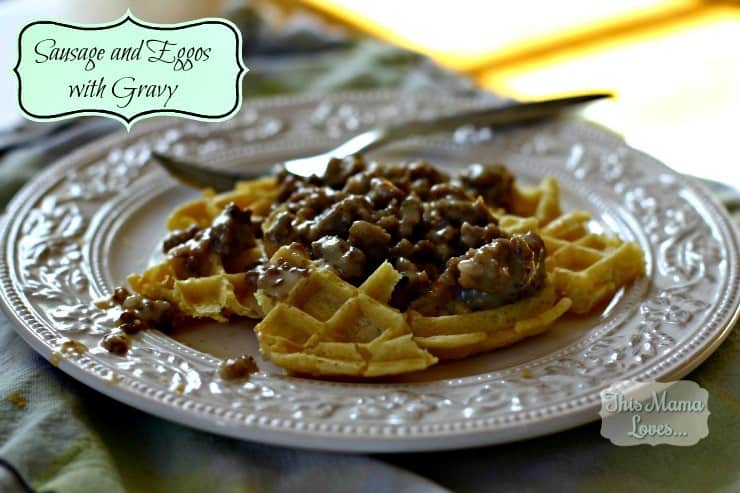 Sausage and Biscuits with Gravy Eggo Style:
Ingredients
1 roll sausage- I really like to use the Sage, you can use whatever suits your taste
2 TBSP butter
1/3 c flour (all purpose is fine)
pepper to taste
2 1/2 to 3 cups milk (we use 1%)
Eggo Waffles, toasted and cut up
Directions
Crumble sausage into skillet, cooking until no longer pink (I use a cast iron skillet because I like the "free" iron it adds to foods)
Drain fat from sausage, set cooked sausage aside.
With a wire wisk, melt butter in skillet, adding flour and pepper, gradually adding milk.  Once the gravy starts to thicken, add sausage in.
Simmer for 3-5 minutes, then pour sausage and gravy over cut up waffles on plates.  Serve with fresh fruit.
(The leftovers for this are almost better than the original meal.  Almost).
Don't forget to enter YOUR waffle recipes for the Great Eggo Waffle Off on Eggo's Facebook page-  where you can enter to win prizes up to $5000!! (I'm not eligible so I will cheer you on)
This post is sponsored by our friends at Eggo.  Opinions are my own.