Sometimes, breakfast for dinner can be a lot of fun.  We usually do eggs or an omelet, but last week,  I tried something different.  I had a bag of hash browns in the fridge and decided I'd poke around and see what I could come up with.  The result was a Sausage Quiche with Hash Brown Crust!  I've only ever made quiche with pie crust before, so this was a new endeavor.  It was a hit…and definitely an easy recipe- I think I'll be bringing this for brunch potlucks in the future too!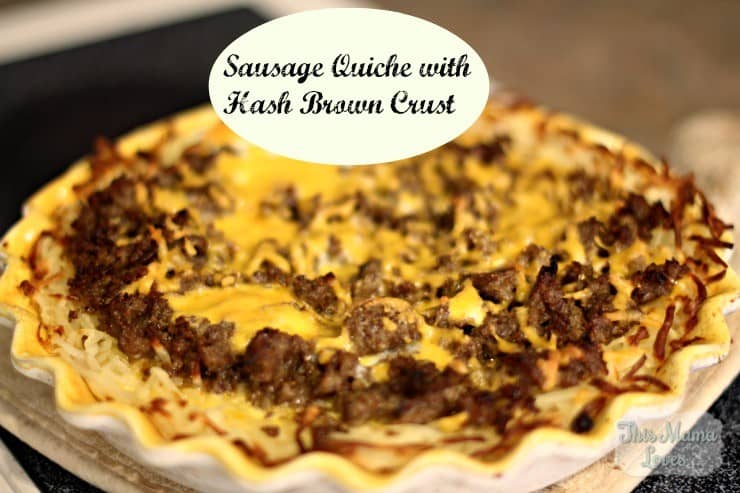 Sausage Quiche with Hash Brown Crust
Ingredients
1 Bag hash browns (or shred 8 large potatoes)
3-4 tbsp butter (melted)
1 roll sausage (we like Jimmy Dean), browned (You could also go more savory and do an italian sausage
1 red pepper, 1 small onion (chopped and sauteed)
3 eggs
1/2 c milk (we use 1%)
1/4 c shredded cheese- have fun with this one. i like cheddar
Directions:
Preheat Oven 425
Mix melted butter and hash browns together
Press into greased pie plate to shape crust. Bake 25 min
While crust is baking, brown sausage and saute pepper and onion.  I like to use my cast iron skillet so that we can get a little extra iron into our diets.
Turn oven to 350, remove dish, add sausage,and veggies to pie crust.  Whisk egg and milk together and pour atop sausage mix
Bake 25 minutes
Serve with fresh fruit.  Easy, peasy.
What are your favorite breakfast for dinner and brunch ideas?