Are you looking for a unique cookie? Try these fun scarecrow cookies. They are easy to make and put together! Perfect for fall.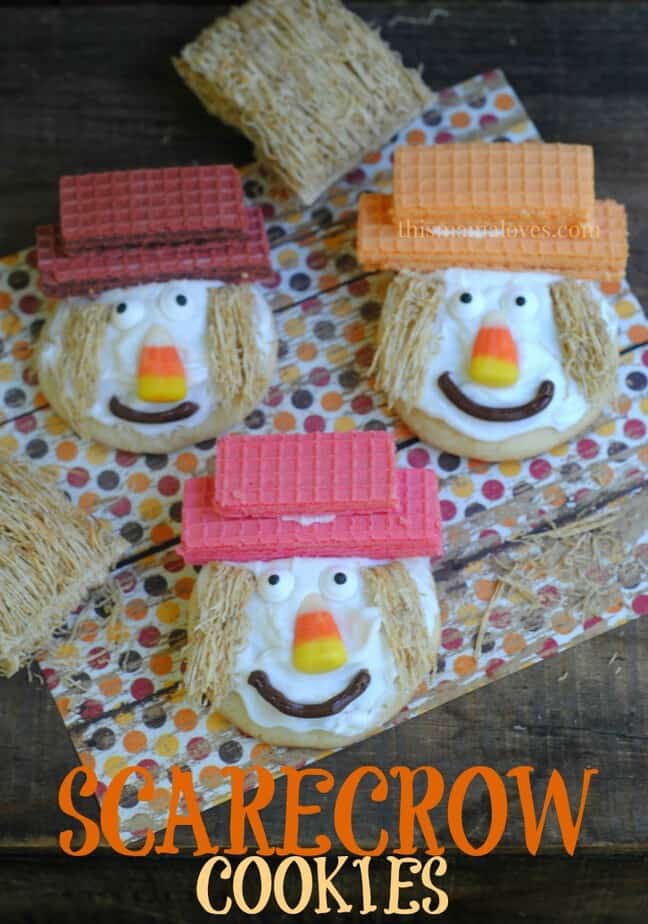 Scarecrow Cookies Ingredients –
1 package of Betty Crocker sugar cookie mix
white frosting for the scarecrow's face
chocolate frosting for the scarecrow's mouth
shredded wheat for the scarecrow's hair
wafer cookies for the scarecrow's hat
candy corn for the scarecrow's nose
Wilton small candy eyes
small sandwich baggie
Directions –
#1. Preheat the oven to 350 degrees and line your baking sheets with parchment paper.
#2. Mix the Betty Crocker sugar cookie dough according to package directions (1 stick of butter softened and 1 egg) and place the dough in the fridge for about 20 minutes to set up.
#3. Remove the dough from the fridge and use a small cookie scoop to scoop the dough and then roll into even balls. You might need some flour on your hands for this as the dough might be sticky.
#4. Bake according the the package directions and let cool.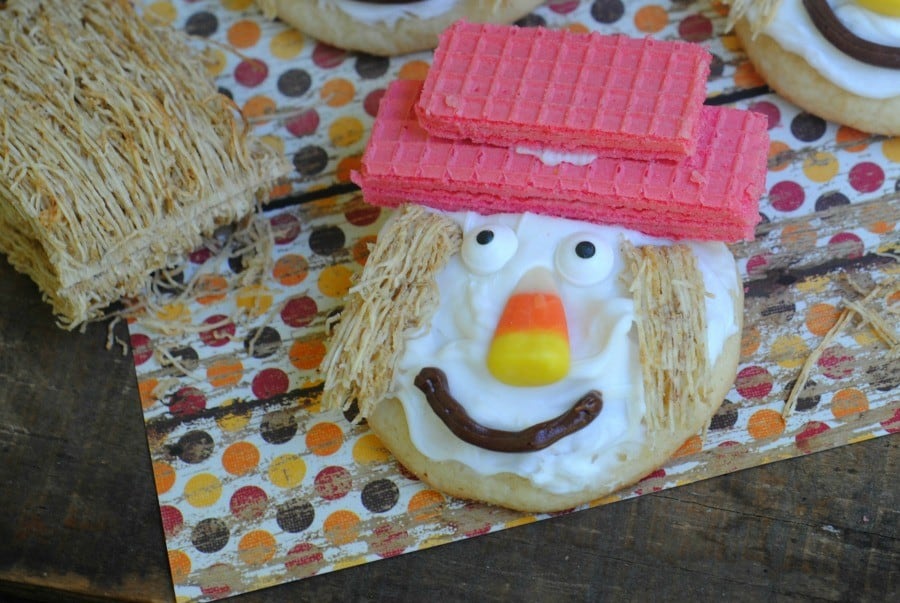 Assembling your Scarecrows –
#1. Generously frost each round cookie with white frosting.
#2. Add 2 eyes and a nose.
#3. For the Scarecrow's hat, take 2 wafer cookies and trim them down with a paring knife. Spread some frosting on the short top part of the hat and set it on the bottom wafer and then place on the cookie. The white frosting will act as glue.
#4. Next, break up the shredded wheat up and give your scarecrow some hair.
#5. Lastly, add a few scoops of chocolate frosting to the small sandwich baggie. Snip the corner of the bag with a sharp pair of scissors and squeeze the frosting out making the scarecrow's mouth.