This no-sew yarn Halloween craft idea is a great one for everyone in the house. It's Kid Friendly (with supervision) and inexpensive. BUT, it's also something else…it's one of the Halloween decorations you can make with your kids that don't attract pests. This DIY Yarn Ghost Garland craft and Halloween decorating tips brought to you by Orkin. A bonus of this craft is that it takes up almost no space in your storage bins, and is super lightweight. Instead of using vines and fall berries to make a festive Halloween garland, try making some easy yarn ghosts instead, and keep the pests outside, where they belong! Trees, wreaths and garlands – can all bring in cockroaches, carpenter ants, aphids and mealybugs.
Yarn Ghost Garland Craft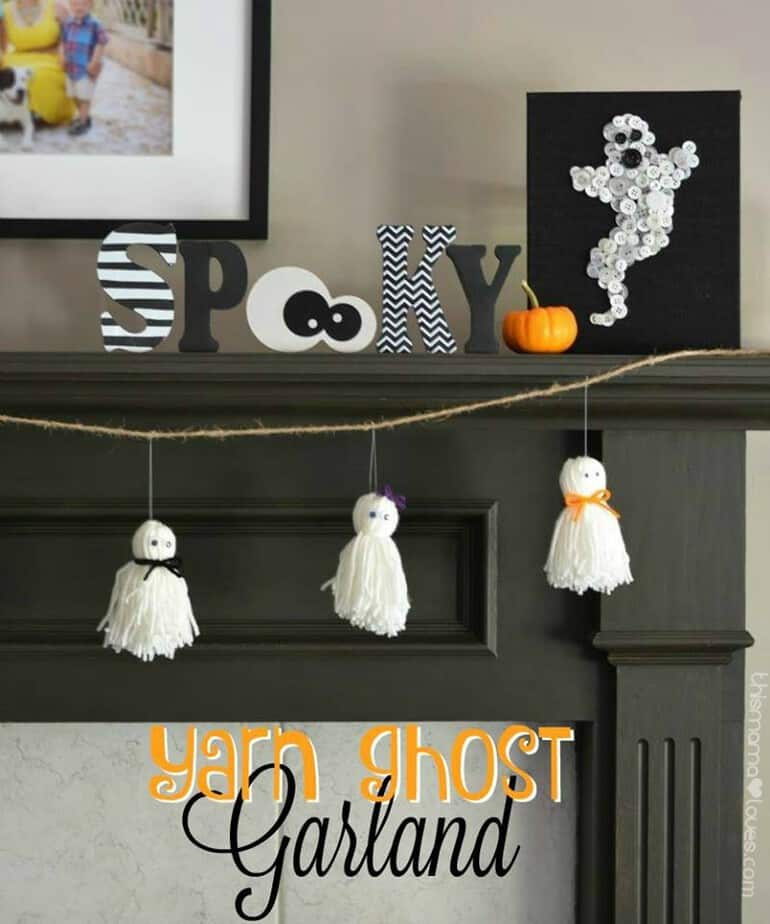 This one is really easy to make- take some of your Yarn Ghosts (instructions below) and  tie fishing line to them (or yarn) and then slide each onto a length of twine.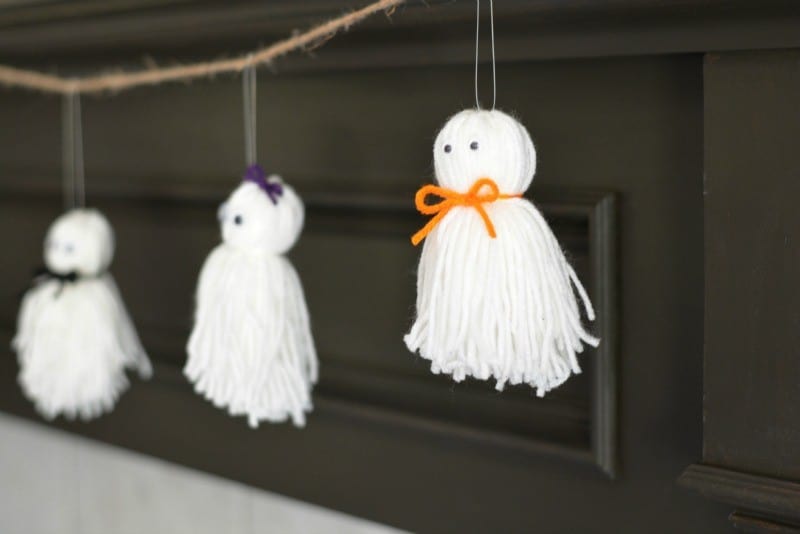 I did a 5 foot length of twine for the mantel, and spaced them equally how I felt it looked best…and my equal spacing is very scientific…I spread my hand out and measure from index finger to thumb apart.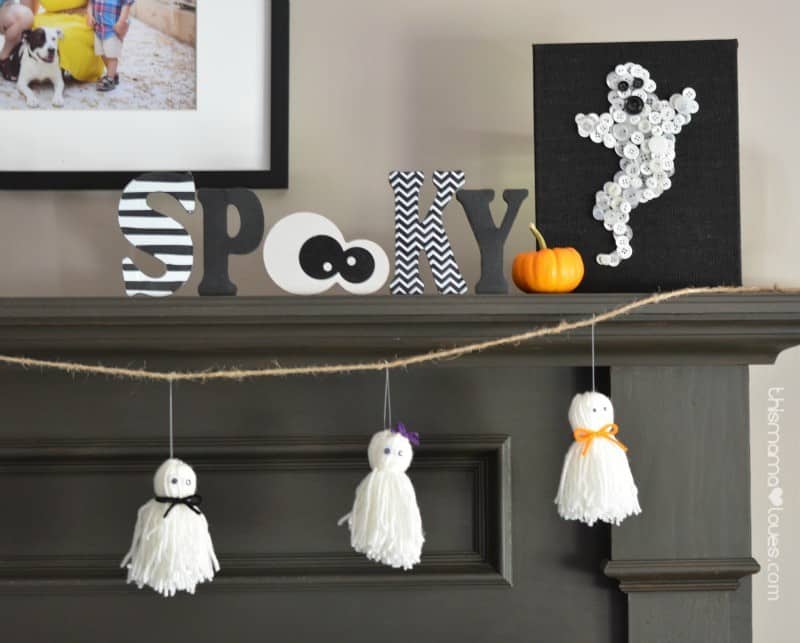 You might be thinking I'm a little crazy for saying that I think about making Halloween (holiday) decorations with my kids that don't attract pests, but if you have ever found a visitor in a decoration you'd stored, or hung on your door… it's gross.  Depending on the intruder in or on the decoration, we've had to toss the decoration.  Wasteful, and yuck.  How embarrassing if you were to have surprise appearance at your holiday party! Pests can contaminate food, trigger allergies and, in some cases, even spread disease. While we all love a fun and festive DIY project, you may be surprised to learn there are a number of holiday embellishments that attract unwanted bugs and critters to your home. 
What to avoid for fall holidays and why

:
(The following refers to live plants, not artificial.)

 
Pumpkins – Fruit flies eat ripened and fermenting fruit and vegetables. A carved or rotting pumpkin makes the perfect meal, and its decaying matter can also provide a breeding ground for fruit flies.
Hay – Blister beetles, feeding in a hay field, may accidentally be ground up when the hay is harvested. Hay stacks by your home's entrance, could open the door for beetles to come inside.
Straw – Wet straw can support mold and mildew that plaster beetles eat. Scorpions can also be found in pine straw. Find another stuffer for your scarecrow.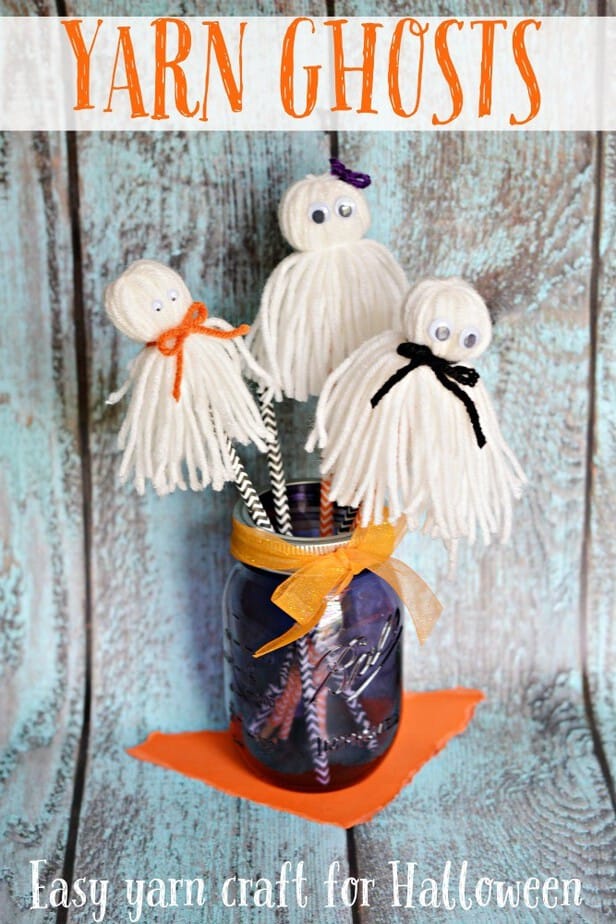 Yarn Ghosts
Materials:
White Yarn (Red Heart Soft White was used)
Small Miscellaneous pieces of yarn (optional)
Small Book (mine measured 9″)
Google Eyes
Wood Skewers
Fun Paper Straws
Scissors
Hot Glue
Directions:
Use a book to wrap yarn around and around and around. Wrap about 75-100 times. The less, the smaller your ghost's head. Trim yarn. (One wrap around a book makes two ghosts)
Remove yarn from the book, being careful to keep the loops together.
Tightly tie the loops together at the ends (where they would circle the ends of the book). Double knot it. This is the head.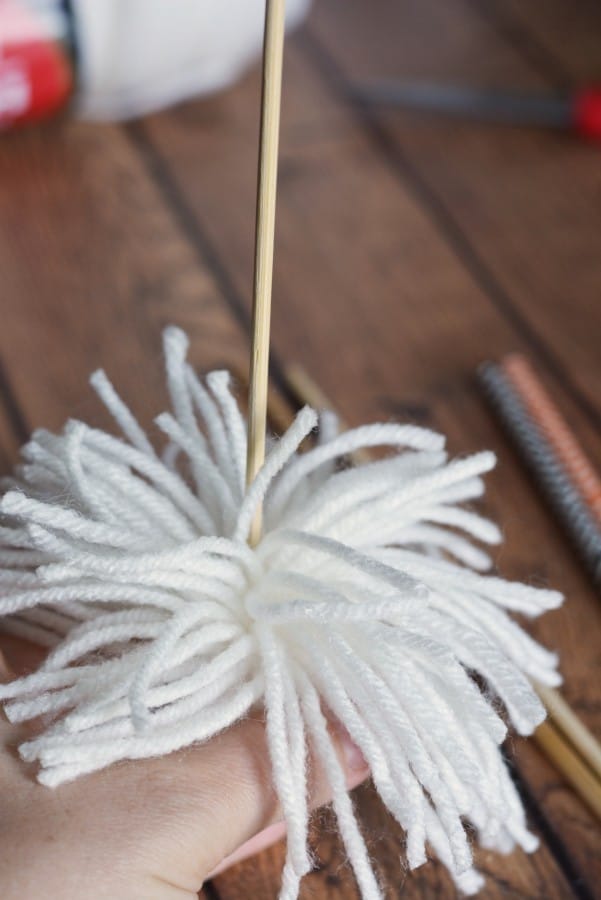 Cut the loop in half in the center (opposite the space you tied). You now have two pieces. Fold them in half at the tied center. Straighten and smooth yarn and wrap your hand around the fold to create a head.
Use another piece of white yarn to tie the head tightly. double knot.
Trim ghost as desired.
Add personality:
-google eyes with hot glue
-neck tie or hair bow with small pieces of yarn tied or hot glued
To add to stick:
Turn ghost upside down and separate the yarn a bit. Stick the pointy end of the wood skewer into the ghost's head and then insert the paper straw over the skewer.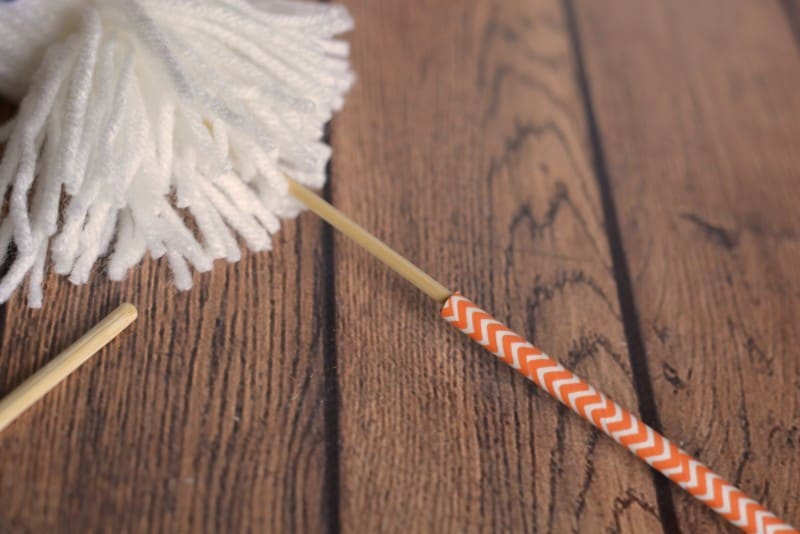 That's it!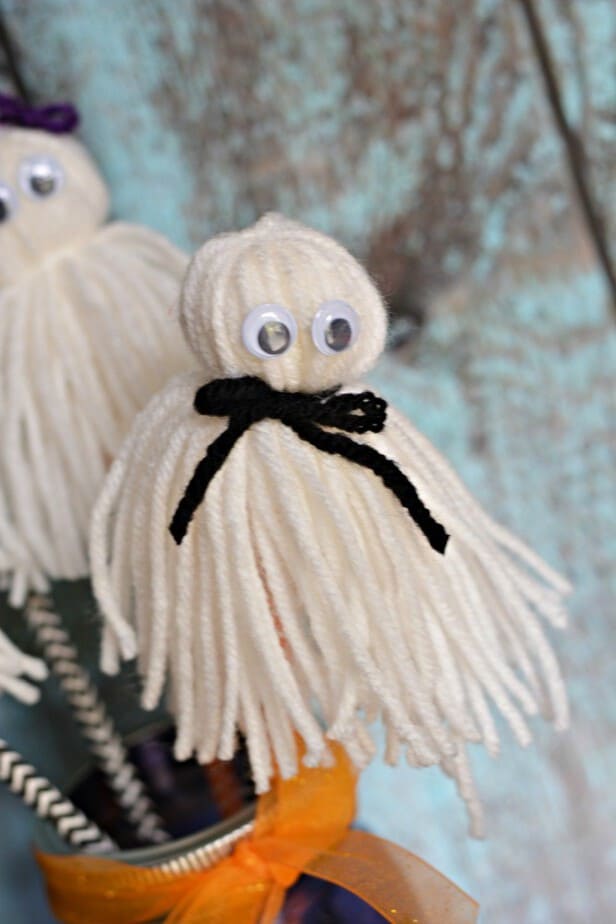 Follow these additional tips to keep critters from crashing your home over the holidays:
Containers storing decorations in the attic, basement or garage may also be housing rodents, spiders and cockroaches. Unpack storage containers outside or in the garage to keep pests from escaping into your home. Plastic storage bins provide the best protection because of their tight-fitting lids.
Food is a major lure during the holidays, attracting unwanted pests, like cockroaches, ants and rodents into your home. Store food in sealed containers. Secure trash in bags and discard frequently.
When the weather cools down, pests seek shelter. Prevent pests from getting inside by sealing all cracks and crevices inside and outside your home.
If you notice signs of a pest problem in your home, contact the licensed pest professionals at ORKIN for a detailed inspection and customized treatment program. http://www.orkin.com/   
Stay up to date on all things pest related: OrkinPestControlFacebook ~ OrkinPinterest ~ OrkinTwitter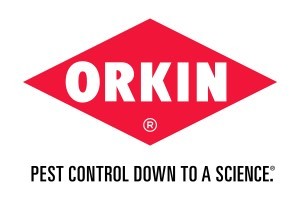 Be sure to check out how to  keep rodents out as fall weather comes around.
Enter to win a $100 Michael's Gift Card so you, too, can enjoy a pest-free holiday!