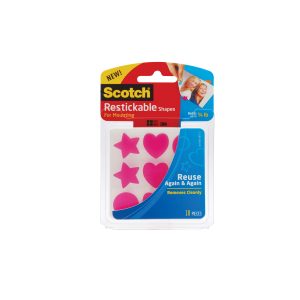 Scotch Restickable Shapes & Strips are a great new way to keep yourself, your family and your kids' artwork and projects organized.  We've been using them to hang up the kids' artwork, my nephew's wedding invitation & rehearsal dinner invite, birthday party invitations, the kids' countdown to the first day of school, and lots of photos on our fridge.  My favorite thing about the both of these products is that you can use them again, and again, and again- up to 10 times.  They are really easy and fun to use, and a million times less annoying to remove than tape (I have nothing against tape, except that my 6 year old is semi obsessed with it and I'm finding it everywhere in my house.)  I think one of my favorite future uses for the restickable products from Scotch will be for photos shared with school- I can send them in with the shape already on the photo back so no worry about any damage to my images even if it needs to be part of, say, a family tree project or something.   They shapes are photo safe so no worry about damaging the photograph that way, either.  In the age of digital cameras, this may seem odd- but I have very, very few pictures of my mom in any form so preserving them is a high priority for me.
The kids LOVE the shapes- they each "chose" a color (lucky for me I have 3 kids and there are 3 colors) so they can each use their shapes to hang their artwork or pictures from magazines, etc. in our breezeway or their walls.  I am bound and determined to get some posters up in their room that Disney sent us from Cars2 but haven't yet found the right restickable product combination to get those posters to stay up on the walls in their rooms.  I will, I just need more time!   The kids think its really neat that you can actually wash the shapes and reuse them.  I like that they arent using tape on my walls and increasing the risk of ruining the paint, or leaving residue- and this also means less thumbtacks used, so no holes in my walls or trim.  
Scotch® Restickable Shapes are perfect for hanging your photos, papers, and lightweight items with fun, restickable shapes. Shapes come in pink, blue, and orange versions.
Reuse Again and Again
Removes Cleanly
Washable
Scotch® Restickable Strips are pre-cut strips of clear, reusable and removable adhesive for lightweight mounting. Hang photos, posters, artwork or other lightweight objects on walls, refrigerators, windows, and most other flat surfaces. Strips can be cut.
Reuse again and again.
Removes cleanly.
Use instead of magnets and tacks.
These are an awesome solution for all kinds of uses and purposes and definitely something I will be continuing to use and also to purchase in the future!
Please note: I am not a videographer, nor do I play one on TV.  Apologies for my filming skills…

I wrote this review while participating in a blog tour by Mom Central Consulting on behalf of Scotch and received Scotch Restickable products to facilitate my review and a promotional item to thank me for taking the time to participate.