How do you share your love and support with friends and family? CaringBridge wants to know- in fact, they want to know so much that they've decided to ask you to Share Your Heart with them and by doing so, you will be entered to win not one but 2 iPad Mini's so that you can keep in touch with those closest to your heart.  Anyone can enter- all you need to do is visit heart.CaringBridge.org, upload a photo, video or a simple 50 word description of how you share your heart with those you love and support.  Easy, peasy.  Submissions are accepted through March 1, 2013, so get going on your entry! CaringBridge is trying to bring awareness of their mission to life by showing and sharing all of the love, hope and compassion that this world offers.  I think it's a pretty wonderful organization, myself- the contest just makes it cooler.  Voting goes through March 6th.  Entries can be shared on social networks and email so get your entries in and start to Share Your Heart!  Voting can be done once per day, per entry- so get your entry in and share, share share!!
I was introduced to CaringBridge when my friend's infant daughter was diagnosed with a very rare liver cancer.  Kelly and Kurt quickly found CaringBridge (and I'm not sure how they found it), and were able to share updates, photos, requests for help, prayers and anything else with ALL of us who were so desperately wanting updates and to offer support.  CaringBridge is a free website that allows you to communicate when you or someone you love has health issues- it's a great way to show your love and support and also for families to keep loved ones up to date.  I know that as Kelly and Kurt shared more of their journey with Jamie's cancer treatment and progression, more and more love and support came to that page.  Within weeks, there were people around the world checking in on Jamie's progress, her family, sharing the pain and sharing the hope.  It was an amazing thing to see what one tiny little baby could do to bring strangers together.  That's what CaringBridge is about.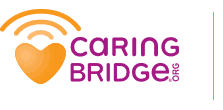 About CaringBridge:
The mission of CaringBridge is to amplify the love, hope and compassion in the world, making each health journey easier
CaringBridge offers many ways for people to care for each other during any type of health event and is for anyone to use. It's available 24/7, free to use and accessible to anyone, anywhere
There is no advertising on CaringBridge. The organization is dedicated to families, not profits.
CaringBridge is a nonprofit and relies mainly on individual donors to fund its operations and does not sell users' information. This approach allows CaringBridge to stay true to its mission while protecting users' personal data

CaringBridge Sites:


CaringBridge Sites are personalized pages where you can post health updates to connect with family and friends and keep them informed during any type of health event
Your site is a safe place for you to share day-to-day thoughts and experiences
People are able to leave supportive messages and well-wishes, as well as stay informed on your progress, whether you're recovering from surgery, living with a chronic illness, caring for an elderly parent and everything in-between
CaringBridge Sites are protected and respected environments

Users set their personal preferences
Multiple settings for privacy
Personal data is protected and not sold
No intrusive advertising


SupportPlanner:

The SupportPlanner is an online calendar that helps family and friends coordinate care and organize helpful tasks, like bringing a meal, offering rides, taking care of pets and other needs.

The tool came to life through requests from users for something to help them centralize support during a health event.

Only people a user invites to view the planner can access the calendar and sign up for a task, keeping the online conversations private.
Get your entries in- and feel free to link to them in a comment- I'd love to see your stories and will be glad to vote for you!
This post is brought to you by our friends at CaringBridge. Opinions are my own.