I have a few photos shy of 1000 on my iPhone camera roll right now.  That's a LOT of images.  Some photos are silly, but many are meaningful.  I actually did NOT bring my "big" camera to Disney World with us last month, opting for the convenience of a phone sized camera and not having to stress about smashing my beloved camera or changing lenses, charging those batteries, having enough memory cards, etc.  This is my YEAR TO PRINT PHOTOS, if you didn't already know.  I take so many photos and never actually do anything with them.  So I asked myself, what's the point in preserving memories if I'm not going to do anything with them? So I decided this is the year I will start to at least get prints.  Thanks to apps like Groovebook, I can get 100 prints a month from my phone, in a cool little book with perforated edges so I can remove the photos easily, for FREE.  Now, I don't know about you, but free is a nice price that makes me happy.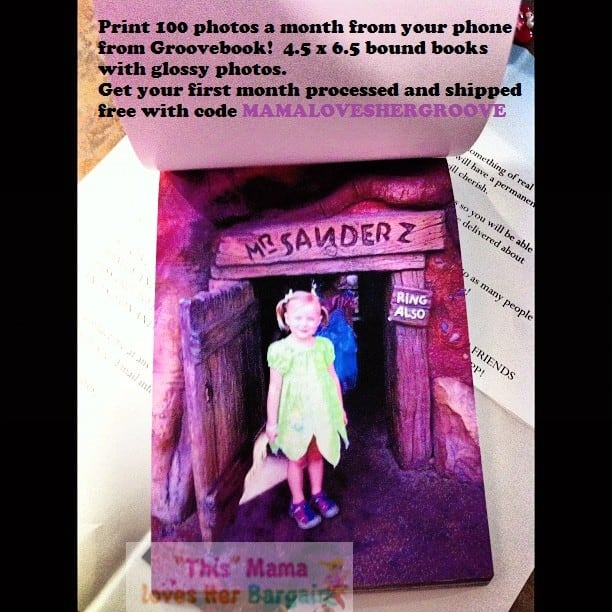 Here's a question for you- how many pictures are on your phone right now?  My next question- what are you going to DO with those photos?  Leave them on your phone? Share them on Facebook?  I do a mix of both.  Why not check out Groovebook and get  100 4.5×6.5 glossy prints from your phone each month- for FREE- shipped right to your house and ordered right from your phone in just a few minutes time.  You can choose which photos are printed, which was reassuring for me since some of the images I get with my phone aren't really ones I need prints of, but was taking to show something to someone or me being funny or amused.  Groovebook is available for iTunes and Google Play right now, although I think they are working on the Android marketplace as well.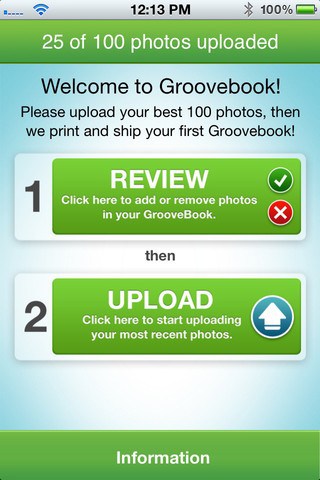 You will pay $2.99 processing and shipping for each book you get from Groovebook- not a bad deal at all in my book.  (Hee, get it?  in my book?  They send a book? No?) The app does charge you each month so that's something to be cognizant of.  It comes to $35.88 for the year, for 1200 prints.  Not bad at all.  Of course, I have a code that gets
your first Groovebook shipped and processed FREE, just enter MAMALOVESHERGROOVE...that means you'll get 1200 photos for $32.89 total.  The photos do come bound in a book with a thick, durable cardstock-style cover to protect your images- each photo is perforated so you can remove it with ease.
So, what are YOU going to do with all of those pictures on your smart phone?  Are you going to get your Groove(book) on like me?  Speaking of…it's time to order my 2nd month of photos!