Sometimes it's really hard to watch the news or read the paper and see so much negativity.  I know that reports of the bad things in the world tend to make better stories than the good and I realize we need to hear about some of the bad in the news.  Have you ever wondered though what the world might be like if we focused on the good more.  Could we all do more small acts of kindness to create a positive chain reaction and turn the world into a brighter place?  This post is part of a partnership with Jimmy Dean and the Shine it Forward movement.  #MondaysForGood
Shine it Forward with Mondays for Good
Jimmy Dean believes that good mornings lead to great days.  When something positively impacts your morning and you're feeling good, you're more likely to "do some good" which will have a positive impact on someone else's morning or day.  As simple as that, a positive chain reaction starts.
I know I've had days that get off to such a bad start that I just want to crawl back under the covers and hide.  I also know that I can't so I head out to get my day going and on more than one occasion I've had a stranger do something kind that really turned my day around.  Volunteering, buying coffee for a co-worker, or holding the door open for a stranger – are simple things that can create a positive chain reaction and turn the world into a brighter place.  Jimmy Dean is launching the "Shine it Forward" movement to reinforce how small acts of kindness can have a big impact.
A lot of those bad days tend to be Mondays and Mondays can often set the tone for how the whole week will be.  Jimmy Dean is launching #MondaysForGood.  Beginning today, November 2nd, Jimmy Dean is encouraging people to make their Monday mornings matter by taking time to do something nice for others. By introducing #MondaysForGood, Jimmy Dean wants to turn Monday mornings into the best part of the week.
This morning when I went through our local drive through coffee shop I paid for my drink and muffin and gave the barista an extra $20 and a few Shine it Forward printables and asked her to apply it to the orders of those in line behind me and pass the notes onto them.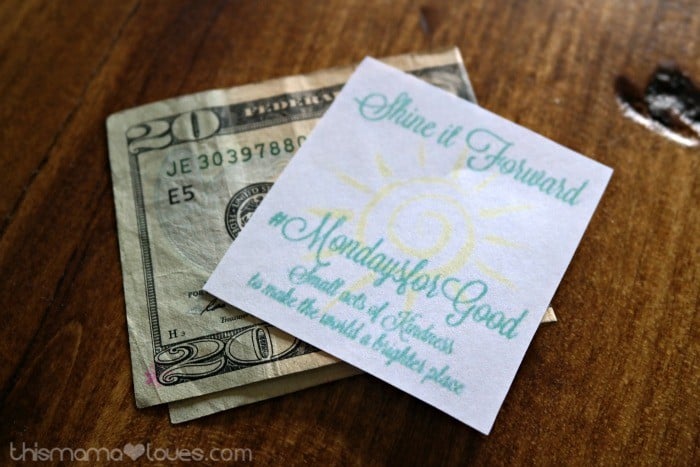 Jimmy Dean is also spearheading a petition to make #MondaysForGood, the first Monday in November, a national holiday.  You can sign the petition to make #MondaysForGood a national holiday and watch the #MondaysForGood launch video.  They want to remind you that no act of kindness is too big or too small and want to hear what you would do if given time off on Monday morning to do good.  You can tweet @JimmyDean using #MondaysForGood to share what good you would do if given a Monday morning off or post on Facebook/Instagram.
You can print this card and keep a few on hand to leave behind when you've "done some good".  It might just encourage someone else to do the same and start a positive chain of events.